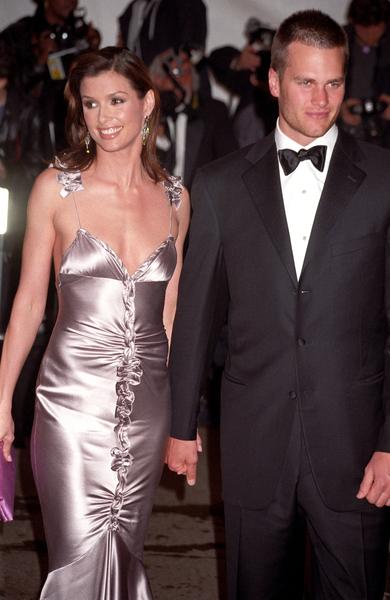 Tom Brady's got a lot of complications in his life right now. His baby mama hates him (we assume). His model girlfriend is also a model bitch (we assume… just from general reports about her character over the last several years). He lives and plays football in Boston, but his new baby lives and eats his own feet in Los Angeles. What's a man to do? Complain about it to People, all while showing the world that you're rallying, and also a really great father, even if it is from 3,000 miles away.
"Three weeks into fatherhood and two weeks into football season, Tom Brady has a personal problem to tackle: balancing his schedule between playing with the New England Patriots and seeing his infant son, who is home in Los Angeles with his mom, Bridget Moynahan. 'I kind of cuddled him like a football,' the 6'4″ triple Super-Bowl-winning quarterback, 30, tells the new issue of Sports Illustrated about John Edward Thomas Moynahan, who was born Aug. 22.

"'I'd love to be out there all the time, year-round, but it's hard to make that a reality,' the Boston-based Brady says about L.A., where the baby's mom (and Brady's ex-girlfriend) lives and works. 'I live here,' explains the athlete. 'But I'll start lobbying for off days throughout the year.'

"And while SI columnist Rick Reilly harps on Brady's hunky good looks that make him such a babe magnet (who just happens to be dating the $33-million-a-year Brazilian supermodel Gisele Bündchen), the quarterback does confess to the magazine, 'I was the little sports nerd in high school who hardly had a girlfriend!'"
[From People]
Um, Tom Brady? If you really loved your kid, you'd move to Los Angeles. They have a great team, the Los Angeles Avengers. Never head of them? Me either, but I think that if you really love your kid, you'll leave the all mighty Patriots and play for them. Let's see if Gisele sticks around then. I kid, I kid about the moving. I don't know a thing about the football, or the sports in general – I'm a writer, pasty is my religion. I believe I once heard it involves the skin of pigs, which sounds faintly cult-esq and ritualistic. But I know that Mondays are your high holy days, and your Christmas is some day in February that you think is really super, and you play your game in a giant bowl. If I'm even half right, it's probably a good thing you're not around your kid a lot.
Picture note by Celebitchy: Tom Brady and Bridget Moynahan are shown at the Costume Institute Gala in May, 2005 thanks to PRPhotos.