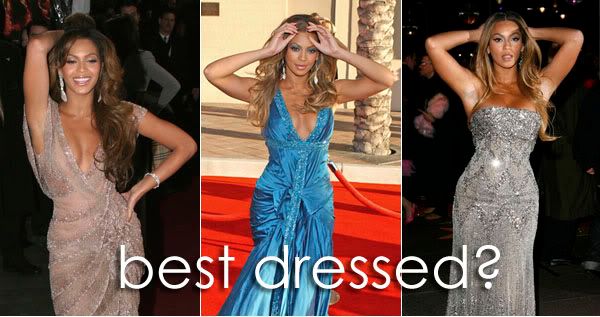 Apparently "People" thinks flashing your armpits every chance you get is an indicator of high fashion, because they've named Beyonce as their best dressed celebrity of 2007. Britney Spears was also mentioned, though not for classy style ('cuz glitter bikinis are always classy y'all!) – she was awarded the most shocking style moment award for shaving her head in an attempt to avoid a drug test.
"Beyonce, 26, was dubbed "The Showstopper," while actress Cameron Diaz walked into the top 10 as "The Legs," and actress Katie Holmes, who is married to Tom Cruise, graced the list as "The Classic."

"'Beyonce just looks amazing every time she goes out,' assistant managing editor Cynthia Sanz told Reuters. 'She likes to show off her curves and she is very glamorous.' Beyonce has her own fashion line, 'House of Dereon,' that mixes hip hop influences with feminine touches like lace and ruffles that she launched with her mother, stylist Tina Knowles, in 2004."
[From Reuters]
I'm not a fan of Beyonce's clothing line since they use fur. Her mom has the kind of crazed, Cruella de Vil look that says, "I eat kittens when I'm bored" and that freaks me out. In other Beyonce news, she and Jay-Z are reportedly about to tie the knot… not be confused wit the other 374,472,094 times they were reportedly about to tie the knot.
"At a Las Vegas press conference to announce plans to open his third 40/40 Club at the Palazzo hotel, the 37-year-old rapper – who has been dating the 26-year-old singer for over four years – confirmed they will tie the knot in the very near future.

"Asked if they had set a date for the wedding, Jay-Z said: 'One day soon – let's leave it at that.'

"The hip-hop mogul went on to hint he may even choose the Palazzo as the wedding venue, if the hotel's President Rob Goldstein buys Beyonce an expensive ring.

"He joked: 'I don't know if the wedding will be here… It's kind of comfortable. If Rob throws in the ring, who knows?'"
[From Stuff]
I'm sure Beyonce's mom could come up with a lovely ring made from a defenseless animal's paw. Instead of the traditional bridal veil, Beyonce could wear a net made from the webs of innocent spiders. Wait, that one doesn't work. But you get my point. Tina Knowles is evil. Beyonce seems to have a pretty good fashion sense, but only when her mother doesn't dress her. Whenever reporters yell out that whole, "Who are you wearing?" line, when she says it's something her mother designed, it's always shiteous and bizarre looking. But Beyonce seems to have enough sense to know that, because she's been dressing a lot better the last few years… and wearing clothes from real designers. Designers that don't sprinkle puppy tears on their cereal in the morning like Tina Knowles probably does. And aren't her real fur coats just to die for? Literally?
Picture note by Celebitchy Beyonce is shown at the VMAs, at the opening of Jay-Z's 40-40 club in Vegas on 9/6/07, at the launch of Emporio Armani Diamonds Fragrance on 8/16/07, on The Early Show on 4/2/07, at Dreamgirls premieres on 12/4/06, 12/11/06, and 1/21/07, on 01/31/2007 at am AMFAR event, where she is actually wearing a gorgeous gown, and on 11/21/06 at the American Music Awards. Thanks to PRPhotos.