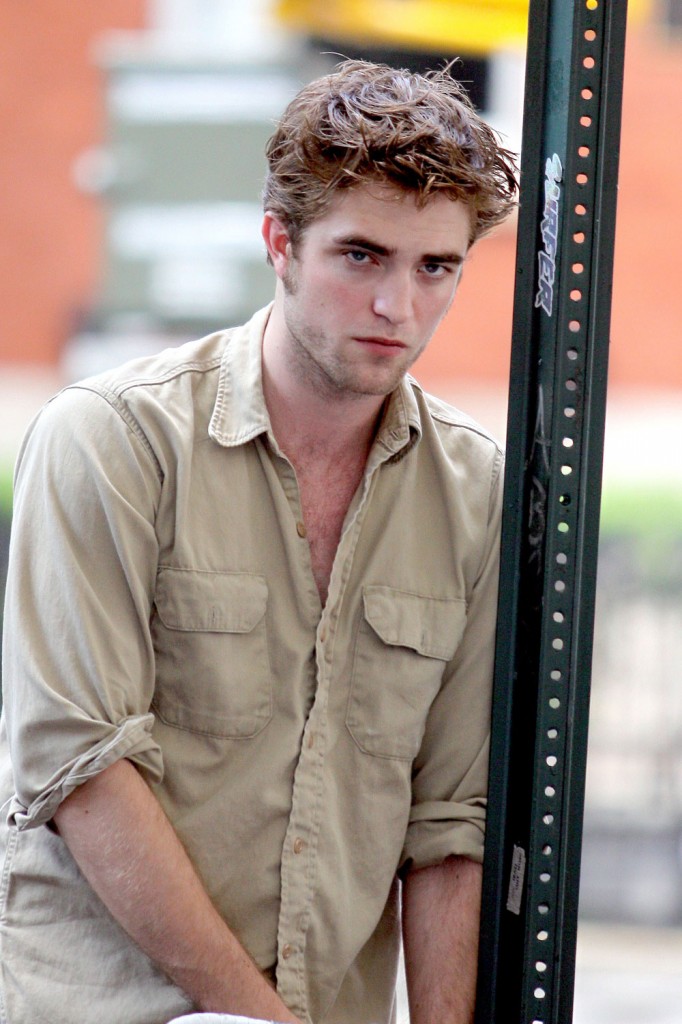 Robert Pattinson has been having a rough time in New York City as he films exteriors on Remember Me, a drama co-starring Emilie de Raven. We've previously reported on all of the stalking, swarming and attacking of Pattinson as the poor kid just tries to walk down the street. Now it seems that Pattinson is blaming the whole situation on the city itself, and specifically on New York women. Apparently, Pattinson is homesick for dear old London, where British girls never stalk him. Way to go, New Yorkers! You scared off our sweet little visiting British boy:
Robert Pattinson's sexy brooding isn't an act: The "Twilight" star is seriously bummed by New York … and its women! On-set sources from the hunky Brit's new film, "Remember Me," now filming in the Big Apple, reveal that the actor is hopelessly homesick for London.

"Robert is dying to get back home," says an insider. "He's so over everything. He's overwhelmed by all the girls — they terrify him! He says girls grab his neck and clothing all of the time, and he's not used to that. Fans don't do that to him in London. Everyone there is a little cooler about the fame thing, which is what he's used to."

The star's blatant unhappiness even has his "Remember Me" co-stars concerned. "He's so skinny and stressed. Everyone on set is worried about him," confesses our source.

Clearly Pattinson, who shot to fame as teenage vampire Edward Cullen in "Twilight," isn't enjoying his heartthrob status — or the female attention. "Robert doesn't understand why everyone is going so crazy over him," continues the insider.

"He's embarrassed by the way girls throw themselves at him. The girls here are stalking him. He stayed in two different hotels over the course of four days just to try to escape the fans who were following him. He's afraid that if he gives a hand, they'll take the whole arm. He's being advised by security not to encourage the crowd, so he doesn't even look up anymore."

True to form, the gorgeous star kept his head down early last week at the Crestwood Train Station in Yonkers, where "Remember Me" was filming. During one break, he headed to local bakery Martine's, where an eyewitness observed, "He was completely silent in public, but when he got back to the crew, he was saying how glad he was to be away from prying eyes in Manhattan."

This isn't the first time that Pattinson's public paranoia has reared its head. He told an Australian magazine back in June that he started crying while shooting "New Moon" in Italy because, "I [cry] when people are screaming at me."
[From Gatecrasher]
He cries when the fans get excited? I understand crying if they're swarming him – as they've done before – but crying because girls are yelling "Woohoo! Edward is the God of Vampires! Woo!"? Pattinson is so emo. That must be why I love him. Note to New York women: poor little emo English boys think you're too hardcore. Tone it down for visitors, okay?
Robert Pattison is shown with Emilie de Ravin on the NY Set of Remember Me on 7/2/09. Credit: WENN.com