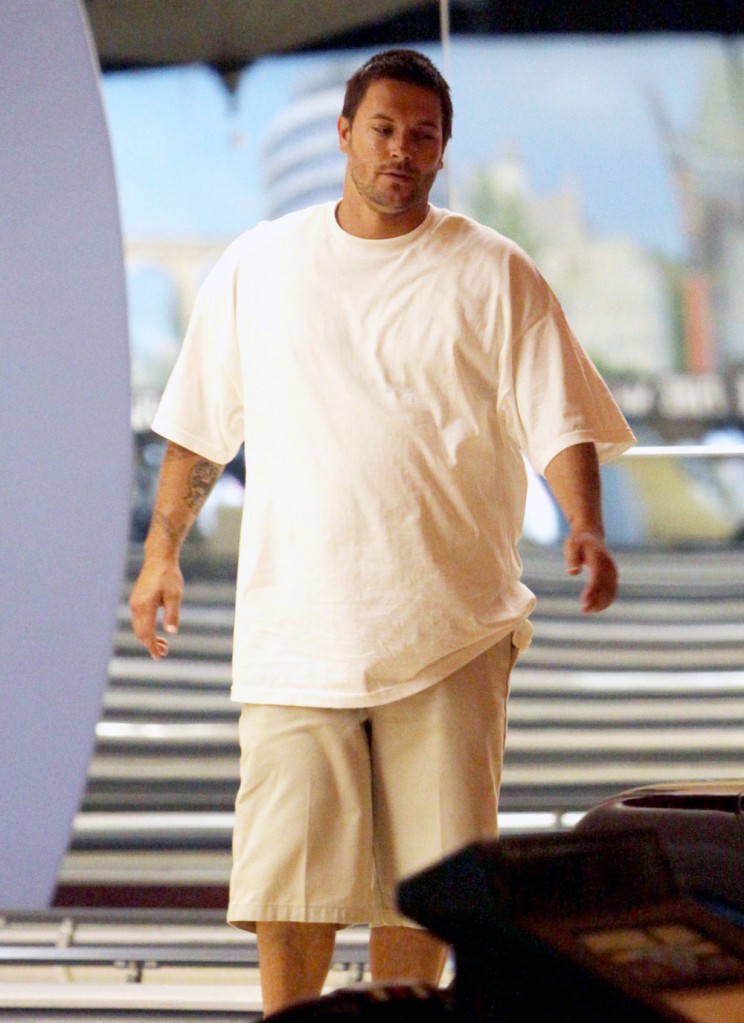 Britney Spears is in great shape again after hiring a personal trainer and going on a strict 1,2000 calorie a day diet ahead of her current Circus tour. She's performing a few times a week and keeping the weight off, but she struggled with her shape after having children the way many of us do. The critics seemed to come down the hardest on Britney's very normal and attractive body when she chose to wear just a bra and underwear getup during her disastrous 2007 "Gimme More" VMA performance. She should have opted for a less revealing outfit, but she wasn't overweight by any means.
Now Britney's ex, Kevin Federline, has crossed well into overweight territory by gaining an estimated 85 pounds. The former backup dancer does look much bigger than he did before. Instead of sympathizing with him or just ignoring his size Britney is supposedly calling K-Fed rude names like "fat housewife" and "K-Fatter-Line." She's also said to have put him on a diet:
Britney Spears has put ex-hubby Kevin Federline on a diet because he's gorged no so much fatty food, he's gained a whopping 85 pounds.

The 5-foot-10 former backup dancer weighed just 150 pounds when he married the singer in 2004. Now he tips the scales at about 235 pounds.

Back when they were married, Kevin used to chide Britney about her weight, but now the dinner table has turned. These days, it is Britney who is making the jokes – calling him K-Fatter-line and other names.

"She'll ask him, 'When is the baby due?'" revealed a source.

Kevin, who cares for their two boys, isn't working and rarely exercises – which infuriates the sexy entertainer. "Britney called him 'a fat housewife,' and he just laughed, said the source. "He says he's gained weight because he is happy and content, but Britney says he is just fat and lazy…

"Britney insisted he go on a diet and stop showing their kids it's OK to be fat and sloppy," said the source…

"Kevin was more than irritated by Britney's diet demand, but he's going along with it for now…

"Kevin says he doesn't have to worry about his looks," said the source, "because women still love him."
[From The National Enquirer, print edition, July 13, 2009]
Isn't it always the people who just lost weight who think they're justified in giving rude advice to others struggling with that same issue? It's mean to call people names, but it's kind of fitting that Britney has the chance to get back at K-Fed if he used to mock her weight too. Making fun of someone rarely motivates them though. Many of us go through phases where we could benefit from shaping up, but it doesn't help when friends and loved ones bring it up like you have a character flaw. If anything it makes you withdraw from them because they're judging you.
It seems like K-Fed and Britney don't have a close relationship anyway, so if she's pushing him away by being rude about his weight she probably doesn't care. It just goes to show that you shouldn't judge others, especially friends and family, because it'll come around.
Britney is shown out in Calabasas, CA on 7/2/09 and in Paris on 7/4/09. K-Fed is shown out bowling in Studio City with his girlfriend, Victoria Prince, on 7/1/09. Credit: Fame Pictures