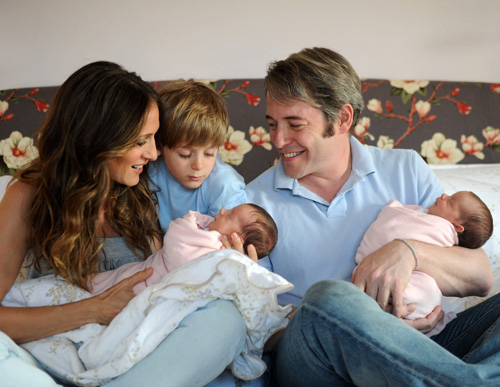 Twin girls Tabitha and Marion weren't even born yet when the tabloids had Sarah Jessica Parker and Matthew Broderick fighting over nannies and when SJP would go back to work. Many commenters questioned why Matthew and Sarah Jessica would be fighting over her schedule, when Matthew could just as easily stay at home and help with the babies. It looks like that's what's going to happen, at least according to Life and Style Magazine. When Sarah Jessica begins filming on the sequel to Sex and the City in a few months, Matthew will be taking a timeout on his own thriving stage career to be a stay-at-home dad:
Sarah Jessica Parker and Matthew Broderick were at the East Ohio Regional Hospital when their twin girls Marion and Tabitha were delivered via surrogate on June 23. But not even newborns can keep Sarah (and Carrie Bradshaw) from her Monolos: The Sex and the City sequel is set to start filming this fall in NYC and open next May, an insider tell Life & Style.

"She's not postponing the movie, even though filming sometimes could last up to 14 hours, like it did on the first movie," says the insider. "She's going to have a staff to make it easier on her."

But not all the help with the twins and son James Wilkie, 6, will come from employees.

"Matthew's ready to pick up the slack as the movie gets underway," says the insider. "He's very supportive of the project. The first movie being such a huge hit has a lot to do with that. It it hadn't been such a big deal, then Matthew would have to go back to work. But starting this fall he can devote himself to the family full-time."

Sarah, 44, will also have the support of friends, who threw her a baby shower in New York's Hamptons on June 21 – just two days before the twins' birth.
[From Life and Style, print edition, July 13 2009]
I'm not trying to be mean, but I really wonder if Matthew is as supportive of this whole endeavor as Life and Style (and other tabloids) would have us believe. I want to believe that Matthew is as happy with these twin girls as Sarah Jessica, and I want to believe he's that engaged with his family. But I don't know. Here's another question, and one I've asked before – since Sarah Jessica is executive producer on SATC, why in the world didn't she push back the film shoot to accommodate her family schedule?