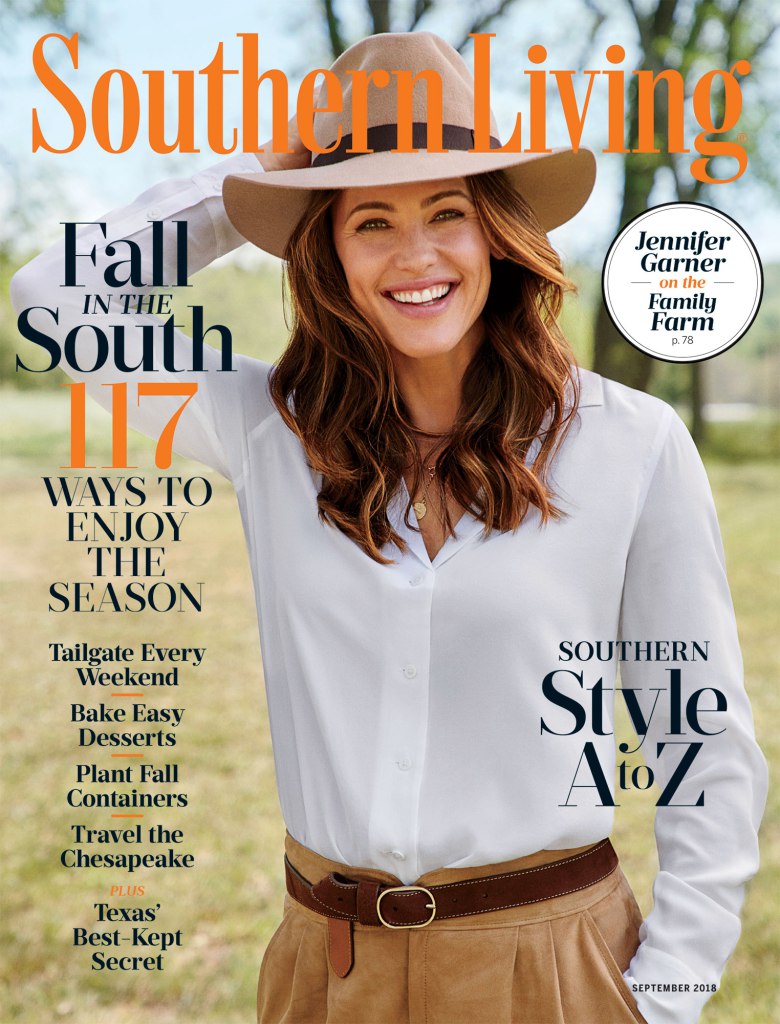 Jennifer Garner is covering Southern Living to promote her Once Upon a Farm baby food business and down-home image. She talks about her southern upbringing, she grew up in West Virginia, and about the fact that she purchased the farm where her mother was raised in Oklahoma. The plan is for her uncle to grow organic crops there that will be used for Once Upon a Farm. Garner's mom, who turns 80 soon, is interviewed along with her in video segments available on the site. In the accompanying video interview, she talks about giving her children a connection to her mom's childhood, when they had a farm and made fresh ice cream. Garner even made ice cream as a child and sold it to her neighbors. Here are some quotes from the video and from her print interview.
On helping her children understand her mom's background
There's something really nostalgic feeling about the stories [from my mother and uncle about their childhood]. You feel like 'How can I infuse my kids' city lives, they couldn't have more a different life… and how can I give them that feeling and the freedom and the joy and the silliness. And the hard work. The work ethic that [my mother] grew up with.

Garner had a homemade ice cream business
When I think about my mom's childhood I realize how much of that transferred to my sisters and me. We did have homemade ice cream and it was a big treat. I had an ice cream company with a friend of mine. We would crank out, with the rock salt, and we would serve ice cream to neighbors and friends. We would charge them it was a business.

Garner's mom: You were called C&J ice cream. You went around the neighborhood and sold the ice cream. [When I was young] ice was delivered and you put a sign on your window that said 25 or 50 [for the amount of pounds of ice]. By then we had a refrigerator but it didn't make enough ice for the ice cream. It's my favorite memory of being young, but we only made vanilla.

SL: So, what's your fondest memory of growing up in West Virginia?
JG: The friendliness and patience of Southerners. When I first moved to New York City, my hand almost fell off from waving at every person I passed on the sidewalk—because that's how I had been raised. I really believe the more people you make eye contact and share a smile with, the happier and more connected you feel.

SL: And you still miss…
JG: West Virginia's warm summer nights—and fireflies. I miss the easy sense of community (although, with a little effort, you can build that for yourself anywhere). I also miss songbirds at the bird feeder, pickup trucks on the road, and high school football games on Friday nights.

SL: Favorite meal growing up:
JG: Mom's roast chicken, rice, and gravy with hot homemade rolls. Notice that I didn't mention anything green—I didn't eat anything green until I was an adult. There was probably a fruit crumble afterward too—and ice cream.
I live in the south now, in Virginia, but I grew up in upstate New York. I've lived here for a handful of years but I only had biscuits and gravy this year, they're delicious. The politeness and friendliness of southerners takes some getting used to and it's of course cultural. When I go back to New York I have to remind myself not to smile and nod at everyone. On the flip side I didn't encounter overt racism among other white people until I moved to this area. People claim that it's just as bad in other areas of the states but that racists keep it hidden. I would prefer that it stay that way. Nostalgia always focuses on the good things. That's not a dig at Garner. She's not doing anything different than any other celebrity and she's a positive person.