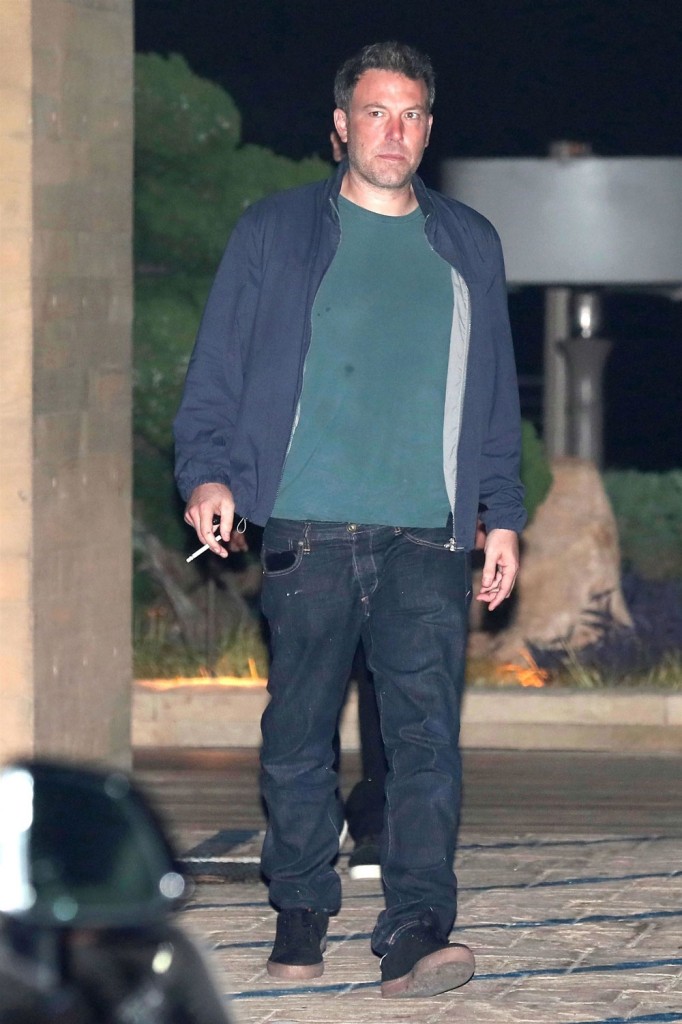 I swear that last week, as I was thinking about the fact that Ben Affleck and Jennifer Garner are still not divorced, it occurred to me that at least Ben is dating an age-appropriate woman. Lindsay Shookus is an accomplished TV producer in her late 30s and while Ben may have hooked up with the nanny and be a cliche in so many other ways, at least his official girlfriend is not a model barely out of her teens a la Leo DiCaprio. Maybe not so much though because Affleck took a 22 year old model out to dinner at Nobu on Thursday. They sat outside too. We actually have the pics because multiple paparazzi outlets got them, they're not exclusives. Affleck wore saggy pants, a stained green t-shirt under a blue jacket and smoked a cigarette on the way in. His date was in a formfitting nude-colored tank dress with heels. If Affleck had even a six figure VP job this woman would be way out of his league.
Ben Affleck stepped out with Playboy model Shauna Sexton on Thursday, August 16, for a dinner date at Nobu in Malibu, and sources are sharing the details of their evening with Us Weekly.

"Ben seemed like he was in a somber mood … He comes in from time to time," a source says.

The insider adds: "Ben came in with a big team. He had bodyguards all around. He sat outside with Shauna, and they got a lot of food."

According to a separate source, "Ben arrived by himself and left by himself in his car. He tipped the valet with a $100 bill."

Affleck, 46, and Sexton, 22, were spotted leaving Nobu in Malibu after a dinner date with the Justice League actor in a green T-shirt, jeans, a navy jacket and sneakers, while the model donned a fitted nude tank dress and black heels.

The outing left some questioning if the director had split from girlfriend Lindsay Shookus, whom he went public with in July 2017. The couple moved into an apartment together in New York City in November 2017 and were last spotted on a trip to Puerto Rico in July.
Nobu is a celebrity hotspot. Affleck absolutely wanted to be spotted. However a source told E! that Affleck was not happy to be photographed. The same source also said that he "feels it is over with Lindsay," since she's not moving to Los Angeles as planned. Passive aggressive a-hole. Did Lindsay dump him for not going through with his divorce? The last we heard, sources were heavily insinuating that Garner would not sign off ok the divorce until Affleck got sober. Maybe Lindsay saw that Affleck was dragging his feet, took it as a sign, and got out of there. She's well rid of him. Maybe he didn't even split with Lindsay, maybe he pulled this stunt to send her a message. Remember how Ben got caught at a strip club in Vancouver right before he was due to marry Jennifer Lopez? He doesn't do the dumping, he sabotages the relationship and waits for the other person to pull the plug.
After all this, Lindsay deleted her Instagram. If she's smart she'll fade into obscurity like nanny Christine Ouzounian. How much do you want to bet Ben still sees her occasionally?
This is Shauna Sexton. That is so not her real name.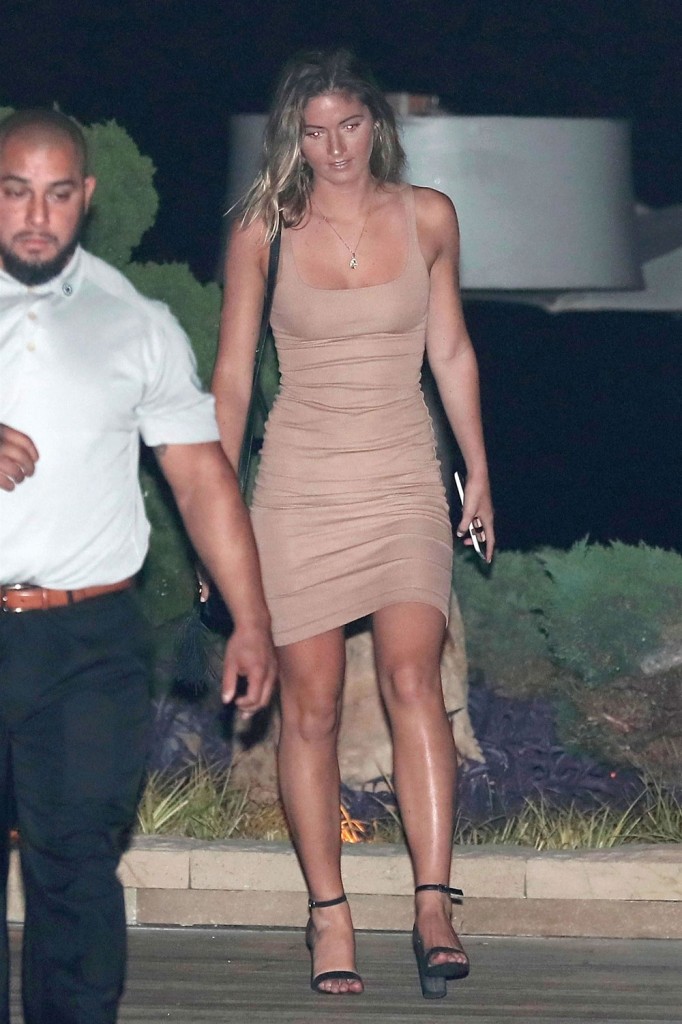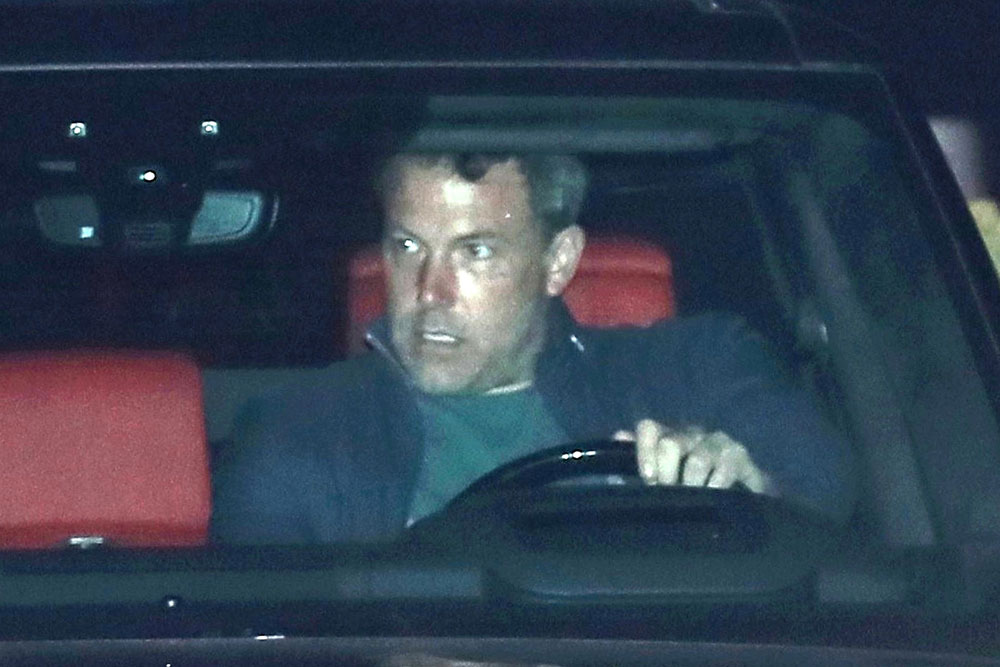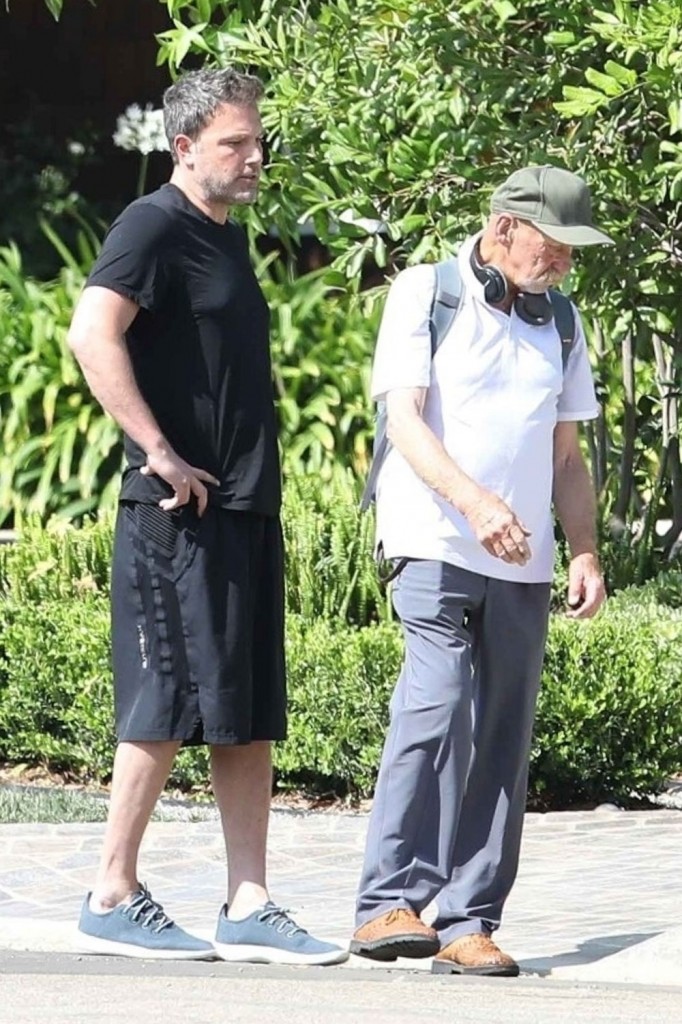 Here's Ben getting Jack in the Box on Saturday. I heard the Batman theme song in my head when I saw these pics.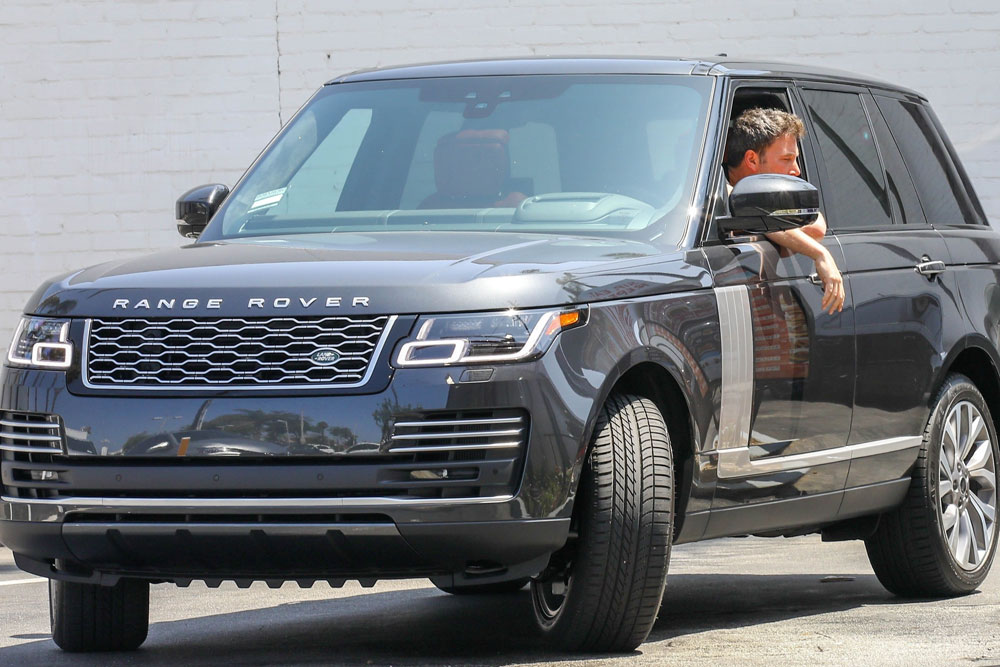 Photos credit: Backgrid