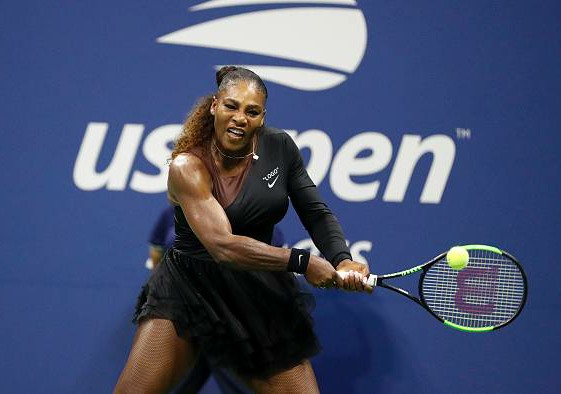 The US Open started yesterday and I'm having so much fun! I bought the ESPN+ app so I can watch all the matches and it's amazing. Of course, that also means that I'm watching like three matches at the same time, which is what happened last night as Serena Williams played on Arthur Ashe Stadium while Juan Martin del Potro played on Louis Armstrong. It's a good problem to have, how to watch all of the exciting tennis all at once. In any case, Delpo and Serena both won their matches. Both were serving up bagels in their matches too, which was awesome. ("Bagel" means their opponents didn't win any games in a set. Serena won her second set 6-0.)
For Serena, it was her first time back at the US Open since 2016, when she lost in the semifinals. It's her first time back since giving birth to Olympia, who turns one year old in a few days. And Serena decided to dress like a warrior princess for the event – this Nike kit was designed by Virgil Abloh and honestly… I didn't hate it. I worried that the tulle skirt would not be functional, but it actually looked cute and cool on the court. I still don't get the one long sleeve though. Serena was so hot that she needed her team to bring her more sweatbands.
Before her match, Serena released two new commercials with her sponsors. The Nike ad is incredible. The Beats ad is… well, I don't need to see Nicki Minaj in my Serena ad, but that's just me.
If you don't dare to try and chase your dreams, you'll rob yourself the joy of doing it. Don't just dream it. #JustDoIt pic.twitter.com/tjpZzVdP8I

— Serena Williams (@serenawilliams) August 27, 2018
This one is for queens everywhere: It takes both grace and strength to own all that you are and never settle with having to choose so let's own it, declare it, and let the world watch us conquer. 👑 pic.twitter.com/jcEBU6YdsE

— Serena Williams (@serenawilliams) August 27, 2018
Look at her leather jacket! That's what she wore as she walked onto the court. The jacket is amazing and it should be worn off the court too.
Photos courtesy of Avalon Red and Getty.