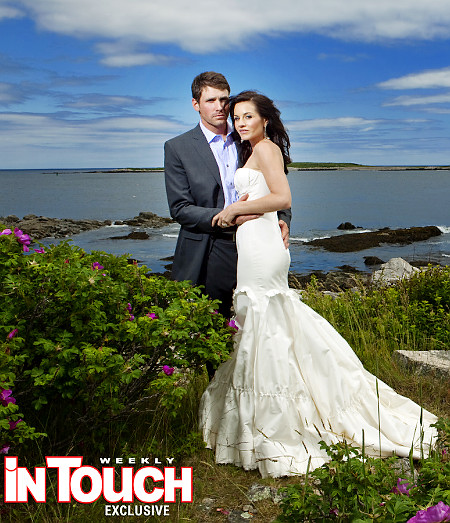 American Idol's Kara DioGuardi, 38, married general contractor Mike McCuddy, 34, in Prospect Harbor, Maine on Sunday. Kara has a home in Maine and met Mike while he was building the house next door. Mike proposed on Kara's birthday in December after they'd been dating for a little over a year. In Touch has the exclusive photo and the details of their wedding, which was attended by 30 guests and held at a Methodist church across from Kara's home. It sounds romantic and they had sunshine for their special day, which was a welcome change after it had rained for weeks:
American Idol judge Kara DioGuardi wed teacher-turned-general contractor Mike McCuddy on July 5 at 12:30 in the afternoon in Prospect Harbor, Maine. The Grammy-nominated singer-songwriter wore a Vera Wang gown for the small ceremony. The couple, who met when Mike, 34, built the house next to Kara's in Maine, got engaged in December. They exchanged vows at the United Methodist Church, across the street from her house, in front of about 30 guests. "I feel great. What was most unbelievable about the experience was when I looked out at the church and saw all these people that were so important to me and Mike, who were there for us. It was pretty powerful. I was very emotional and I'm not somebody who breaks down and cries," Kara, 38, tells In Touch exclusively, adding that the weather even behaved. "It's been raining in Maine for 60 days. The only day that was nice was yesterday!"
[From In Touch]
Congratulations to Kara and Mike and that's nice that they opted for a low-key local wedding instead of going the Hollywood route. How strange is that wedding photo, though? It looks like a still from the intro to a soap opera. They're the mean and powerful plotting couple that everyone fears in their impossibly beautiful, rich small town. The picture could also be used as the front of a romance novel, something like "The Contractors Wife." Kara's husband sure is hot enough to be on the cover of a romance novel. Together they'll take on the world, glaring out at their enemies in an idyllic town that's home to a disproportionate number of secrets and scandals.
Photo used by permission of In Touch