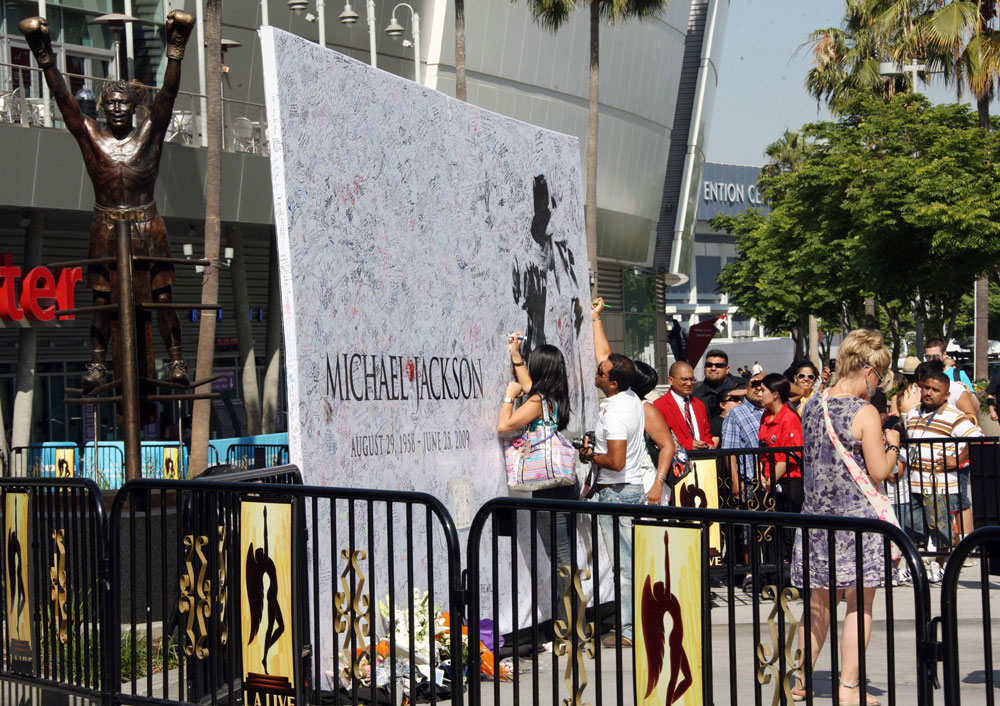 A very close friend of Michael Jackson's, Mark Lester, is featured in a long, revealing interview in this week's Hello! Magazine. Lester is a former child star who starred in the original Oliver! film in 1968. He's now 51 and has four children with his first wife: Lucy, 17, Harriet, 15, Olivia, 14, and Felix, 10. Jackson is the godfather of all of Lester's children. Lester has known Jackson for over 25 years, is also the godfather of all of Jackson's children, and considers him one of his oldest and dearest friends. They used to talk every week and last spoke on the Sunday before Jackson died. There are plenty of photos of Jackson and Lester together in the article and with their kids. They planned to take a joint family vacation this summer in England.
Lester talks about what a kind, gentle man Jackson was and how he trusted his children with him implicitly. He also reveals that it was a shock to him that Jackson was even taking prescription drugs and that he'd never even seen him take an aspirin. As for Jackson getting injections, that seems improbable to Lester, an acupuncturist and osteopath, because Michael could barely tolerate acupuncture needles:
Have you spoken to Michael's children since their father's death?
"Yes, two days afterwards on the Saturday. I spoke with Paris who told me, 'Mark, don't worry, Daddy has gone to live with the angels now. Can we still come and stay with you?' If anything, she was comforting me. Paris was incredibly strong and consoling and pleased to know that all of them are welcome to stay with us any time."

There have been reports that Michael is not their biological father. What do you believe?
"As Michael would say: 'More rubbish, Applehead.' I've steered clear of reading most of the tabloids because much of their information is incorrect and ghoulish, although I realise as much as Michael did that it sells newspapers."

What about claims of anorexia and addiction to prescription drugs?
"Michael certainly wasn't anorexic when I last saw him. He was slim, probably about 11 stone. He always ate small meals when he was preparing for concerts. I never saw him take as much as an aspirin, so I'm suspicious about these reports of drug-taking and especially the administration and prescribing of these drugs. The whole circumstance of the truth regarding Michael's death seems veiled in mystery, to say the least. You wonder who is protecting whom and why."

You're an osteopath and an acupuncturist. Did you ever treat Michael?
"This is what I find so very mysterious – Michael hated needles. I gave him acupuncture twice, once for a sprained thumb and another time for a spider bite. He wouldn't have osteopathy because he couldn't bear to hear the bones click."

Was Michael looking forward to the O2 gigs in London?
"I'd never seen him so invigorated or alive. He was excited in that kind of way he had which was enchanting. He wouldn't tell me what he had planned because he wanted it to be a surprise – he loved bestowing surprises. A few years ago, he called me and told me he'd booked first-class tickets for Lisa and I to join him in Tokyo just because Lisa had once mentioned that she'd love to go there. I did know that he was determined to put on a spectacular show for his kids."

Was Michael concerned about his reported money troubles?
"Quite the opposite. He never spoke to me about money but the last time I was with him he'd just ordered six new Lincoln 4x4s as family runarounds…"

What kind of friend was Michael?
"Extremely loving, kind and generous. In the last few months he called me every Sunday – he asked if [my daughter] Harriet could join him on stage for Dirty Diana at the 02 because, he said, she reminded him of Princess Diana whom he had been extremely fond of, and who told him that was her favorite Jackson song. He was also annoyed that I'd bought Lucy a car for her 17th birthday because he'd wanted to do that himself and he made me promise that he could buy cars for Harriet and Olivia when they were old enough."
[From Hello! Magazine, print edition, July 13, 2009]
Lester also talks about Jackson flying everyone first class and booking entire floors in hotels. He told him "you don't have to pay. We're here for you, not the money," and Jackson would respond by saying "I [booked] all the rooms anyway." You can tell that the guy went through money like water.
Lester was there for moral support at Michael Jackson's press conference in March announcing his comeback shows. Jackson seemed drugged to me in that press conference, but you can see how an old friend might not notice and brush it off. I do think he had some kind of prescription drug addiction that he hid from his family and friends. I had a friend who was addicted to Oxycontin and although he changed I didn't notice until things got really bad for him. As I mentioned yesterday, the more I learn about Jackson the less I think he's guilty of anything other than being too trusting of people and getting taken advantage of. He did open up his life to a few people, and the love and kindness they have for him speaks volumes about what kind of person he was.
Photos are of fans outside the Staples center yesterday in preparation for today's memorial. Credit: Fame Pictures