Jennifer Lawrence has been the biggest name/face attached to Dior for years now. Even though someone like Natalie Portman has been all up in Dior's representation for years, I tend to associate J-Law with Dior more than any other celebrity woman. I think it's because she's contractually obligated to wear so many Dior pieces on red carpets, and Jennifer is always on a red carpet. Sometimes, I think Dior is doing her dirty with the clothes they make for her, but sometimes the union is successful, I have to admit. It's not surprising that Dior wanted Jennifer to represent their latest fragrance, Dior Joy. She's an obvious candidate for a major fragrance campaign, and she'll do a lot of interviews to promote the fragrance. She chatted with Vogue as she filmed the campaign – you can read the piece here. Some highlights:
She loves the smell of Joy: "It's fresh to me—so many perfumes are too alcohol-y; too fume-y. I smelled the ingredients"—flowers, citrus, cedar, sandalwood, and musk—"on a trip to France, but today was the first time I experienced the finished product, and I'm really happy with it."

When she feels the prettiest: "After three hours of basically prosthetic makeup. The more fake I have on me, the prettier I feel."

Her beauty routine when she's off-camera: "I don't wear makeup. I always wear sunblock. Low bun. Dior Lip Glow. Sunglasses."

How she got through the five-day Dior campaign shoot: "I start complaining. I have a pretty strict complaining regimen that I try to stick to. And I eat."

Her physical training: She trains with Kit Rich, with whom she worked for Red Sparrow: half cardio, half Pilates; using only her body weight for resistance.

She eats: "I don't like when people say, 'I only do this or eat this.' Because I eat. I'm not very strict with my diet: If I want a piece of pizza, I eat a piece of pizza. But I do work out more than normal because I have a certain way that I want to look, and a way that I want to fit into my clothes. I get photographed when I'm not asking for it, so there's added pressure to look and feel your best. For me, it's easier to put that extra effort into the gym instead of putting the extra effort into: 'Oh no, I can't eat that.'"
Trainers always say that you can't out-exercise a bad diet. But I don't really believe that Jennifer's diet is completely bad – I think she's being honest about "if I want a piece of pizza, I eat a piece of pizza." But I also think she probably sticks to an actress-y diet most of the time, as well as exercising a lot. That's our Jen: super-real.
This campaign is very beautiful, but I have to say… she has such a baby face, I always think she looks a bit clownish when she is very heavily made-up. If I was styling her, I would avoid the strong lip color and just keep her very natural-looking.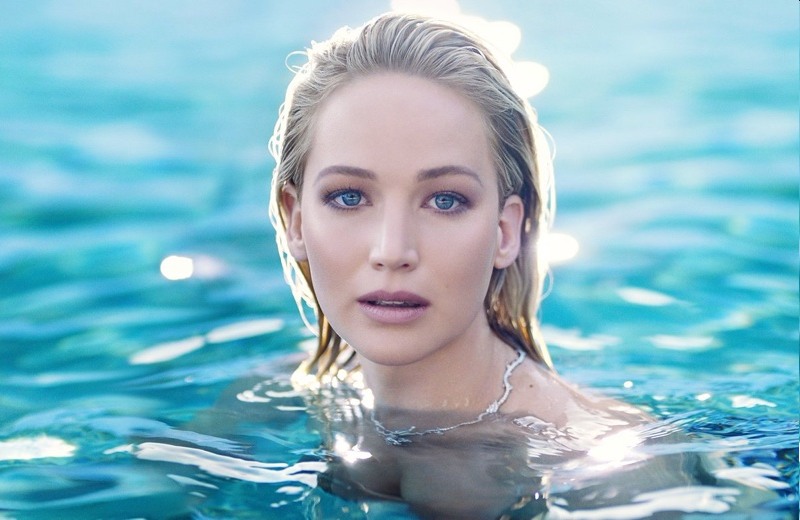 Photos courtesy of Dior.