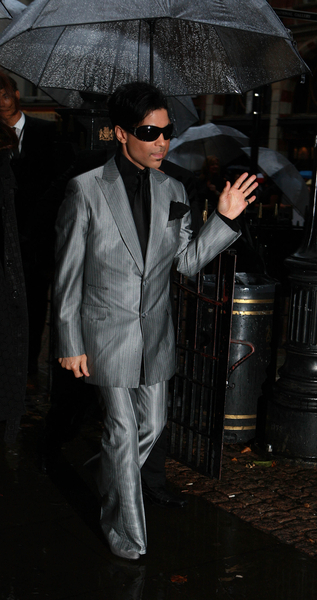 It turns out Prince fancies himself an artist. I fancy him a giant, shrieking hamster with a funny shaped guitar who used to have a symbol for a name. Well, the precious "artiste" is flaming mad at the internet. He's filing suit against YouTube, eBay, and a bunch of other big internet sites to "reclaim his art on the Internet." I really think it's pretentious of him to call what he does art, but for some reason I have a real hatred of Prince that I'm going to try to push aside while I write this article. Prince thinks that a site like YouTube can keep his videos off the internet, because they can keep other equally offensive content off their site.
"YouTube … are clearly able (to) filter porn and pedophile material but appear to choose not to filter out the unauthorized music and film content which is core to their business success," a statement released on his behalf said.
[From Yahoo]
If YouTube can filter out offensive, useless crap like porn, why can't they filter out offensive, useless crap like Prince's videos? Whatever PR flaky wrote that statement was just asking to be made fun of. Prince is really biting the hand that feeds him. When was the last time he had a hit album or even a hit single? I think he should take whatever crumbs he can get. YouTube can also be a great way for an artist to market and promote themselves for next to nothing. And frankly, that could only help Prince.
"YouTube responded by saying it was working with artists to help them manage their music on the site. 'Most content owners understand that we respect copyrights, we work every day to help them manage their content, and we are developing state-of-the-art tools to let them do that even better,' said YouTube chief counsel Zahavah Levine. 'We have great partnerships with major music labels all over the world that understand the benefit of using YouTube as another way to communicate with their fans.'"
[From Yahoo]

Along with YouTube, Prince is suing eBay and a website called Pirate Bay, a torrent-based site that lets users illegally download music, movies, games, and applications. I understand suing Pirate Bay, as they help you search for illegal content. Torrents are kind of confusing, but my best, quick summary is that the sites you find torrents on don't host them, and you download the content in small packets of information from several places. In terms of eBay… that seems a little unwise. They're not handing out intellectual property for free or anything. People have apparently been using Prince's image on coffee mugs, wall clocks, mouse pads, and other equally useless crap that no one cares about.
"'Prince strongly believes artists as the creators and owners of their music need to reclaim their art,' the statement added. British company Web Sheriff has been hired to help coordinate the action. 'In the last couple of weeks we have directly removed approximately 2,000 Prince videos from YouTube,' said Web Sheriff managing director John Giacobbi. 'The problem is that one can reduce it to zero and then the next day there will be 100 or 500 or whatever. This carries on ad nauseam at Prince's expense,' he told Reuters. He said his company had also removed around 300 items from eBay, where whole lines of pirated goods trading on Prince's name had appeared, including clocks, socks, mugs and key rings."
[From Yahoo]
Prince, if there's someone out there that wants to buy your face on a coffee mug from eBay, let them. They probably like you enough to have bought a few of your CDs too. YouTube is generally fan-based. It's probably not super-wise to piss off the last 12 fans you have. Sorry, my seething dislike is boiling through again. If nothing else, this stuff is hard to stop. It seems best to work with the companies (not Pirate Bay, but the others) to try to put your content on there yourself legally. If it's on the site, that means there's a market for it and people want it. Instead of suing them, why don't you work together? If you go to YouTube, you can find official videos from lots of artists and major networks. That way everyone is happy and you don't look like a prissy little metallic-covered hamster. Sorry, it slipped through again.
Picture note by JayBird: Here's Prince at the Bourne Ultimatum UK Premiere. Images thanks to PR Photos.