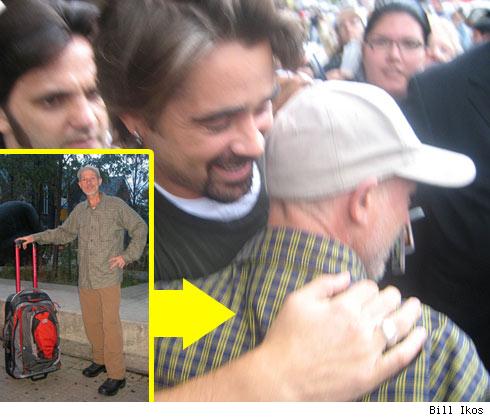 A few years ago a homeless man, known to locals as Stress, made friends with Colin Farrell in Toronto. Farrell returned to town this week, promoting his new film Cassandra's Dream, when he bumped into his old friend and took him out shopping.
On Tuesday, Farrell took the man on a $2,100 shopping spree. The actor, who told CTV's eTalk that the homeless man is "a friend of mine," walked into a Toronto store with his arm around his pal. He then bought the man, whose street name is "Stress," waterproof jackets, pants, boots, and even socks.

"The homeless guy was grabbing … whatever he wanted," Dave Mott, manager of Europe Bound, an outdoor gear store on King Street, told CTV Toronto.

"Colin was walking around with the guy and doing the same thing — grabbed a sleeping bag and back pack, came back down and grabbed more clothing."

Mott told CTV Newsnet that "they seemed like they were really good friends and they were best buddies, like they've known each other for years."

Mott says Farrell made it absolutely clear: "Get him what he wants, get him the best."
After the shopping spree, he took him to an ATM where he gets out a 'wad of twenties', then paid rent on an apartment for stress for a year too.
This isn't the first good deed Farrell has performed for stress, when a radio station offered $2,000 to anyone who could get the actor into the studios (alive, I presume) the actor took the man into the studio and he was $2,000 richer!
Apparently the homeless have been loitering around the Toronto Film Festival, getting A-list cash, although Whoopi Goldberg is known for not giving anything, Keifer Sutherland and Al Pacino have been known for generosity.
Stress is the only one to have struck Irish Gold!
Note by Celebitchy: According to the article in the Toronto Sun, none of Farrell's people have mentioned his generosity to this man to the press and it only got out by word of mouth. What's more is that Farrell donated $100k to a Uruguayan school back in 2005 to fund a computer lab – and the news did not get out until this summer.