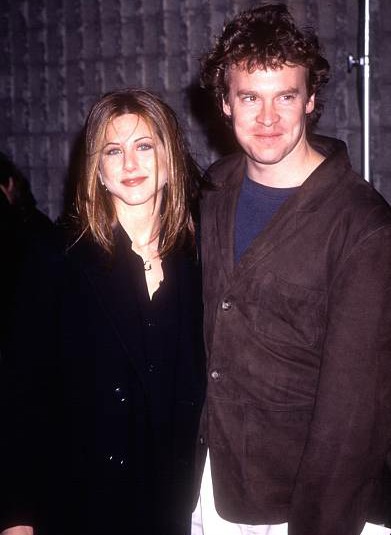 Before Justin Theroux's edgy jorts in Cabo, there was Brad Pitt matching his blonde highlights to Jennifer Aniston's blonde highlights. But before Brad Pitt, Jennifer Aniston dated several famous men. One of them was Tate Donovan. Tate and Jen dated for a couple of years just as Friends was becoming a huge sensation. Tate even had a recurring role through several episodes as Aniston's love interest. I guess I've never really looked at the timeline that much, but it seems that by the time Tate appeared on Friends, he and Jennifer were already in the midst of a breakup. So he says now that acting out those lovey-dovey scenes made him feel like he was "dying inside." LOL.
Jennifer Aniston and Tate Donovan didn't last — and neither did their Friends characters. The Argo actor guest-starred on the famed NBC comedy for a six-episode arc in 1994. And at the very same time, the now exes were splitting up in real-life.

"I was just happy to be on the team. The only bummer was Jennifer and I were breaking up at the time," Donovan, 54, recalls exclusively to Us Weekly. "And so that was tricky to sort of act, and act like we are just meeting each other, and falling in love, or whatever, interested in each other, when we're sort of breaking up. That was just tough. It was just six episodes. I mean, only because we were breaking up. We were like, 'Hey, can we not keep doing this? 'Cause this is really painful and tough,'" he recalls of his and Aniston's feelings about working together at the time. "The people that know that we dated think that we met on Friends. But in fact we had dated for two years before then, and it was over by the time we were on Friends together."

Donovan's Central Perk stint was "very interesting" — to say the least. But despite his personal relationship with Aniston, he felt very welcome by her and her costars — Courteney Cox, Lisa Kudrow, David Schwimmer, Matthew Perry and Matt LeBlanc.

"Those six people were amazing to me. They were fantastic. It wasn't cliquey for me at all. I was lucky," he adds. "The good thing that came out of it was that everyone was really cool about it, and really as helpful as they could be. In other words, they were just compassionate, very compassionate about the whole breakup. It was sort of like I proved that, hey, I guess I'm a pro. If you can go through a tough breakup, and still do your job, then you're a pro. It was good. It was really ultimately a great experience of how people can treat you really well, and you still do your job even though you're sort of dying inside."
Basically, I'm just writing this up because I'll always enjoy looking through vintage '90s photos, especially of celebrity couples. This was the same era as Gwyneth Paltrow & Brad Pitt, Winona Ryder & Matt Damon, Kate Moss & Johnny Depp. I'm telling you, the '90s were awesome, mostly because we had no idea that so many of those cool people would end up being such garbage dumps of humanity. I've always liked Tate Donovan, and I really didn't know that he and Aniston had already broken up by the time they filmed his role in Friends.
Photos courtesy of Getty, Avalon Red and WENN.