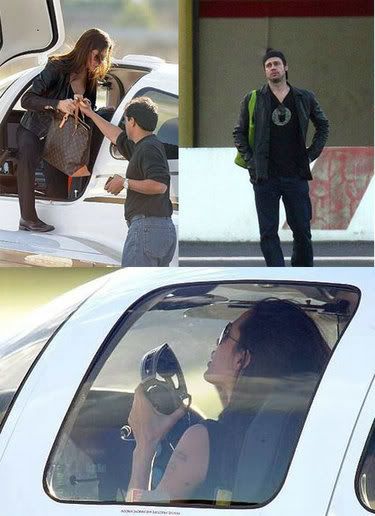 Brad Pitt and Angelina Jolie are supposed to be planning a wedding that will take place next week on a boat in the middle of Italy's Lake Como near George Clooney's villa:
Friends claim the Hollywood couple – who are expecting their first baby together – are planning to tie the knot in the middle of Italy's stunning Lake Como, where pal George Clooney has a villa.
The pair reportedly hope marrying in the middle of the lake will foil the media, following months of speculation they would wed at Clooney's house.
This sounds rather far-fetched, considering that George Clooney seemed earnest when he said in an appearance on "Larry King Live" on 2/16/06 that the couple had not asked him to use his villa for a wedding. He also said he was friends with Pitt but that they weren't very close:
KING: Did you offer him your house for a honeymoon?
CLOONEY: No but I will now. He can come there if he wants. A bunch of tabloids, all the tabloids had that that he's coming to my house to get married. I wanted to rent a bunch of tables, you know, and put them outside and then get a bunch of like kids or something dressed up in tuxes and watch them in tuxes and watch all the cameras come by.
From what Clooney said, (and Clooney is always right) it sounds like the tabloids just make this shit up. It makes no sense that Brad and Angelina would choose to get married on a boat in the middle of the lake near a villa that an aquaintance owns. It's pretty stupid, actually.
Picture [via]
---
Here's a Japanese ad featuring Brad Pitt on a motorcycle saying "please, check out my ass." We thought he'd never ask.
Pitt was the face of Edwin Jeans, the "Levis of the East," from 1996 to 1999. He has appeared in Japanese ads for the Toyota Prius and for coffee, but only lent his fame to one US ad – a Heineken commercial for the 2005 Super Bowl.