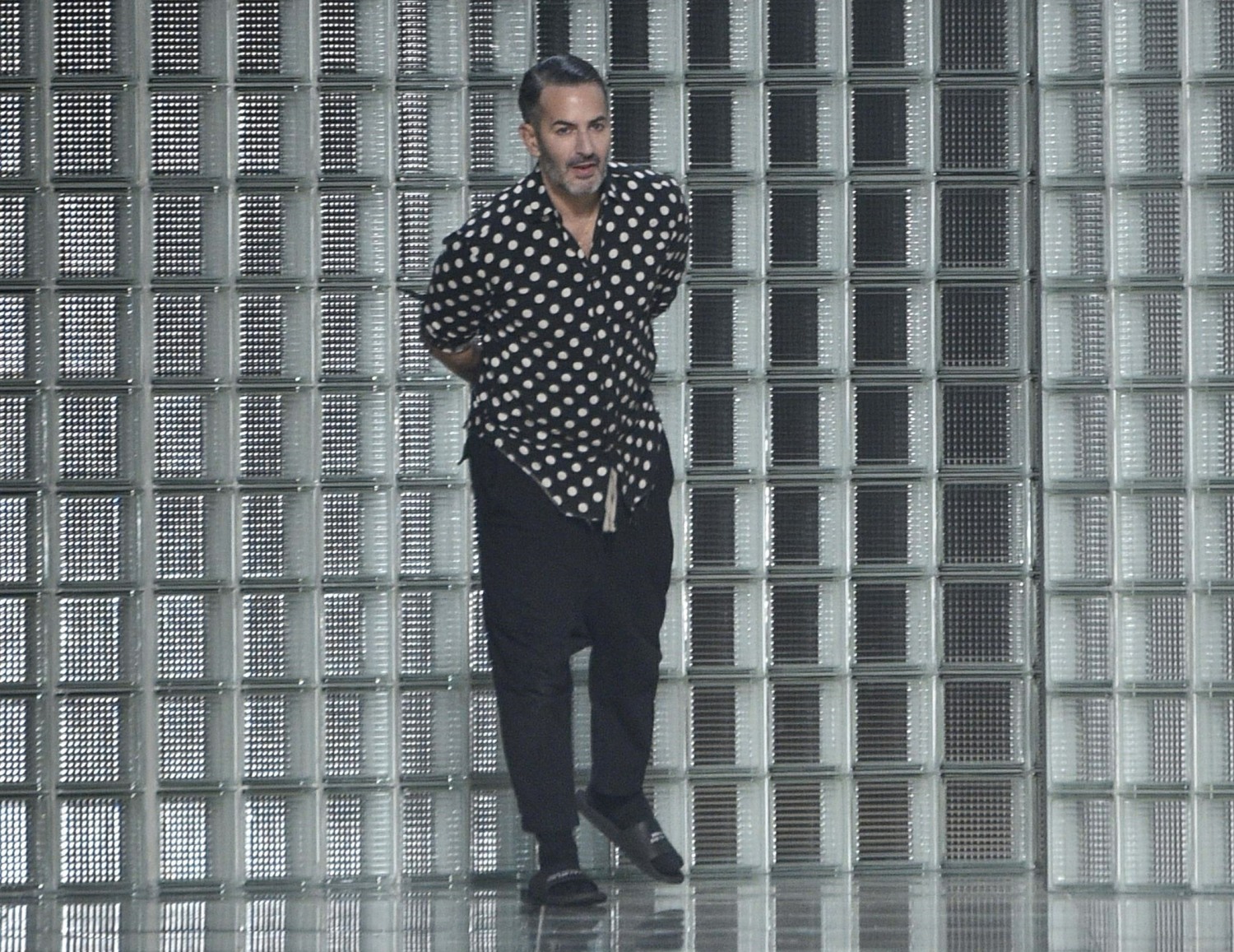 Is it just me or was this year's New York Fashion Week pretty uneventful? By that I mean, it was about the fashion and the events, and there wasn't a ton of petty gossip to come out of NYFW… beyond the Nicki Minaj-Cardi B feud turning violent. That was the big story. But thankfully, NYFW ended on a petty note. Marc Jacobs normally gets to be NYFW's big "closer." But not this year – this year, Rihanna's Fenty show was scheduled to be the last show of NYFW. Marc Jacobs *possibly* tried to be petty about it.
Marc Jacobs' 6 p.m. runway show started nearly an hour and a half late on Wednesday evening, leading some to believe that the iconic designer was simply Marc-ing his territory. Jacobs, whose shows typically run like clockwork, has long held New York Fashion Week's prestigious closing time slot. This season, however, marked Rihanna's first time snagging the grand finale: Her Savage x Fenty presentation was scheduled for 7:30 p.m. in Brooklyn, and social media quickly ran with the idea that Jacobs was deliberately sabotaging her show.

Fashion journalist Christina Binkley and the Hollywood Reporter's Booth Moore were among those who tweeted about Jacobs' delay, with the latter sharing an image of some of the designer's empty front-row seats. A number of guests, annoyed with Jacobs' late start, simply left to start their treks to the Brooklyn Navy Yard. "It wasn't a mass exodus, but it was noticeable," the Daily Beast reported. Among the stars who displayed their loyalty to Jacobs by sticking it out at the Park Avenue Armory? Nicki Minaj, Emily Ratajkowski, Sofia Coppola and Anna Wintour. (While The Cut spotted the Vogue editor-in-chief pacing and making phone calls before the show's start, she eventually returned to her front-row perch.)

MJ runway alumnae Gigi and Bella Hadid, however, chose to model in the Savage x Fenty show instead. Photographers Petra Collins and Ellen von Unwerth similarly showed their allegiance to Rihanna. Marc Jacobs' staff told the Associated Press that the reason for the epic delay was "an errant clothing delivery, no doubt caught in rush-hour traffic, exacerbated by the rain."
Last night, Marc Jacobs published a lengthy explanation on his Instagram, except the post didn't really explain what happened and why the show started 90 minutes later than it should have. He just offered vague assurances that he intended to start the show on time but he… like, ran out of money, or something. I don't believe him. I choose to believe that Marc Jacobs is exactly that petty.
Priceless: Rumors that Marc Jacobs held his 6pm show late tonight to spite Rihanna – by making people miss her 7:30pm Fenty show – for taking his NYFW-closing time slot.

— Christina Binkley (@BinkleyOnStyle) September 13, 2018
Photos courtesy of Getty, Backgrid.