Lili Reinhart, a/k/a Betty on Riverdale, is profiled in the October issue of Glamour magazine. The actress, who turned 22 yesterday, has been refreshingly honest in discussing her issues battling depression and social anxiety, her experience with sexual harassment in the industry, and has stressed the importance of body positivity.
One issue that Lili has been very upfront about is her fight with cystic acne, which she's had since she was 12. In sharing her struggles, as she did with an Instagram story back in May, she hopes to help others suffering from the same condition "to be able to feel okay about their skin." At the time, she also asserted that "my breakouts don't define me" and invited her followers to be a #breakoutbuddy and "get through this acne experience together." In the Glamour profile, she admitted that just the night before her interview she was in tears while FaceTiming with her mom because she felt she looked ugly. Here's what else she had to say:
On her ongoing struggle with her skin: "My skin has caused me a lot of anxiety and sadness. I have a specific type of body dysmorphia that stems from acne. I see any acne on my face as an obsessive thing. [It's] the only thing I can think about, and it makes me want to hide."

On a surprising #breakoutbuddy: "Lorde actually messaged me on Instagram when I had spoken out about my acne," she says, "and she was like, 'Girl, I feel you. I'm totally on the same page as you.' It was really comforting and very sweet of her."

On coping with camera phones and paparazzi: "It's only been two years that I've been semi in the spotlight, and it still pisses me off so bad when I see someone trying to sneak a photo of me," she says. The idea that she can be photographed whenever, wherever, makes her feel "like a zoo animal."

She's got "off days" too: "Sometimes I feel like I look like s—. Sometimes I don't want to talk to anyone. And it's like, I'm allowed to have those days. I'm not going to apologize for that."

She's honest, but doesn't put it all out there: "I haven't really shown the super vulnerable side of myself to my audience. If I did that, I wouldn't have anything left for myself."
One thing she does keep to herself is her relationship with Cole Sprouse, her Riverdale co-star whom she's been romantically linked with since May. She told the magazine, "I'm private about the things that I want to be private about." While the two tend to keep their union on the down low, last week Cole posted a photo on his Instagram that is the first he's shared showing them in what sure looks like "couple mode." They are so cute together and they look so happy.
Lili ends the interview on words I would like to have embroidered on a pillow, "If people could just open their eyes a little bit and see there's a wider range of beauty, there'd be so much more happiness." I think by being so honest about herself, she's doing a lot towards achieving this.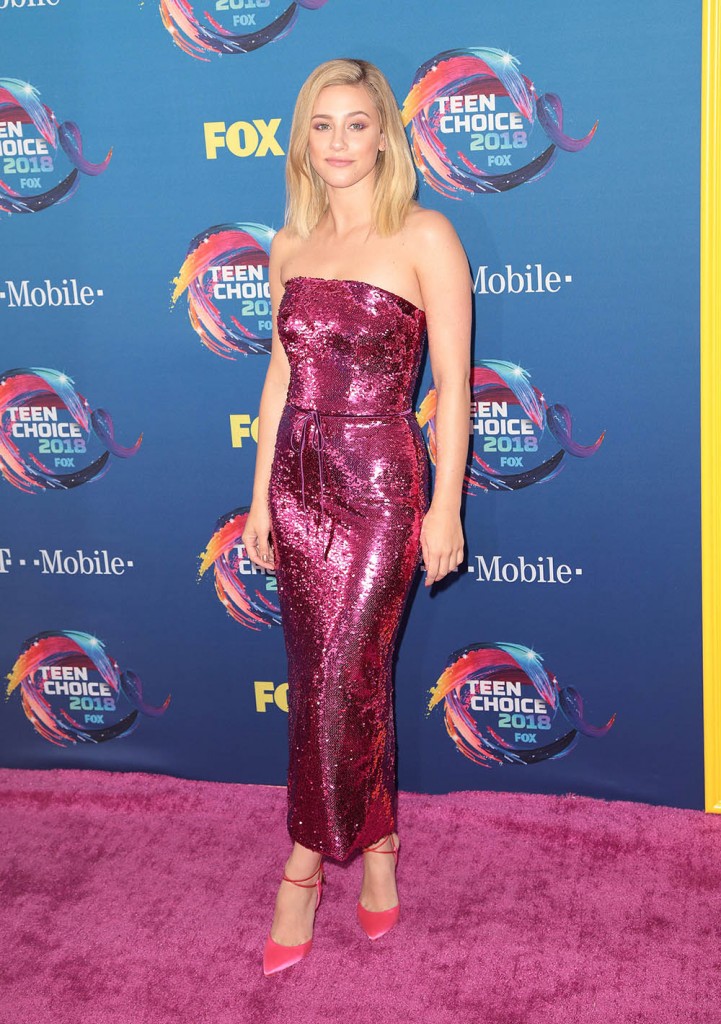 Photos: Getty, WENN, Instagram