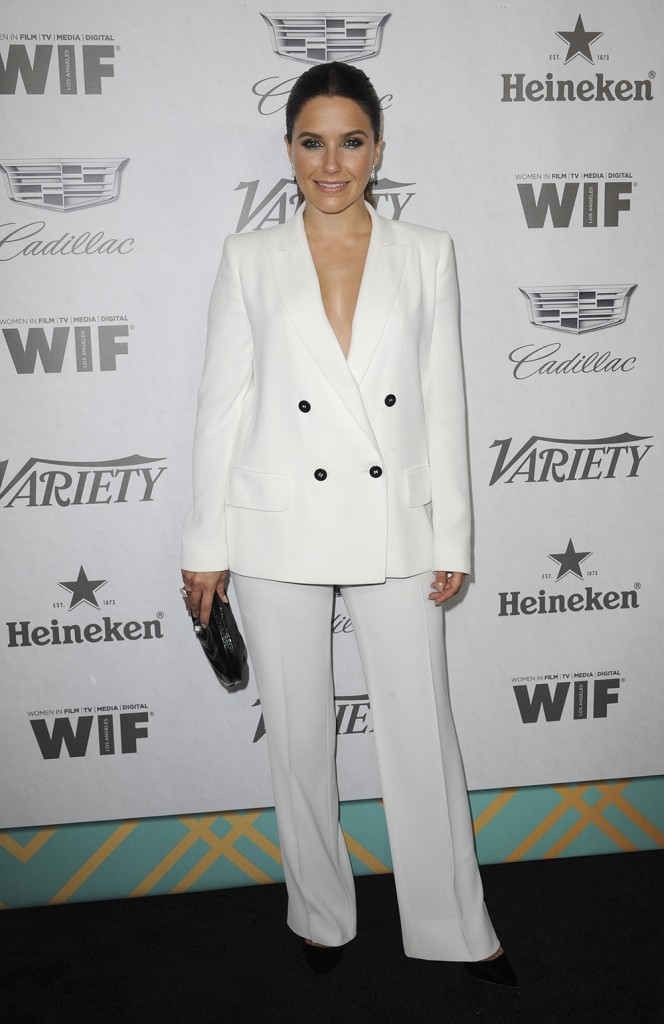 It may be after Labor Day, but I'm giving Sophia Bush a pass, because she looked radiant in a crisp white pantsuit at the Variety and Women In Film's 2018 Pre-Emmy Celebration in LA on Saturday. I love a nice suit, and I like this on her. I kind of wish the jacket was tailored a little closer to her torso, but it doesn't bother me enough to give this look a boot.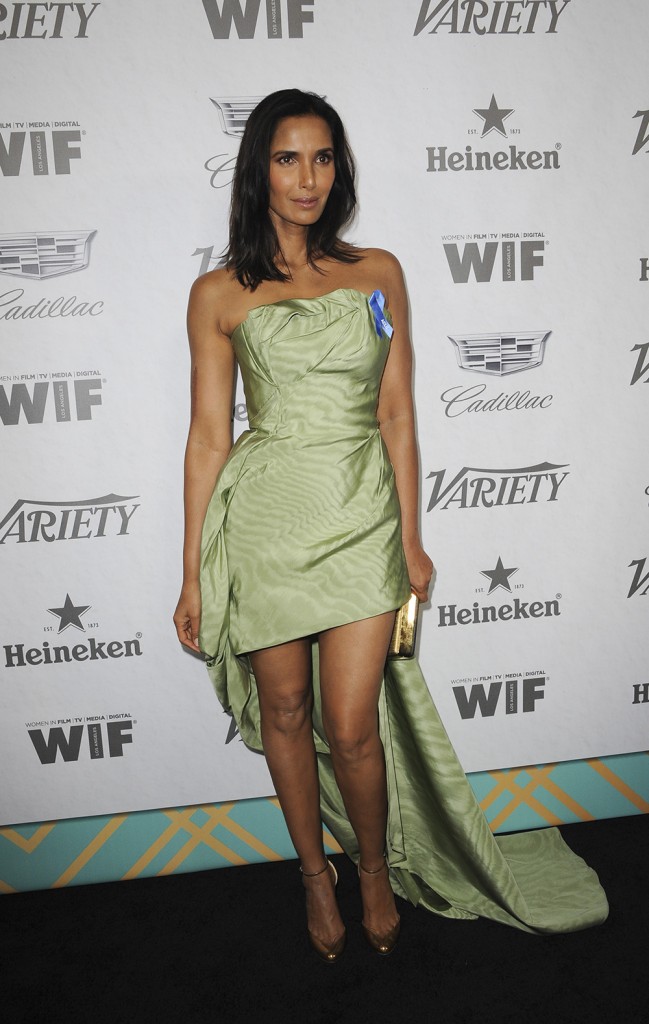 Top Chef host Padma Lakshmi looked lovely in a soft green hued mini dress with a train. She paired her dress with a metallic gold clutch and shoes. This color works on Padma, and I do like the cut of the dress. If anyone can make a train work, it's Padma. She also looked delighted to pose for a photo with Sterling K. Brown, because who wouldn't?
This Is (a pic of) Us @SterlingKBrown pic.twitter.com/V4E5hE4VX3

— Padma Lakshmi (@PadmaLakshmi) September 16, 2018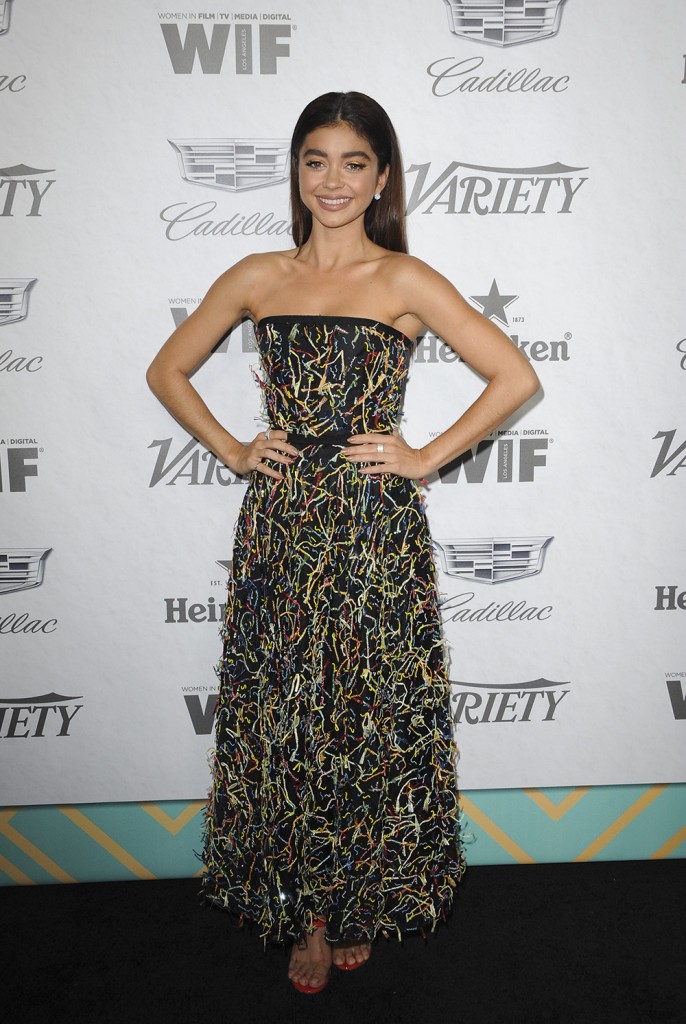 Modern Family's Sarah Hyland looked festive in a full-length black gown embellished with colorful confetti-like mini streamers. The actress, who is celebrating her one-year anniversary with boyfriend Wells Adams, looked nice in the gown, Her hair and makeup perfectly complemented the dress, but I need to take a moment to talk about those shoes. Why, in the name of all that's holy, would anyone want to wear clear shoes? I don't want to see your feet. Just looking at these makes me a little bit queasy. A red silk pump would have been a much better choice.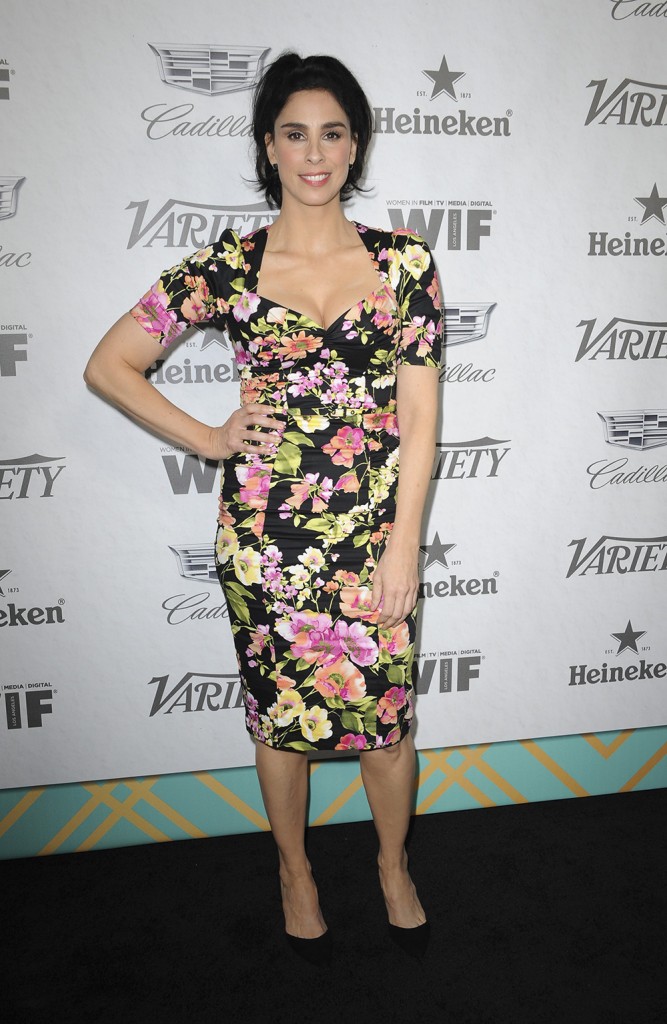 I'm not a fan of Sarah Silverman, but I don't mind her floral print dress. It's quite flattering and it's really the only thing I saw at the party that I could possibly get away with. Sarah's Hulu series I Love You, America, was nominated for the best sketch series. The comedian told Variety she "thought of some bullet points" for a speech, but was more keen to discuss BBC America's Killing Eve, telling the magazine, "I feel like I could write a college essay about Killing Eve, if I ever went to college."
Photos: WENN