Yes, the Emmy ceremony sucked, but it did right a major wrong on Monday night, finally awarding RuPaul's Drag Race the prize for Outstanding Reality Show. All I have to say is it's about damn time. RuPaul won his third award for Outstanding Reality Show host at the Creative Arts Emmys on Saturday night, and Monday's win marks the first time a show was recognized as the best show with the best host, so kudos to you, Mama Ru.
After Rick and Morty announced the winner (WTH was up with that anyway?) Ru took the stage. He was clad in a custom Calvin Klein white suit with an Andy Warhol Statue of Liberty design and some ORANGE shoes. Joining him were his number two, Michelle Visage, judges Carson Kressley and Ross Matthews and a slew of folks from World of Wonder (I see you, John Polly).
In his brief acceptance speech, Ru exclaimed that the win was "lovely" and said that "we are so happy to present this show." And, on behalf of himself and the "140 drag queens we've released into the wild" he thanked the folks at WOW and all the "dreamers out there." He closed out his comments in true RuPaul fashion, the same way he's ended his show, "Listen, if you can't love yourself, how the hell are you gonna love somebody else? Can I get an amen? Now let the music play!"
A whole bunch of those 140 queens took to social media to share their excitement and well wishes:
Yayyyy!!! ❤️❤️ https://t.co/1WoMtnBhPX

— Pandora Boxx (@ThePandoraBoxx) September 18, 2018
WOW!! The #Emmys truly gave me LIFE! I am Beyond PROUD to be a part of the Legacy known as @RupaulsDragRace, and I will forever be grateful to every single person that has worked behind… https://t.co/kDKwdkoZUr

— Shangela (@itsSHANGELA) September 18, 2018
Hours and hours and hours of hard work, talent and artistry go into every minute to this show. Congrats to @RuPaul, @rupaulsdragrace, worldofwonder and @vh1 for such an accomplishment!… https://t.co/kvAOU60bTK

— Shannel (@ShannelOfficial) September 18, 2018
Woo hoo!!! We won!!! Congrats @RuPaul @RuPaulsDragRace @WorldOfWonder @michellevisage @helloross @CarsonKressley @todrick and y'all lookeded GOOD!

— Latrice Royale Inc. (@LatriceRoyale) September 18, 2018
Some of the show's famous fans also chimed in:
It's about time! The best!

Congrats! #DragRace #RuPaul #Emmys #EmmyAwards2018 @RuPaulsDragRace @RuPaul

🙌🏼🙌🏼🙌🏼🙌🏼🙌🏼🙌🏼🙌🏼🙌🏼🙌🏼🙌🏼🙌🏼🙌🏼🙌🏼

— Donnie Wahlberg (@DonnieWahlberg) September 18, 2018
Congratulations to @RuPaul & the entire @rupaulsdragrace team! But let's be honest – even *five #Emmys* doesn't do justice to just how fabulous you all are. #DragRace pic.twitter.com/9UVsiAktVC

— Nancy Pelosi (@NancyPelosi) September 18, 2018
Of course, no one was as excited about the victory as me…and Drag Race super fan Leslie Jones, whom Ru was more than happy to credit backstage:
Yaaaaaasss Qwern!!! @RuPaulsDragRace @michellevisage @RuPaul #yasiwontoo pic.twitter.com/B6vKaZcA3n

— Leslie Jones 🦋 (@Lesdoggg) September 18, 2018
Leslie was almost as excited as she was when she and Ru announced Regina King winning the award for Outstanding Lead Actress in a Limited Series or Movie for Netflix's Seven Seconds.
living. @RuPaul @Lesdoggg #Emmys pic.twitter.com/mtBU2RDCuL

— RuPaul's Drag Race (@RuPaulsDragRace) September 18, 2018
I'm so glad that Drag Race is no longer the Susan Lucci of reality shows. Since the award's creation in 2003, it has only been won by three other shows. The Amazing Race took home the award 10 times, Top Chef won once and The Voice won four times, including last year. Congrats to Ru, World of Wonder and each and every one of those 140 queens. You definitely deserved it. Shante, you stay.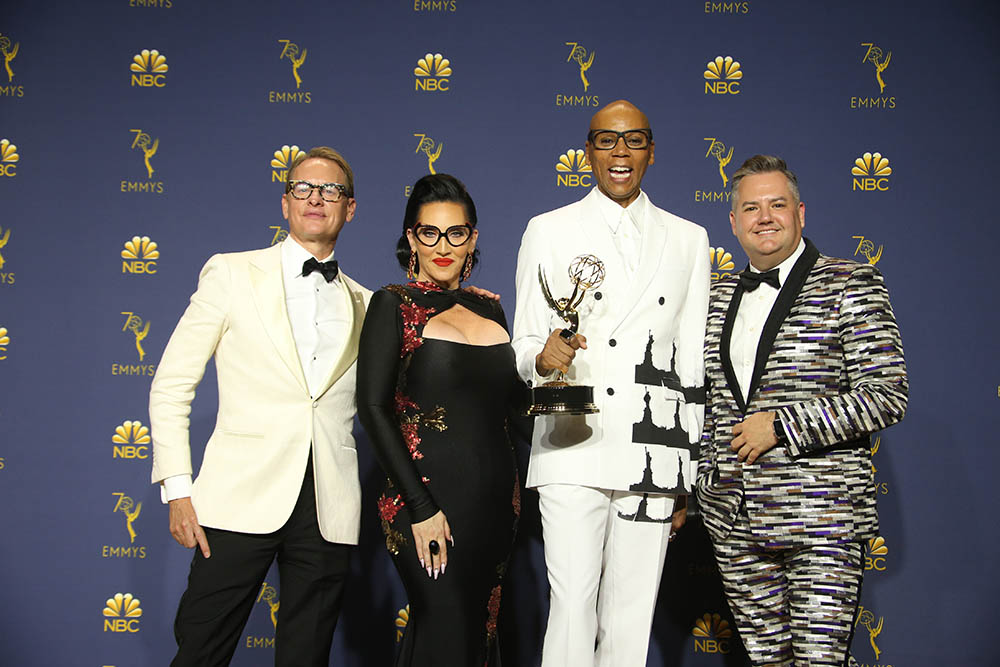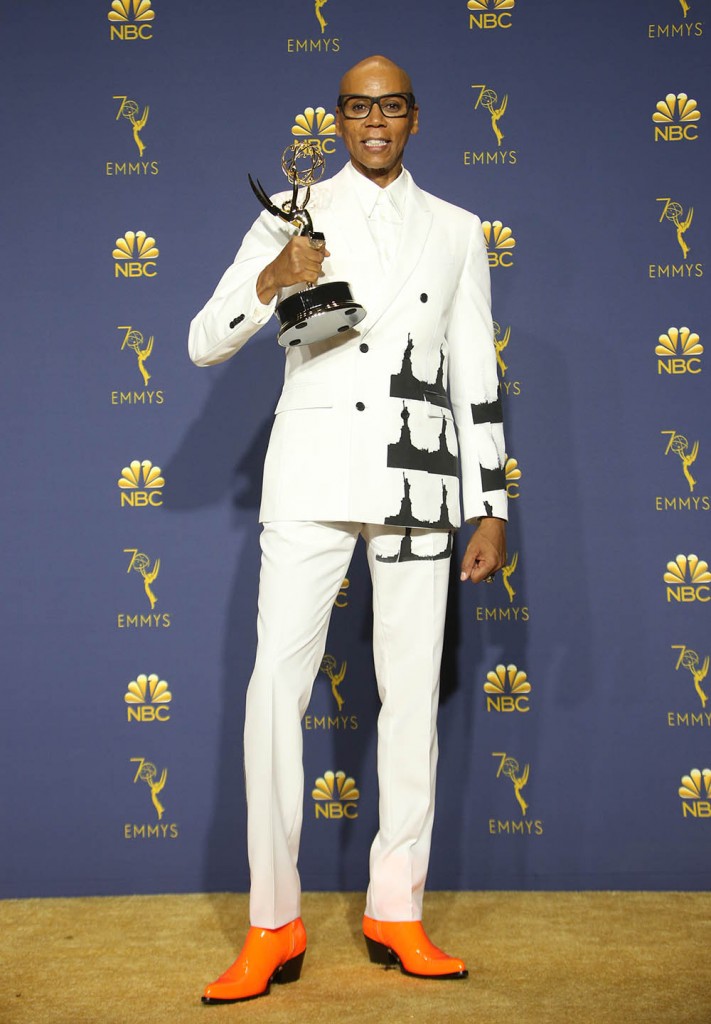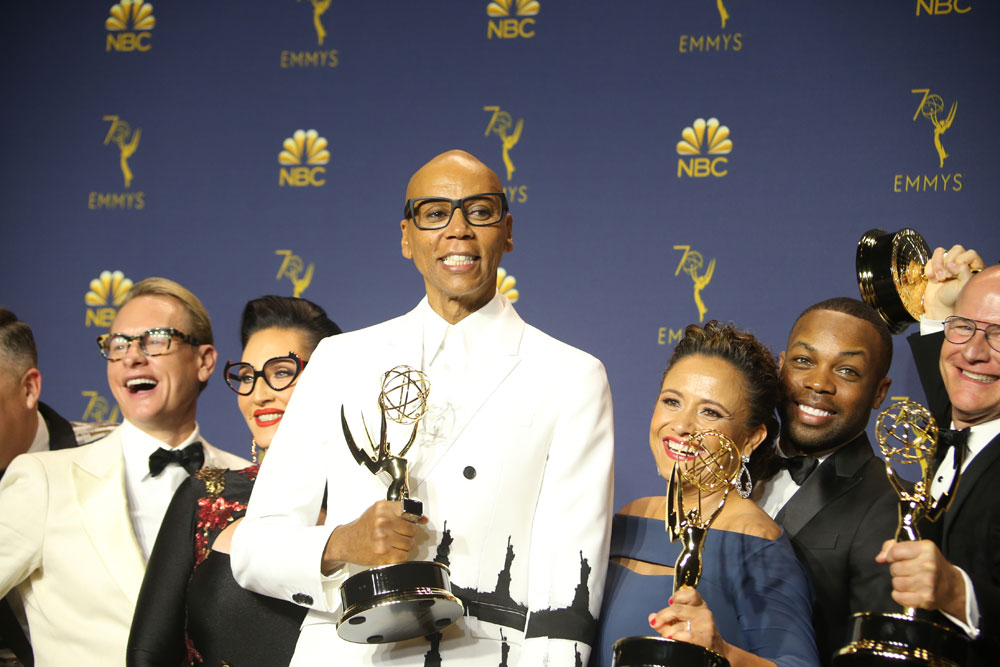 Photos: Getty, WENN, Instagram