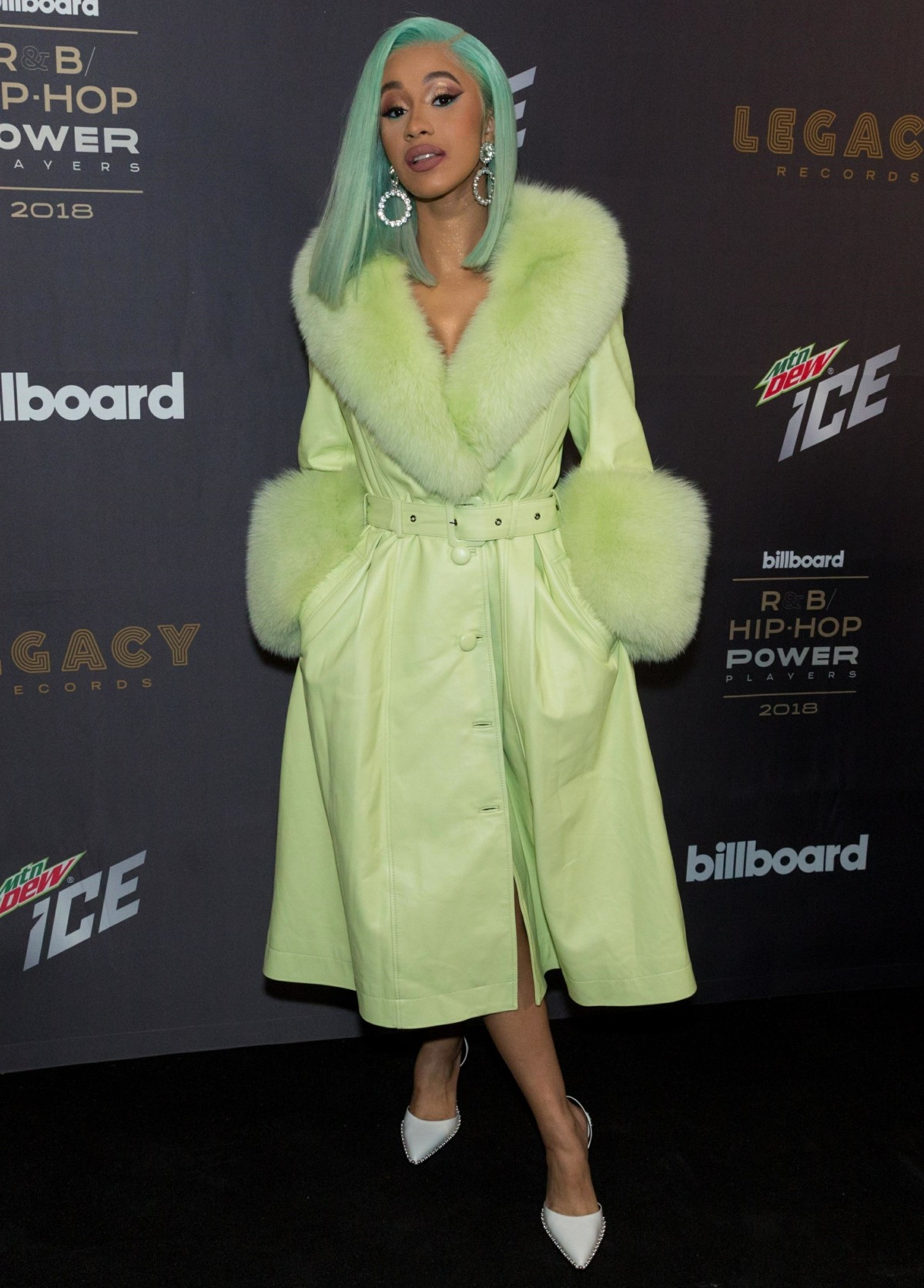 Here are some photos of Cardi B at last night's Billboard R&B/Hip-Hop Power Players inaugural event. I am shocked that Nicki Minaj wasn't there! Instead, Cardi and… Meek Mill were there. Minaj was probably fuming. As for Cardi, she matched her wig to her coat, which was a surprisingly cool look, actually. It turns out that Cardi has a reason for covering up a bit more these days – she's still uncomfortable with her postpartum body:
It's been two months since Cardi B and Offset welcomed their daughter Kulture; however, the new mom still can't believe the changes her body has gone through since giving birth. For instance, the rapper took to Instagram on Wednesday to talk about how she now uses tape to lift up her breasts.

"This s–t is crazy," she said in the video. "I have never done this s–t in my life, but f–k it. I have to f–kin' tape my t-tties up because, son, giving birth and s–t. Like, my t-tties were already like a little low-low because I got my t-ts done when I was 19, and I never wore a bra and s–t….But when I was pregnant my s–t was looking nice, though."

However, she said her baby girl "did me filthy" and that she plans to get plastic surgery in the coming months.

"I don't give a f–k, if y'all motherf–kers see me gone in November, December," she said. "I'm getting my t-ts done. I don't give a f–k. Matter of fact, I'm not even going to call it a surgery. I'm just going to say a 't-tty renovation' because I got to renovate these s–ts." At the end of the video, Cardi B said her "s–t is not looking beauts." The "Bodak Yellow" artist then captioned the video "Kulture did me bad."
I know she's half-joking, but I wish moms wouldn't blame their babies so openly for "ruining" their bodies. Like, girl, we told you not to get pregnant! It was your choice. You ruined yourself! As for Cardi's continued insistence that she's going to get plastic surgery to fix her body, again, it's her body, her choice. I just think she should wait longer just to see if some stuff bounces back on its own, you know? Kulture is only two months old – very few women have that kind of bounce-back.
Here's Cardi posing with Meek Mill at the Billboard event. I actually believe that she wasn't trying to start sh-t, because Meek and Cardi made a point of not posing side-by-side. Still, I bet Nicki Minaj is furious.
Photos courtesy of Getty and Backgrid.