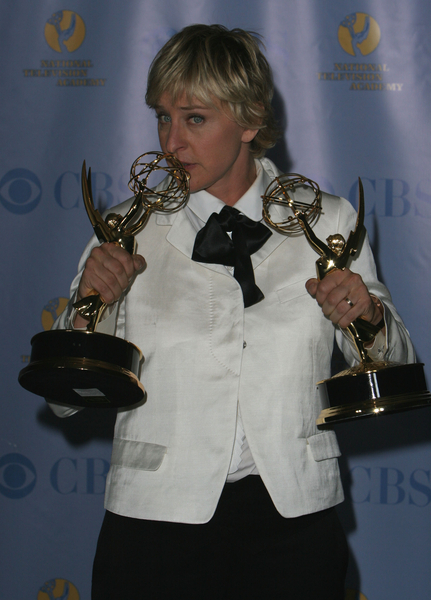 Remember Ellen's sitcom, back in the day? I don't think a ton of people watched it before she came out, but I always thought it was funny. Before her current talk show, I always heard people saying they thought she was annoying, but now everyone seems to be in love with her (I'm no exception – listen to her old comedy CD, it's hysterical). Ellen had Mariska Hargitay on her show this week, and wanted to show a clip of Hargitay guest starring on Ellen's sitcom back in 1996 (though weirdly enough, the episode was taped in 1994 during the show's first season). ABC gave Ellen a big old no, even though she worked for the network for years – and her show is still syndicated on many local ABC channels.
"Talk show host Ellen DeGeneres has been refused access to clips from her own former sitcom. The comedienne asked ABC/Disney bosses to let her show a segment from her old program, which featured a guest appearance from actress Mariska Hargitay – and was told the footage was off limits.

"DeGeneres, who hit the headlines a decade ago when she 'came out' as a lesbian on the sitcom and in real life, was hoping to use the clip to show Hargitay when the Law & Order: Special Victims Unit star made her debut on the Ellen show on Friday.

"'She was a guest star on my original sitcom and it was a hilarious scene… I wanted to show it today… but Disney will not let me have any clips of my show to show, unless we pay a whole lot of money. It was my show… We'd be advertising it, it would help them.'"
[From Starpulse]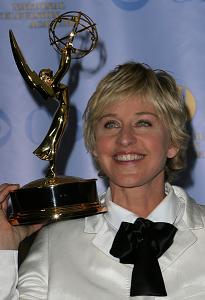 That would piss me off too. I'm kind of surprised Ellen even mentioned it, since she's considered the real "Queen of Nice." We forget that Rosie O'Donnell used to have that title, before the "View" and drawing horns on pictures of Elizabeth Hasselbeck. Ellen had Kathy Griffin on her show this week, and admitted that she originally didn't watch Griffin's show "My Life on the D List" because she thought it'd be too mean-spirited, but said she'd given it a viewing and enjoyed it. The contrast between the stars was interesting to watch.
"Ellen's good-natured style of humor made for an interesting conflict with the sharp, pointed jabs Kathy is known for taking against celebrities, a difference the host brought up in the interview.

Ellen: "Do you feel bad? Do you feel like you could then go up — because I know all these people. So, for me — and I was also on the other end of it — I used to get… After I came out, I was the butt of everybody's joke. So I know what it feels like to be talked about all the time."

Kathy: "Not mine. Not mine. And that's really — people say 'Do you have lines? Do you have lines?' [lines that you won't cross] Yeah, I don't make fun of people who have a sense of humor about themselves, I don't make fun of people — honestly, what I do is I make fun of people who created a situation. I don't say about Star Jones, 'Uhm, she's fat. Goodnight everybody!' I say 'I worked with her and my experience was she was a [censored].' That's my experience with her, we all know it. Don't act like I'm the first one to say that … but, also, if you were puking all over in nightclubs or get out of the car without the panties that's a different story because that's something you're controlling … and it's fun. Honestly, I make fun of people's behavior more than I make fun of how they look. And I've been that person too, I've had the nasty pictures and had the 'worst dressed' and all that too."
[From After Elton]
After that, Ellen had a segment where she held up pictures of famous people and told Kathy she had to find a nice thing to say about each of them. Kathy made a few barbs instead (you could tell she was trying not to but couldn't resist) and Ellen looks visibly pissed/annoyed and almost angry at her a few times. It's kind of funny. Here's a clip below.