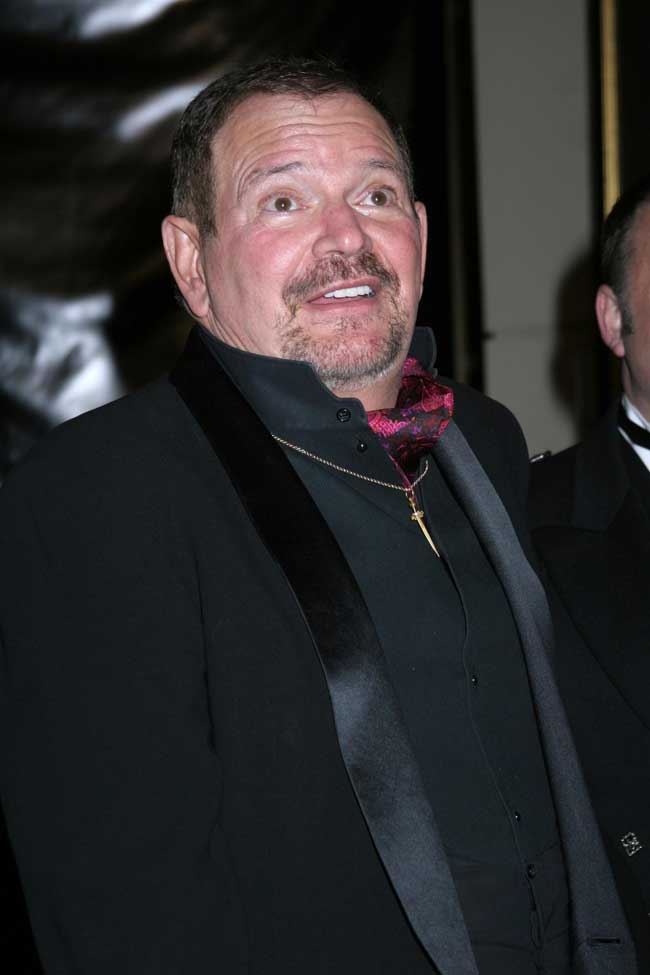 Michael Jackson's longterm plastic surgeon, dermatologist Dr. Arnold Klein, was on Good Morning America today. You can view a short clip of his interview on ABC's website and Radar Online has more. Dr. Klein slurs his words and one side of his face droops down slightly. It looks like he suffered a stroke at one point. (That's just an observation and is not meant to be judgmental. Some people may speculate that he's on something but it looks to me like he had a stroke.)
Debbie Rowe, the mother of Jackson's two oldest children, met Michael when she worked for Dr. Klein. When Diane Sawyer asks Klein if he's the biological father of Rowe's children with Michael, his answer is revealing although he tries not to reveal much. He doesn't give an unequivocal "no," but he says several times "To the best of my knowledge" he's not the father. It sounds like he might add more to that, because he says "Push comes to shove," but then quickly follows up with "I can't say anything about it, but to the best of my knowledge I'm not the father of these children. I can't answer it in any other way… I don't want to feed any of this insanity that's going on…
People should know the depth of [Michael's] love for his children."
US Weekly has photos of Dr. Klein with Michael and the children last Christmas Eve, and Klein confirms to Sawyer that he spent Christmas eve with the Jackson family. He says if he is the dad he's unaware of it, but it sounds like he has his suspicions by the way he worded his response. US Weekly insists he's the father of Paris, 11, and Prince Michael II, 12.
Klein also says he didn't administer anesthesia to Jackson outside of an office setting, nor did he give him prescriptions for anesthesia drugs. He also sets the record straight about Jackson's vitiligo and lupus, and about the extreme plastic surgery that completely changed his appearance:
On whether he's the biological father of Paris and Prince Michael
"To the best of my knowledge, I am not the father of these children," Dr. Arnold Klein told ABC News' Diane Sawyer in a "Good Morning America" exclusive. "I can't answer it in any other way. I don't want to feed any of this insanity that is going around."

US Weekly reported in the days after Jackson's death that Klein, not Jackson, is the biological father of Prince Michael I, now 12, and Paris-Michael Katherine, 11, Jackson's children with ex-wife Debbie Rowe.

Rowe worked for Klein, and it was in Klein's office that Jackson met the woman who would become first a friend, then his wife, then the mother of his two oldest children.

Klein spoke briefly about them with "GMA," remembering one Christmas Eve he spent with Jackson at his home where he was charmed by the singer's "brilliant" children.

"The kids were so very happy and so beautiful," he said. "Every time they would pass their father they would say, 'I love you Daddy.'"

On Jackson's addictions to prescription drugs
Klein also denied prescribing Jackson any of the powerful painkillers, including OxyContin and Demerol, that the singer was said to be addicted to. Klein also denied he was one of five Jackson doctors reportedly under investigation in connection with Jackson's death and said he has not even been contacted by Los Angeles police.

He accused the doctors who prescribed addictive drugs for the pop icon of being "criminals."

"I say that anyone who makes someone an addict or gives a person potentially dangerous substances directly to them to use, like propofol is a criminal," Klein told "GMA." "It becomes nothing more than a manslaughter, or something worse than that…"

Jackson was in Klein's office three days before he died and seemed to be in good spirits, contradicting a report by Jackson's nurse Cherilyn Lee who said the singer was in a horrific amount of pain.

"He was not in terrible pain when I saw him. He danced in the office, and he danced for my patients," Klein said. "He was very muscular, and he was very, very happy and dancing."

"I saw nothing at that point that would make me worry whatsoever," he continued. "But I was always concerned about him because I was always worried about other doctors."

Klein said Jackson, like many other rich and famous California patients, had no problem finding a doctor to get whatever he thought he needed.

"No matter what he wanted, someone would give it to him," Klein said. "The very rich and the very poor and the very famous all get the worst medical care."

Klein said that although Jackson did not confide to him a complete list of medications he was taking, he did have a talk about dangerous prescription drugs with the King of Pop many years ago.

In the days before OxyContin was available, Klein said Jackson requested an older painkiller that was more potent that even morphine.

"I said, 'You can't take that. It's poison. Throw that in the trash,'" Klein said. "And I got him to throw it in the toilet."

"But I can't be there every minute," he said. "I wish I could have been there every minute of the day."

On Jackson's vitiligo and overuse of plastic surgery
Klein said it was he who diagnosed Jackson with lupus and saw growing evidence of vitiligo, both autoimmune diseases that affect the skin.

"It blew me away because here I'm diagnosing the most famous person in the world ? with a very serious ailment," he said.

As Jackson's skin started to be marked with "severe speckling," Klein said, something had to be done even out the tone.

"At the same time he was in the hands of plastic surgeons who didn't know when to stop," Klein said. "But he felt he was a piece of art, that his face was a piece of art."
[From ABC News]
I really believe that Michael Jackson had vitiligo and that he used prescription lightening cream to make his skin appear more even-toned. (There's a user-created video on YouTube which shows multiple photos throughout the years that reveal the extent of MJ's condition.) As for Dr. Klein's claims that he's not responsible for Jackson's extreme plastic surgery and other doctors did all that – it seems a little too convenient, especially since he's also claiming that he advised him against prescription drug use and tried to get him to throw away his pain medication. This guy knows more than he's letting on and is trying not to get involved. He's not unequivocally denying he's the older kids' father, he's saying he doesn't know for sure. Now why would he phrase it that way and then go on to add how much Michael loves the kids?
Dr. Klein is shown at Liz Taylor's 75th birthday on 2/27/07. Credit: WENN.com