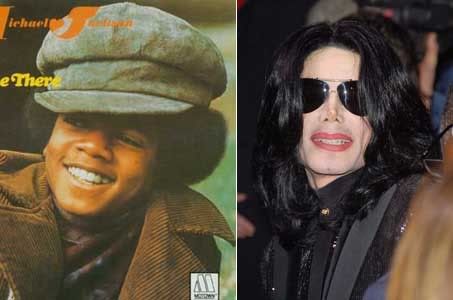 Michael Jackson has long claimed to suffer from vitiligo, a disease in which the skin loses its pigment over time. The Daily Mail notes that among the effects of Jackson currently up for auction is the the prescription medication Eldopaque-forte which consists of hydroquinone, a chemical used to lighten the skin. Does this mean that Jackson's condition is as natural as his pinched nose?
The secret behind Michael Jackson's skin 'problem' may have finally been discovered after a fan put his skin whitening cream on eBay.

The world's most prolific collector of Jacko memorabilia has put this and a number of other items – seized by the police as evidence after the singer was arrested on suspicion of child molestation – up for sale on the auction website.

The seller, whose username is 'vaccaro99′ has put up a starting bid of $25,000 (£14,000) and in the item's description claims that a former employee of the singer, who authenticated the items, said Jackson, 50, would have cases of the cream to hand.

Also included in the sale is a letter explaining why Jackson wanted an annulment from Lisa Marie Presley, again with a starting bid of $25,000.

There is also a handwritten note from the star to his late sister-in-law Dee Dee which he penned during his four-month 2005 trial, which has a starting bid of $10,000 (£5,700), and a 'Do Not Disturb' door sign from Neverland – with a silhouette of a small boy sitting in a circle.

That is on sale for $5,000 (£2,850), the same price as a 'never-seen-before' photograph of Jacko with a young boy on his lap, both dressed as cowboys.

The seller does not say how he came by the items.
[From The Daily Mail]
Of course Jackson might just have been bleaching his skin for cosmetic purposes. He's undergone enough plastic surgery that if he wasn't famous there probably isn't a person outside his immediate family who would recognize him as the young man he once was.
According to the Merck online medical library, hydroquinone is one of the recommended treatments for vitiligo, though, so it's possible he was telling the truth and was just trying to achieve an even skin tone. Vitiligo usually results in patchy blotches of skin and hydroquinone can be used to even out the appearance, which some patients are reluctant to do because it also bleaches out the skin. Jackson, on the other hand, embraced it and ended up looking ghostly.
There are no excuses though for the photo of Jackson and the boy on his lap dressed as cowboys and the "Do Not Disturb" sign featuring a little boy. In those cases the explanation that first comes to mind is probably the correct one.