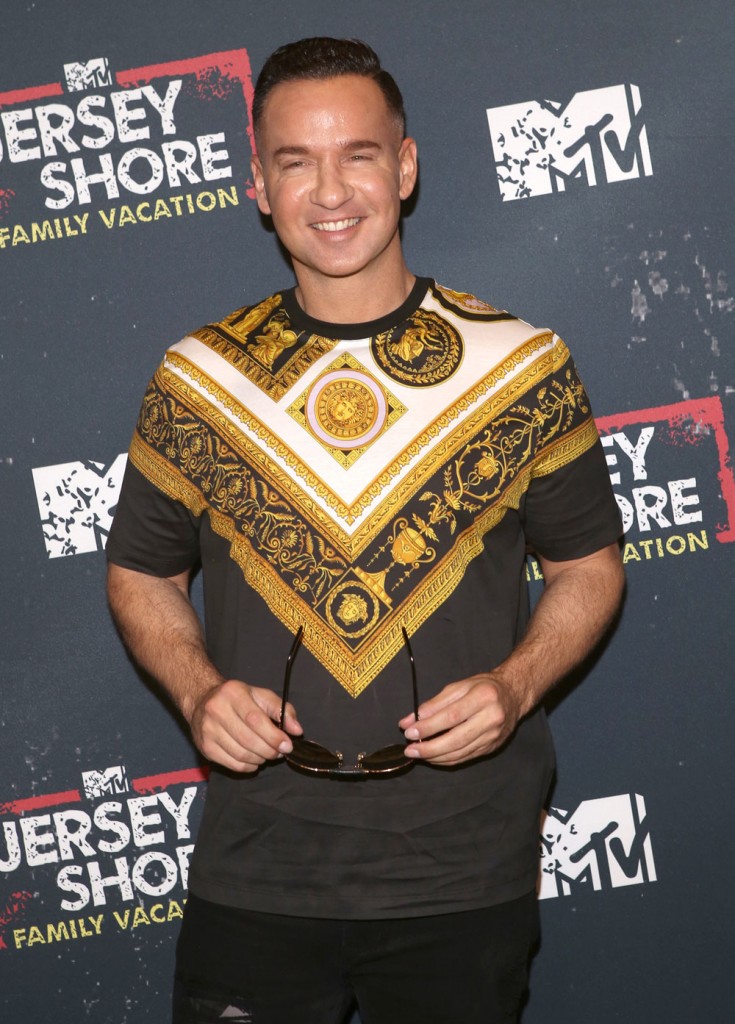 This is just a reminder that reality stars and celebrities do go to prison for tax evasion. Remember the bombshell New York Times report about Trump evading tens of millions in taxes by committing fraud? He received over 400 million from his daddy, not the one million that he claimed, set up sham corporations and cooked the books to avoid paying inheritance taxes. That story came out last week and received barely any leverage in the news cycle. I've read that may be due to the NYT's very thorough research and the fact that there were few lines of inquiry for other outlets to make their own. Of course an alcoholic rapist was also being confirmed to the Supreme Court at the same time. Whatever the case, other reality stars are getting prison time for cheating the government, so there's always hope. Mike "The Situation" Sorrentino of Jersey Shore received an eight month sentence along with being ordered to pay restitution and a fine after failing to pay taxes on $8.9 million in income from 2010 to 2012. (Inheritance taxes are complicated, but Just for perspective, 9 is about 2% of 400.) It sounded like Sorrentino took the news in stride as he was reportedly in good spirits after the verdict and threw a peace sign. His brother, who was convicted as a co-conspirator, got two years. Sorrentino has been sober for almost three years now, which his lawyer said was harder for him than dealing with prison time.
Mike "The Situation" Sorrentino has been sentenced to eight months in prison and two years of supervised release in his tax evasion case.

He must also complete 500 hours of community service and was given $123,913 in restitution, which he has already paid, plus a fine of $10,000 that must be paid within 30 days.

The 36-year-old Jersey Shore star appeared in New Jersey federal court on Friday alongside his fiancée Lauren Pesce. He seemed to be in good spirits as he awaited the judge's ruling, with his family seated in the first row of the room. When he left the courthouse, he walked out hand-in-hand wth Pesce. As a reporter called out, "What do you say to your fans," he silently threw up a peace sign with his fingers…

Sorrentino will surrender himself into custody in the next 30-60 days, and Klingeman said he hopes MTV producers will "make arrangements to accommodate" the reality star as they continue to film Jersey Shore Family Vacation.

Sorrentino and his brother Marc were initially indicted in September 2014 for tax offenses and conspiring to defraud the United States after allegedly failing to properly pay taxes on $8.9 million in income from 2010 to 2012. In April 2017, both men were indicted on additional charges including tax evasion, structuring and falsifying records.

In January, Sorrentino pled guilty to one count of tax evasion. His brother Marc pled guilty to one count of aiding in the preparation of a false and fraudulent tax return and was sentenced to two years in prison on Friday.

"He's been preparing by sobering up and I think to him, dealing with his addiction, as he just said to me in the courtroom, was far more difficult than dealing with the prospect of a prison sentence," [his lawyer] Kingeman said of Sorrentino. "So as long as he sticks to his new principles and his new way of living, he'll be fine. I think he's totally prepared to do this."
Sorrentino has been engaged to his high school sweetheart, Lauren Pesce, since Valentine's Day. They had a wedding shower earlier this month and plan to marry before he serves his time. I don't watch Jersey Shore, but his storyline will surely figure into the show. MTV cameras were in the courtroom and his costars were there during the sentencing.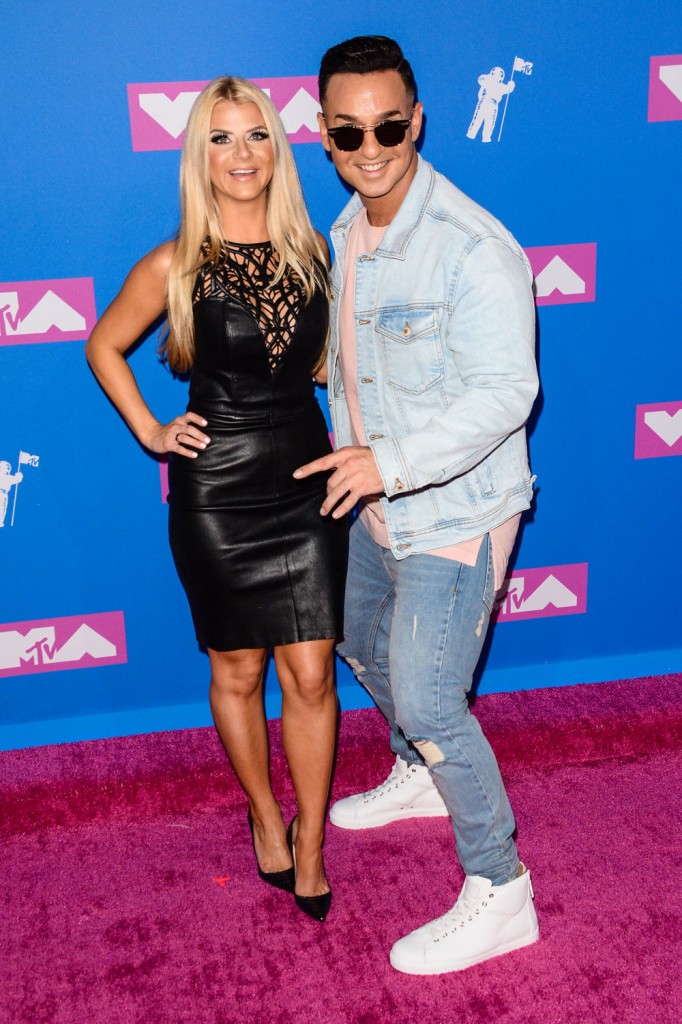 Photos credit: WENN and Instagram/Mike Sorrentino