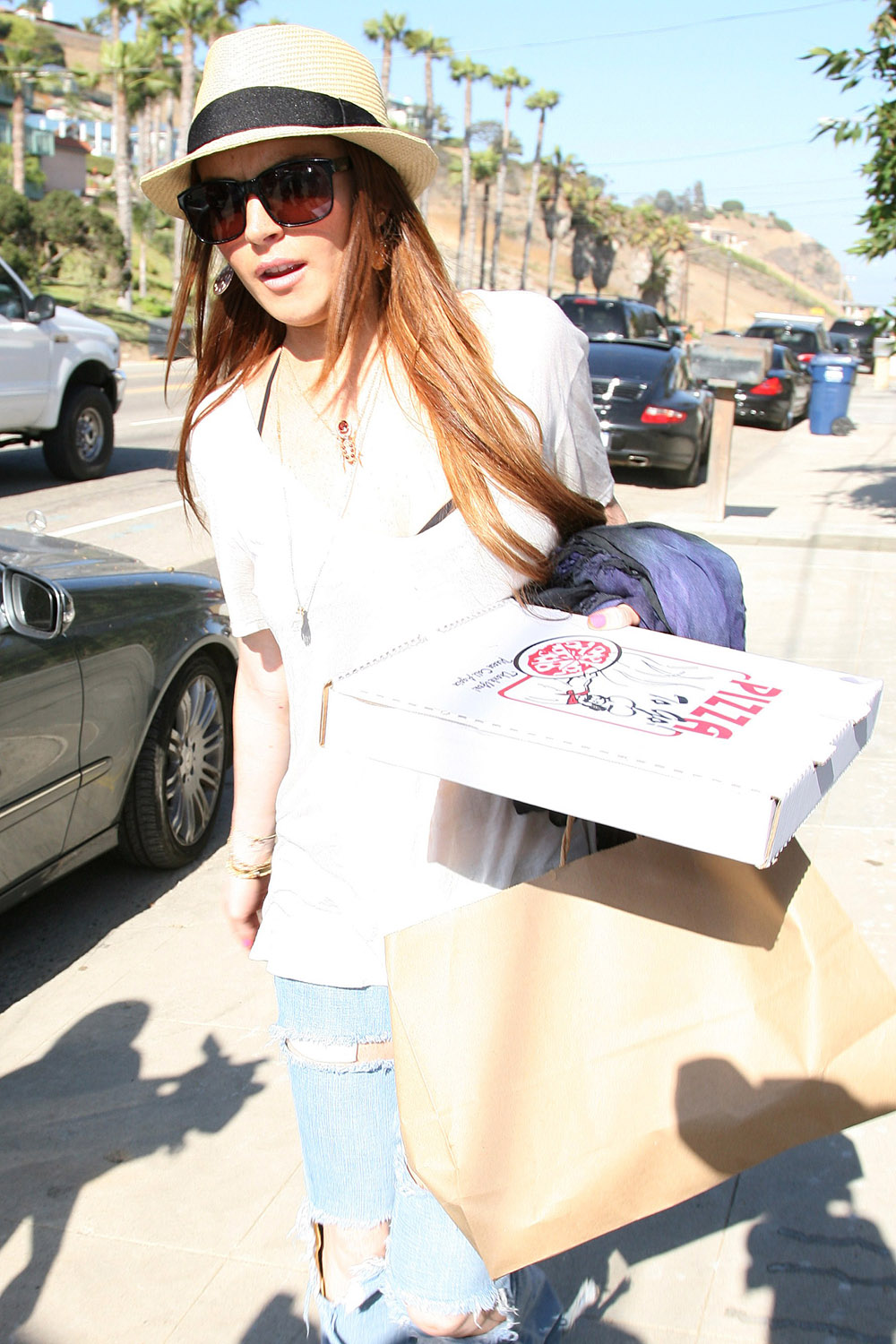 Remember all those rumors that are constantly floating around about how Lindsay Lohan is having money problems? Well either that's true or she's a total bitch – though it's not really an either/or situation. Last night Lindsay and kinda-sorta-who-cares-anymore girlfriend Samantha Ronson got locked out of Sam's mansion late at night. Naturally they called a locksmith, who was kind enough to come over. As he was working on the job, Lindsay found an open window (she probably wouldn't need more than a 4 inch crack to crawl through) and told the locksmith to stop working. Then naturally refused to pay him.
Lindsay Lohan called a locksmith for help late last night — and showed her gratitude by stiffing him!

Linds and Sam Ronson called USafe Locksmith to Sam's house when they realized they lost the house keys.

As the locksmith did his thing, Lindsay found an open window and told the locksmith he could stop. The locksmith asked for his $39 fee, but Lindsay refused, offering $20 instead.

The locksmith tells us Sam then told him to move his car away from the property. He obliged, but when he came back, Lindsay and Sam had locked themselves in the house and didn't pay him a penny.
[From TMZ]
How tacky is that? Lindsay wonders why she has such a bad reputation. It's not just because of the drinking and partying. Okay it's mostly because of the drinking and partying, but what pushes her rep over the edge is the insane levels of selfishness and rudeness – even for a celeb. If she wonders why people always assume the worst of her, this is why. When you hear another story about her with less evidence (TMZ has video of all this, by the way), or that's more outlandish, you're still inclined to believe it's true because she's done so many other douchey things.
Speaking of assuming the worst about Lohan, the police have revised the value of the jewelry she's suspected to have stolen from an Elle photo shoot in London.
The jewelry that went missing after a June 6 British magazine photo shoot starring Lindsay Lohan was worth a tenth of the value first reported – or, $38,500 rather than the $400,000 initially estimated by London's Metropolitan Police, a spokesman for the force tells PEOPLE.

The spokesman, who says the initial estimate was provided in good faith, adds that "inquiries are continuing" and there have been no arrests in the case. The jewelry – diamond earrings and a necklace – is said to be from Dior, but the company has not confirmed that. The items in question were being worn for a feature intended for an upcoming issue of the U.K. edition of Elle.

When news of the investigation broke, Lohan's mother Dina defended her daughter, saying that any finger-pointing at the 23-year-old was "defamatory, false and unfair" – while a spokeswoman for Elle said the magazine had "no reason to believe that Lindsay Lohan was in any way responsible and h as no further comment to make."
[From People]
I love that official "we're saying this because we have to" statement from Elle – especially considering all the accounts of Lohan's behavior (admiring the jewels, all-out asking to have them) from the photo shoot quite possibly came from their employees. It's still a big deal, regardless of whether or not the value has been downgraded. It's been long enough that Lindsay probably won't be charged – but wouldn't it be marvelous if she were?
Here's Lohan arriving in Malibu carrying pizza and take away food from her birthday celebration with family and Samantha on July 2nd. Images thanks to WENN.com .