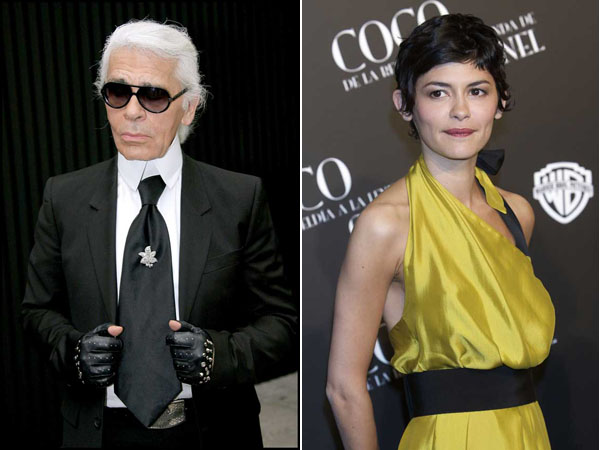 The one-sided war of attrition between Karl Lagerfeld and Heidi Klum has been briefly cancelled. It seems Dame Lagerfeld's newest enemy is none other than French actress Audrey Tautou. American audiences will know Audrey from The DaVinci Code, and the Oscar-nominated French film Amelie. She's currently promoting her role as the young Coco Chanel in Coco Avant Chanel. The film has caused some minor controversy here and there – Audrey's casting as Coco wasn't universally loved, and there was some rabble-rousing over the images of cigarettes and smoking in the posters.
Though Lagerfeld is the fashion director for Chanel, he doesn't have a say in anything other than the clothing line. So Audrey Tautou wasn't even Karl's choice to replace Nicole Kidman as the face of Chanel No. 5 – nor was Karl involved in Coco Avant Chanel, although the director recently claimed Karl had given his blessing. What seemed to set off the anger bear this time was a recent interview with Audrey, where she didn't seem to gush over Chanel clothing. Karl responded in turn, saying "After that, I don't have to be nice." What's French for "bitchslap"?
There's no love lost between Chanel's couturier Karl Lagerfeld and Audrey Tautou, the petite French actress who stars in the latest No.5 commercial and the film "Coco Before Chanel." Lagerfeld was not involved in either project, but he took Tautou to task for remarks in an interview in a recent issue of Premiere in France. Asked if she wears a lot of Chanel, she replied: "Sometimes. This morning, I wore the rain boots."

"I didn't even know we made rain boots," quipped Lagerfeld. "After that, I don't have to be nice." If he had his druthers, Lagerfeld said he would have suggested Penélope Cruz as a better role model for the storied French house.
[From Women's Wear Daily]
How in the world would Penelope Cruz have done better? I don't understand. Coco was French. It's best if she's played by a French woman. I just looked up pictures of Coco, and Audrey Tautou looks eerily similar to her. What goes on in Karl Lagerfeld's deranged mind? And why don't I have Chanel rain boots? Which do exist, by the way, Dame Lagerfeld. All in all, I doubt this will become the kind of hateful, one-sided feud that Karl had with Heidi. But you can never tell with Karl. He's like a bright orange snake wearing dark sunglasses that jumps up to bite you when you least expect it.
Audrey Tatou is shown on 5/4/09 (mustard-colored dress) credit: WENN.com and 2/28/08 (silver skirt and white jacket) credit: Fame Pictures. Karl Lagerfeld is shown on 7/7/09 and 6/28/09. Credit: WENN.com