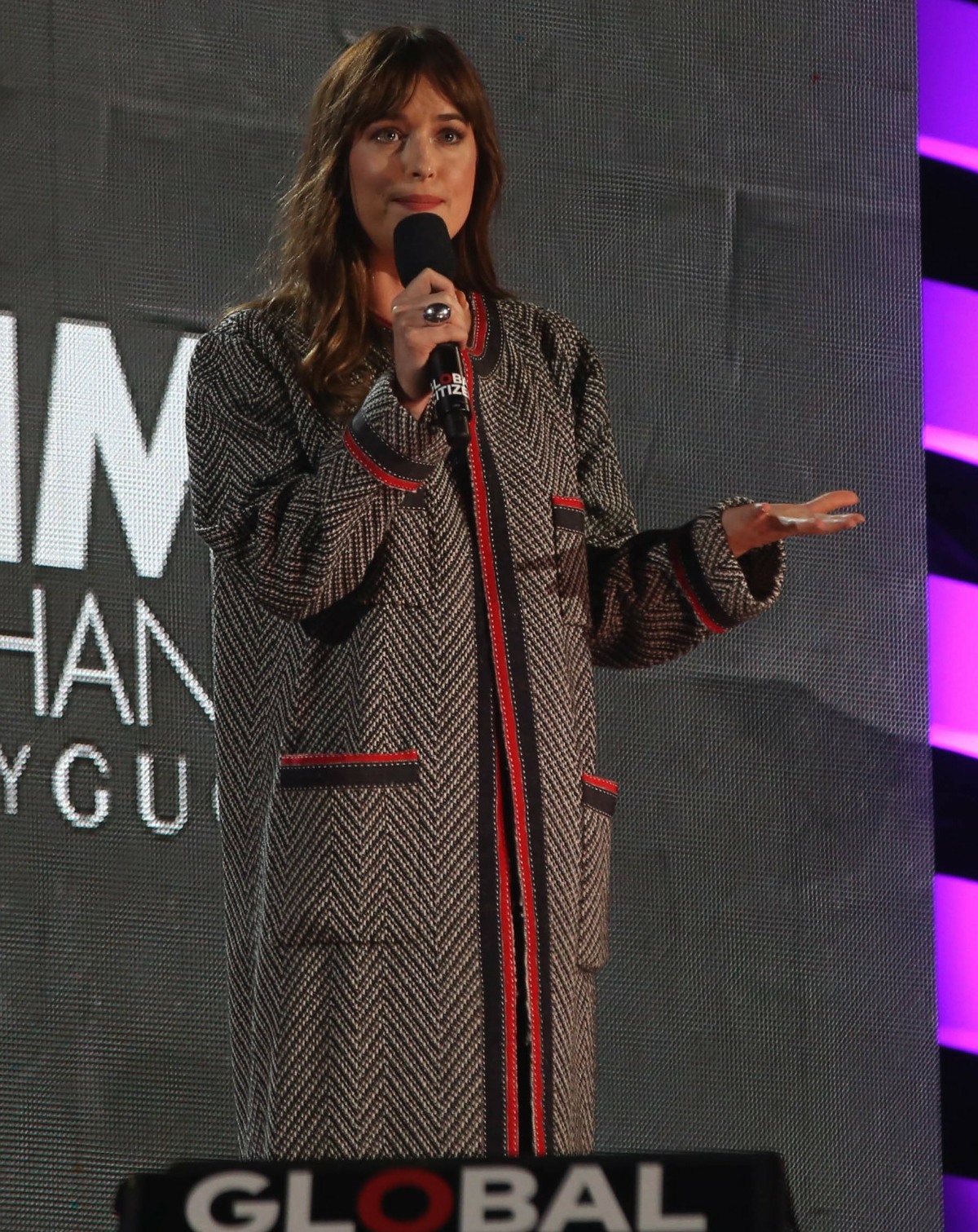 Here are some photos of Dakota Johnson onstage at the Global Citizen Festival two weekends ago. This is my first time looking at these photos, and yes, I definitely think it's weird that she wore such a bulky, figure-obscuring coat. Was she trying to cover up a small baby bump? That's what TMZ originally thought – it seems that Dakota and Chris Martin were throwing a "birthday party" at his home in LA, and there were a lot of pink and blue balloons, almost like it was really a "gender reveal party." TMZ thought Dakota and Chris Martin were announcing their pregnancy. They weren't though??
Chris Martin and Dakota Johnson are having a baby, and the timing of their gender reveal party is pretty interesting … considering what Chris' ex just celebrated. Chris and Dakota, who've been dating for about a year, had a party at his place on Sunday, and photos and video from the event make it clear what they were celebrating.

Blue and pink balloons were tied down in arches … as their celeb friends arrived. Dakota's folks — Melanie Griffith and Don Johnson — walked in, along with Sean Penn and Julia Roberts. Looks like Don was last to arrive … because about 10 minutes after he got there, the string of blue balloons were released into the sky. So, all signs point to them having a boy, unless someone screwed up the release.

Update: Dakota's rep tells us she is NOT pregnant, and they were just throwing a birthday party. The rep did not say what the deal was with the pink and blue balloons.
Dakota's rep went around to every outlet to deny the theory about Dakota's pregnancy. In some sense, the pregnancy story didn't even make sense to begin with – people don't do gender reveal parties in the first trimester, and IF Dakota was pregnant, she was barely showing, meaning she was only a few months along. Then again, I don't know why the birthday party involved pink and blue balloons, some of which were released right after Don Johnson got there. It's all very strange.
Can I just say? I keep forgetting that Dakota and Chris are together. I think it's because they are pretty low-key about it – this is Balloon Saga is the most interesting thing they've ever done – and because they're just really boring people in general. If and when they have a baby, they'll just name the child Vanilla Oatmeal Martin and call it a day.
Photos courtesy of Getty, WENN.