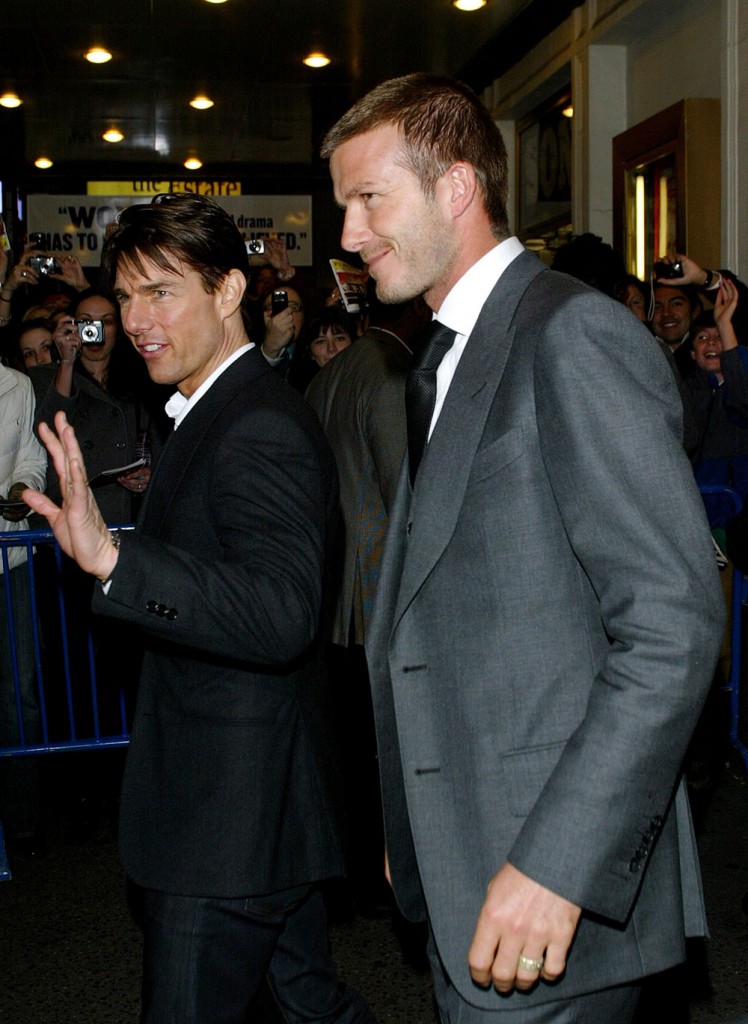 David Beckham and Tom Cruise have a bromance for the ages. It's almost as if they're trying to compete with The Bromance of the Century, Brad Pitt and George Clooney (or "Pooney" as I like to call them). So Beckham and Cruise ("Buise"? Or "Crukham"?) have known each other since 2003. Since they first met, they've totally been BFF, according to a new book about Beckham.
With Cruise's encouragement, Beckham joined CAA (Creative Artists Agency), got the same PR firm as Cruise, were introduced to all of Tom's Hollywood friends, and even named his son "Cruz" as a play on his bromance-buddy's name. The only love Tom and David haven't shared – except for, you know, that love – is the love of Xenu. Becks claims that Tom has never tried to force Xenu on him, and that Tom gets that Posh and Becks have got "their own" faith.
David Beckham and Tom Cruise are going to be besties for life.

In "The Beckham Experiment," Sports Illustrated writer Grant Wahl devotes nearly an entire chapter to the bromance between the soccer stud and A-list actor. To hear Becks tell it, Cruise has influenced every major decision he has made since the two met in 2003.

Both David and his wife, Victoria, who celebrated their 10th anniversary on Saturday, shared the "Mission: Impossible" actor's rep, CAA, and at Cruise's urging, also hired his L.A.-based PR firm, Rogers & Cowan.

When the couple relocated to L.A., they moved – where else? – just five minutes from Cruise's home with Katie Holmes on San Ysidro Drive in Beverly Hills. TomKat even hosted the Beckhams' "Welcome to L.A." party, with Cruise making the haul from Germany, where he had been filming "Valkyrie."

In addition, Beckham says he talks to his best mate most days of the week and takes his advice on nearly everything. Tom was influential in Becks' decision to take a job with the L.A. Galaxy. He also recommended Beckham's physical therapist and introduced him to another superstar pal, Will Smith.

The Cruise/Beckham families have hung out at Tom's home in Telluride, Colo., spent Thanksgiving together in NYC and drank loads of wine in Napa while celebrating Victoria's 34th birthday last year.

Cruise even influenced Beckham's decision in naming his third son, Cruz.

"I must admit, when [Victoria and I] met Tom, I remember turning around to Victoria and saying, 'Cruise is a great name, but we could spell it different,'" Beckham told Wahl for the book, due from Crown Publishing on Tuesday. "And also, living in Spain, Cruz is spelled the way it is in Spanish. So that's why we got it."

One thing the brothers from another mother don't share, however, is a love of Scientology. Beckham is adamant that he has no interest in his pal's faith. "It's something I respect, because Tom's explained to me and Victoria what it's all about. But he's never turned around and said, 'That is what you should be doing,' because he would never do that. He and Katie have their beliefs … but me and Victoria have also got our own."
[From Gatecrasher]
Posh and Becks are Catholic, right? Ah, that's the same problem Tom had with Nicole Kidman, her Catholic faith. Katie Holmes was raised a Catholic too, but it looks like the barley water took, and Katie has been properly zombified by Xenu. The Pope is like the official Xenu-crusher, but there's hope yet! So, which do you think Tom Cruise would rather: convert Becks to Scientology, or convert Becks to the love that dare not speaks its name? I joke, I joke. I actually like the Becks-Cruise bromance, it's cute. They seem more invested in one another than Pooney.
Tom Cruise and David Beckham are shown out on 11/25/08. Credit: WENN.com