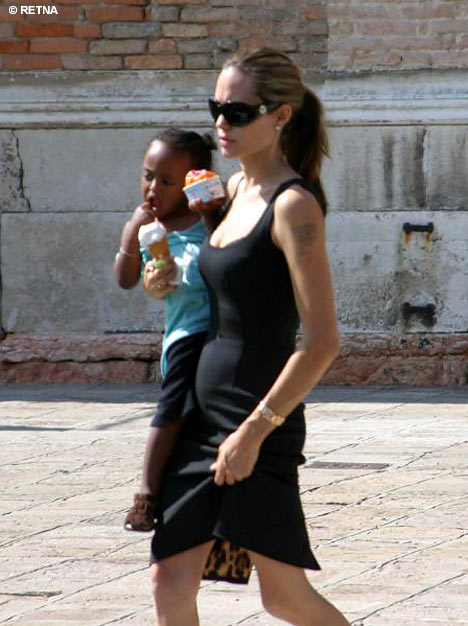 Living your life under the Brangelina microscope has got to a challenge, especially if you ever want to keep anything private. Brad and Angie have both been pretty vocal about their desire to have more kids in the near future – which means the rest of us will be on permanent baby bump watch until Angelina pops another one out. Yeah they could mean adoption, but that's a bit harder to detect while looking at a woman, so we're going to assume they mean biological child. So with that in mind – I think we might have our first baby bump spotting! We here at Celebitchy pride ourselves on our too-skinny-lady-baby-spotting abilities. We have mad skilz in that department, as Celebitchy was the first to spot Nicole Richie's bump. We might not be the first to call Angelina pregnant, but we can lend our expertise in the field to the debate: we're calling her pregnant too. Unless we're wrong, then we're calling her bloated.
"As Angelina Jolie enjoys an afternoon boat ride with children Zahara and Maddox in Venice, these pictures reveal the actress could soon be expecting another addition to the 'Brangelina' brood. The 32-year-old star has been under recent scrutiny following images revealing an ultra-thin, skeletal figure as she is reported to weigh less than seven stone.

"Jolie attributes the dramatic weight loss to trauma suffered after the death of her mother to ovarian cancer and the birth of baby Shiloh. But from the look of the substantial bump under her figure-hugging dress, Angelina could well be pregnant."

"'Brad and I would like to have more kids' she told the Times in an interview to promote her latest film, A Mighty Heart, in which she plays a pregnant woman, whose journalist husband is kidnapped by Islamic terrorists.

"Use of a Pashmina shawl could be Jolie's attempt at covering the bump in a bid to keep the news quiet. It wasn't until the fourth month of her pregnancy with Shiloh that Jolie confirmed the rumours before giving birth in May last year."
[From the Daily Mail]
The pictures of Angelina wearing the Pashmina were taken in New York City in the last few days, and it hasn't been very cool – certainly not enough to need a large wrap during the day. I know women don't generally announce their pregnancies until they're at least three months along (unless you're Christina Aguilera and want to keep it a secret until the baby's 21st birthday for some reason) but with Angelina and Brad constantly mouthing off about wanting more kids, it's kind of surprising she'd try to hide it if she were pregnant. As the Daily Mail's article mentions, Angelina didn't announce her first pregnancy until the fourth month, so we know that, for whatever reason, she likes to keep it private for a while. As we noted two weeks ago, Brad was recently asked by Italian state TV if he and Angelina are ready for another child, and he responded "Yeah we're ready." Angelina's so thing that it's hard to hid her own bones, let alone a baby. I'm guessing we'll get an official confirmation in… 4 months. Unless she pulls a Christina Aguilera.
Picture note by JayBird: Here's Angelina and Brad with son Maddox at his school, Lycee Francais De New York. Header image of Angelina with Zahara in Venice recently, with what looks to be a baby bump. Images thanks to the Daily Mail.