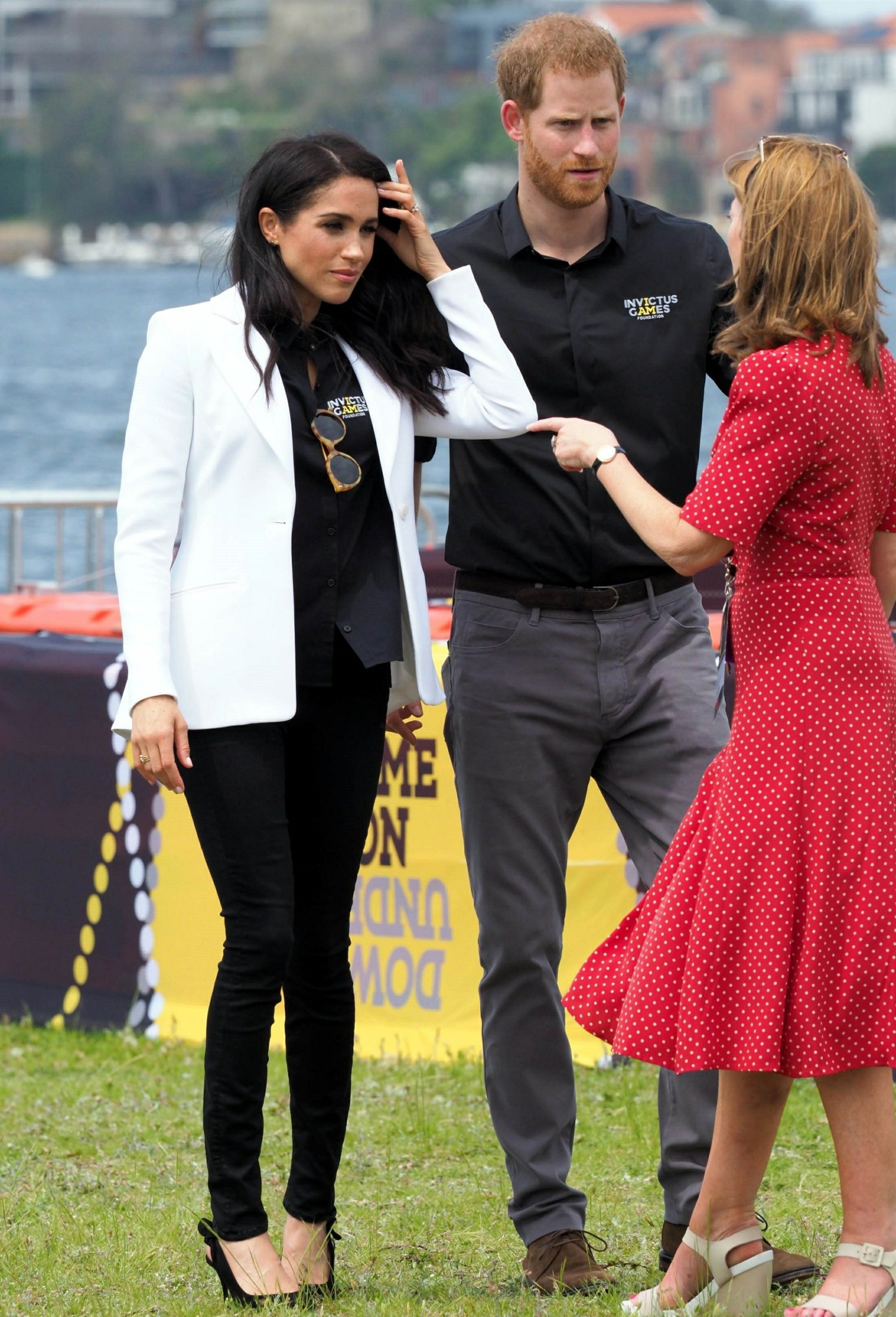 After the Duke and Duchess of Sussex's trip to the ANZAC Memorial Saturday morning, they had a day full of Invictus Games business to attend to. First up was a trip to Cockatoo Island for the "Jaguar Land Rover Driving Challenge," which for Meghan and Harry just seemed to be a simple photocall in their Invictus shirts and a lot of standing around, making chit-chat with people. For that appearance, Meghan suddenly looked very pregnant – I think it was the combination of the slim-cut Mother Denim pants and a slightly oversized Invictus Games blouse. She paired that outfit with a cute Altuzarra jacket and black heels. Honestly, she looked slightly barfy and I wonder if she is still dealing with some morning sickness.
Hours later, Meghan and Harry attended the opening ceremony of the Invictus Games. Meghan went super-professional, wearing a caped Stella McCartney dress in navy, and a coordinated Winser London coat, which she wore over her shoulders like a cape. The Winser London coat was actually designed by Gillian Anderson as part of her capsule collection with the label. Gillian was super-pleased:
Thank you Meghan for wearing my #GAWinserLondon Swing Coat to the @InvictusSydney opening ceremony! You're beautiful! @WinserLondon https://t.co/hZStVyiRRE

— Gillian Anderson (@GillianA) October 20, 2018
Prince Harry made a speech at the Opening Ceremony, obviously, because it's his baby. He's spent years developing the games and he's really proud of them, and Meghan is proud of him too. When he was on stage, he mentioned his other baby – the one he's having with Meghan – saying:
"Thank you for the welcome you have given Meghan and I over the last few days. I have been so proud to be able to introduce my wife to you and we have been so happy to be able to celebrate the personal joy of our newest addition with you all."
Very cute. Also cute? Harry rehearsed his speech a few hours beforehand on stage, with only Meghan in the audience. You know what she was thinking too: "You're doing amazing sweetie!"
Almost time for @InvictusSydney…

The Duke of Sussex makes his final speech preparations ahead of tonight's Opening Ceremony. #IG2018 #RoyalVisitAustralia pic.twitter.com/7LtCAEfrVW

— Kensington Palace (@KensingtonRoyal) October 20, 2018
Meghan was due to join Harry at an Invictus event this morning (Sunday morning) in Sydney, but she begged off to get some rest. The Palace released a statement saying: "After a busy programme, The Duke and Duchess have decided to cut back The Duchess's schedule slightly for the next couple of days, ahead of the final week and a half of the tour." Meghan is "feeling fine but resting" and "just trying to pace things" for the rest of the tour. I feel like you could sort of tell that she wasn't feeling 100% on Saturday – the barfy look – and I don't think skipping a few events here and there is a huge deal, given the jet lag and pregnancy.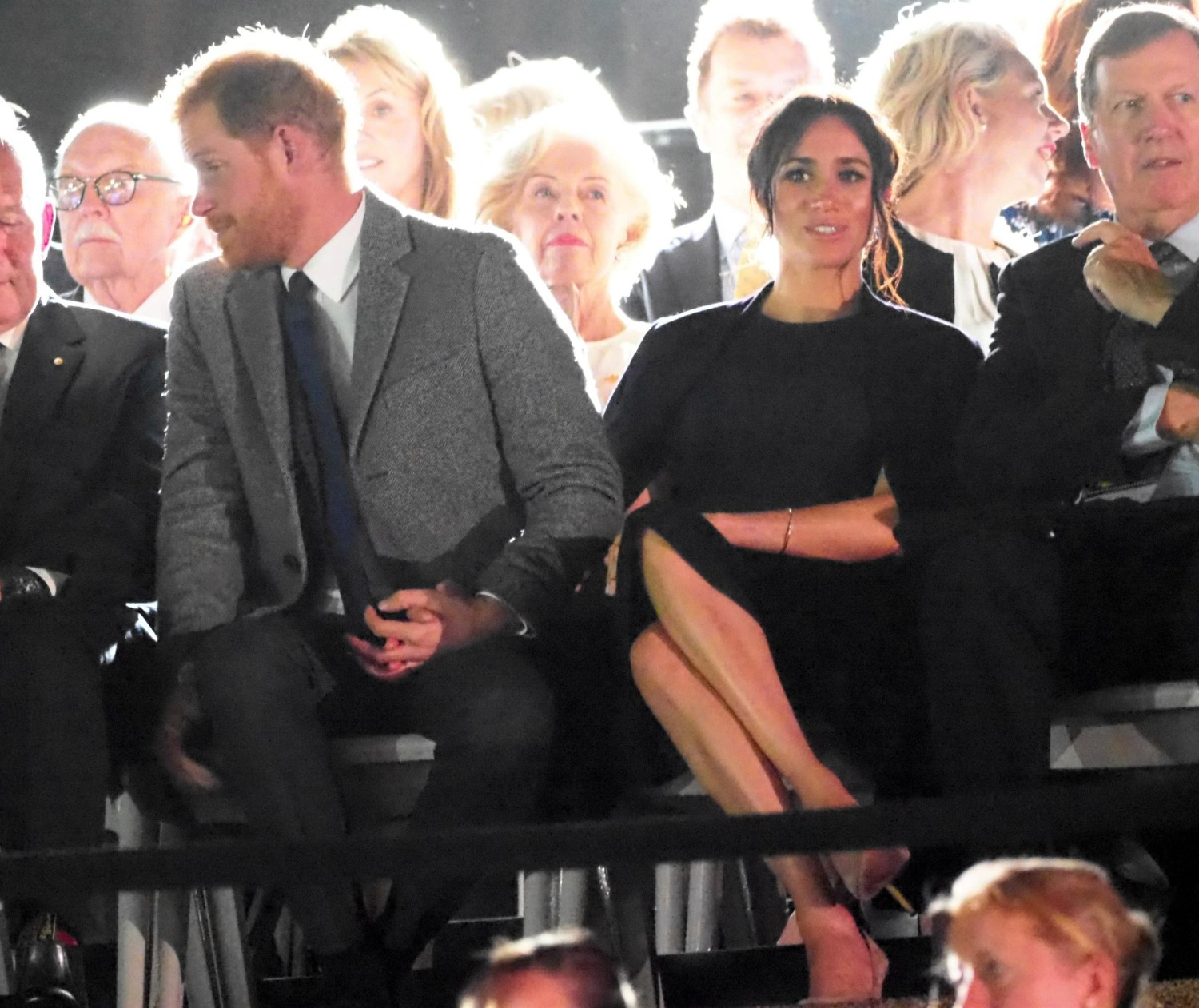 Photos courtesy of Getty, Backgrid.