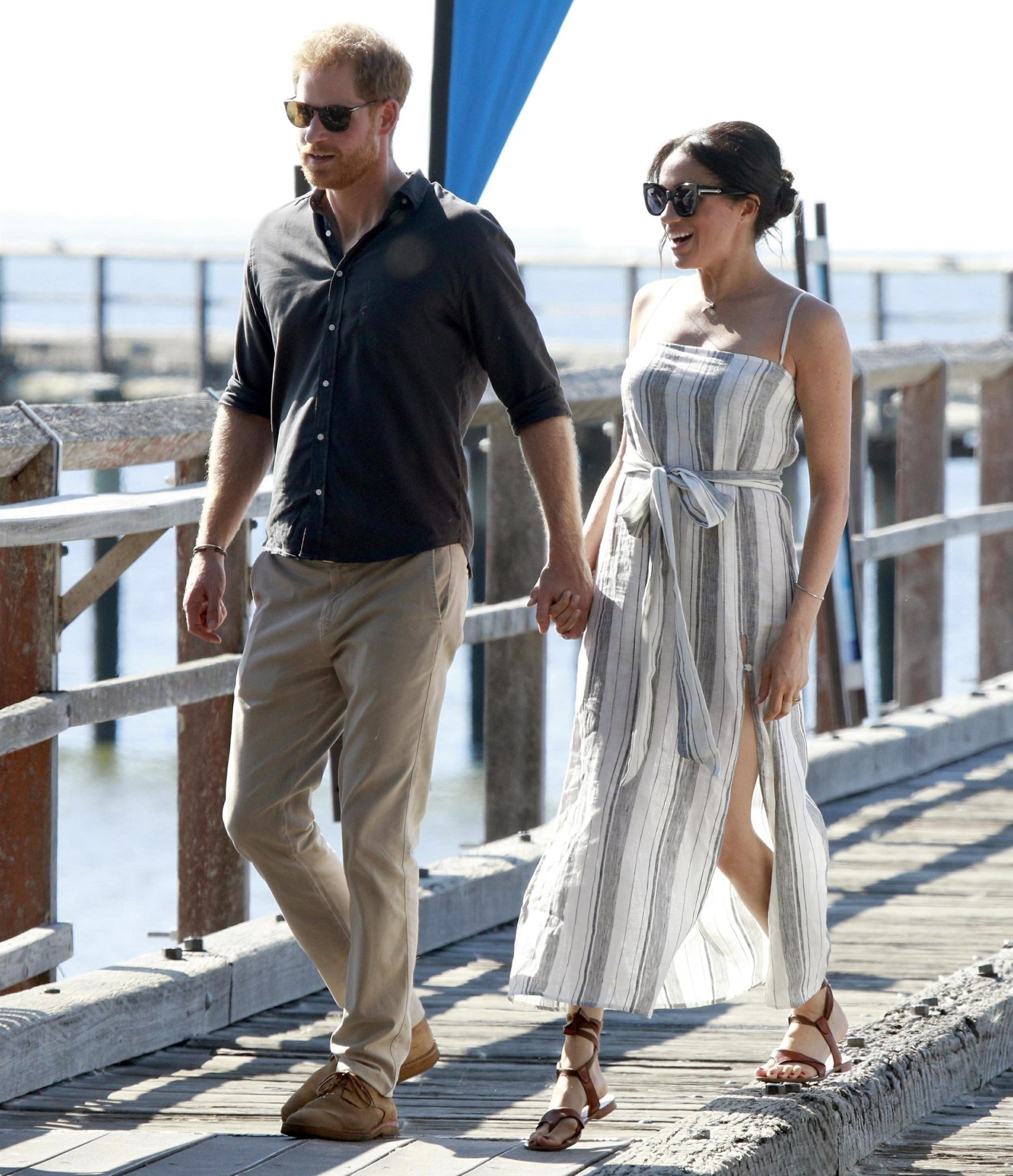 The time difference between here and Australia is really confusing me, but I think all of the looks we're discussing in this post are from Day 7 of the Duke and Duchess of Sussex's royal tour. Day 7 meaning… Monday in Australia (and Monday for us as well!). For Day 7, Meghan and Harry traveled to Fraser Island together, but Meghan begged off the first event of the day, which would have involved a very bumpy car ride to Pile Valley and a few hours out in sun. Harry did that event alone, and then he met up with Meghan several hours later so they could do a meet-and-greet and photo op at Kingfisher Bay Jetty. These photos are from that meet and greet.
It's been said that Harry is the one encouraging Meghan to rest more and he must be concerned that she'll push herself too hard in the early stages of her pregnancy. The moments of rest seem restorative for Meghan – she looked very happy during the meet-and-greet. She wore a very beachy frock by Reformation and leather sandals for today's event. The dress is super-cute and it looks completely at home for these beachy, sunny scenes. The quibble I'm sure many people will have is that… the photo op was set up so that Meghan and Harry were backlit. Meaning you could see straight through Meghan's light, gauzy dress. This happened to Diana too in an infamous moment when she was first dating Charles.
Meghan was seen arriving at Fraser Island in a low-key maroon polka-dotted dress from & Other Stories – it's an off-the-rack piece which retails for $129, and there aren't that many clear photos of it. Polka dots and buttons on this trip, oh my. Meghan only wore this for the quickie arrival, then she went to the hotel to rest and met up with Harry hours later, when she switched into the Reformation dress.
Meghan arrives at the marina for the whale boat to Fraser Island. Love her & Other Stories frock! pic.twitter.com/AWrbtELsFr

— Emily Andrews (@byEmilyAndrews) October 22, 2018
Last thing: some well-wisher told Harry that she hoped that Meghan is expecting a girl. Harry replied "So do I!" William was also pretty vocal about wanting girls too, for what it's worth. I think a lot of men think girls are "easier."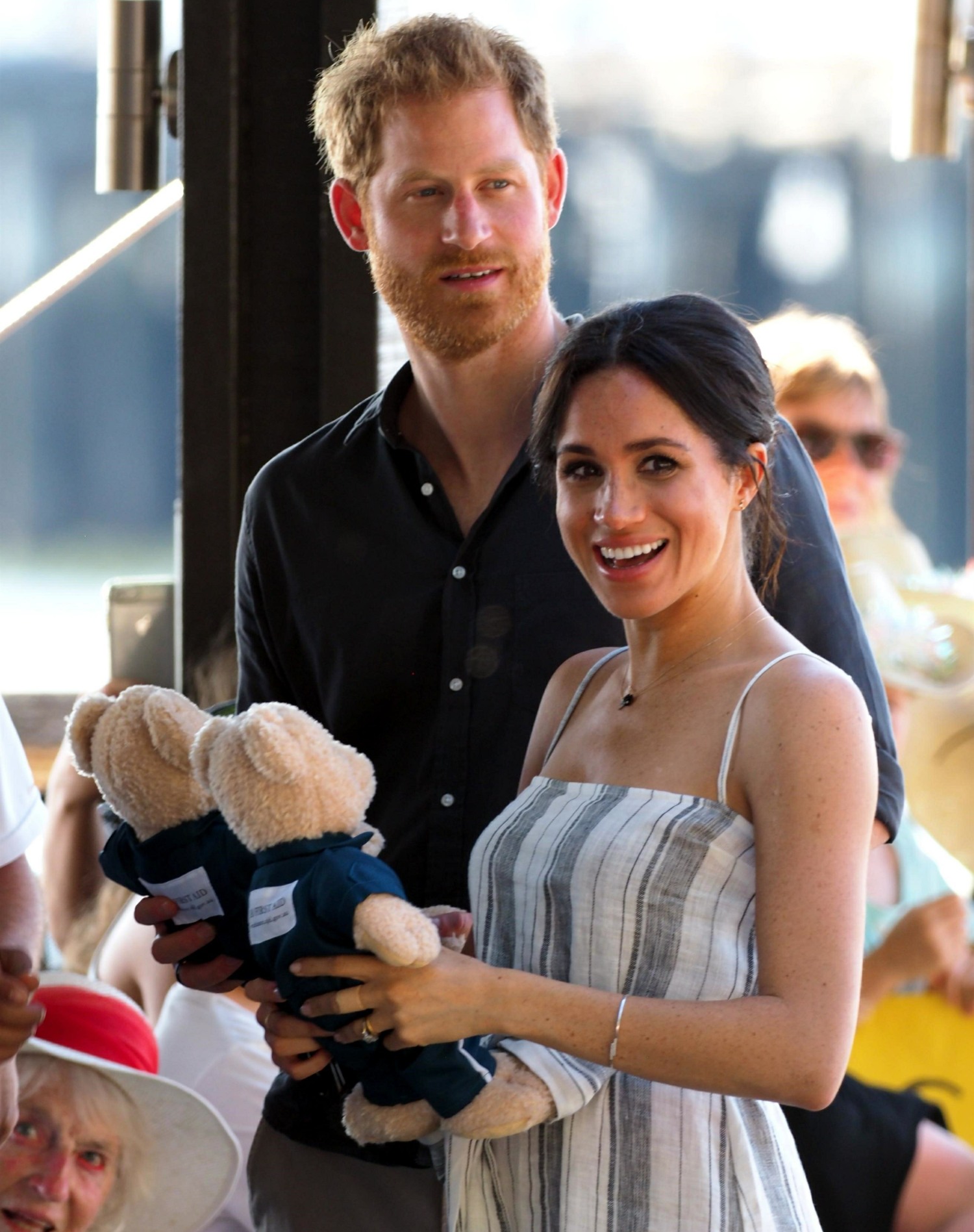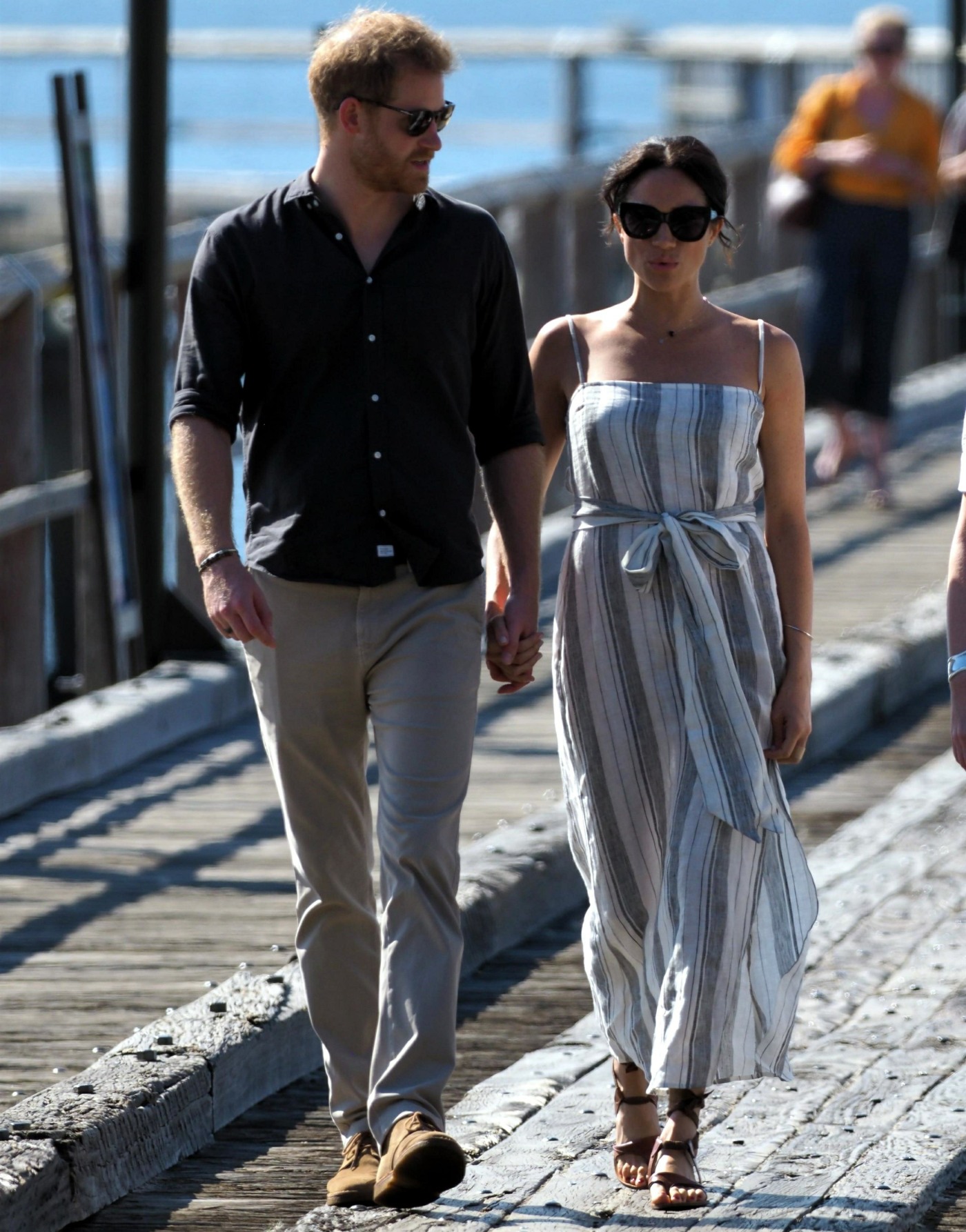 Photos courtesy of Getty, Backgrid.