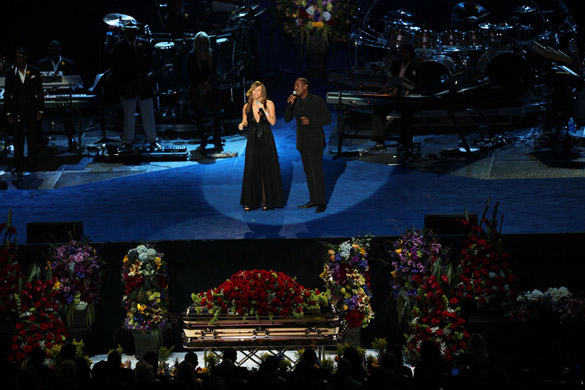 Mariah Carey has apologized via Twitter for her performance at Michael Jackson's memorial. Personally I thought she did a great job considering she was obviously overcome with emotion. At the beginning of her song "I'll Be There" (A Jackson 5 cover she originally released as a successful single in the early nineties), she could barely get the words out and her voice was shaking and cracking. It clearly wasn't done for show. Watching it live, it was impossible not to have a panicked "oh holy crap" moment when it seemed like everything was going to go to hell. Mariah pulled it together relatively well, but those first few seconds were rocky to say the least.
Mariah Carey has apologized for singing a less than perfect version of 'I'll Be There' at the Michael Jackson memorial service.

Many fans took note of Mariah's sloppy singing, but the diva explains emotions simply got the best of her.

In a series of posts on Twitter, Mariah commented, "Trying to sing today was basically impossible for me. I could barely keep myself from crying. I'm sorry that I wasn't able to pull it together and really do it right, but I was literally choked up when I saw him there in front of me. One thing I know is, we will never really have to say goodbye to MJ. His legacy lives on through his music and the millions of people he inspired with his timeless music. He will be forever in our hearts."
[From Starpulse]
Even though that last part of Mariah's Twitter is a little cheesy, her performance actually made me like her a lot more. It showed her humanity and vulnerability, and was probably the first time I saw her as a real person instead of a performer. I definitely don't think she has anything to apologize for. Her song wasn't flawless, but it was real. Real grief isn't flawless, to say the least. It's a time where you break down and everything often goes to hell in a hand basket. Mariah pulled it together and that didn't happen, but if anything I think it made her more likable as a person, regardless of other people's comments about the professionalism of her performance.