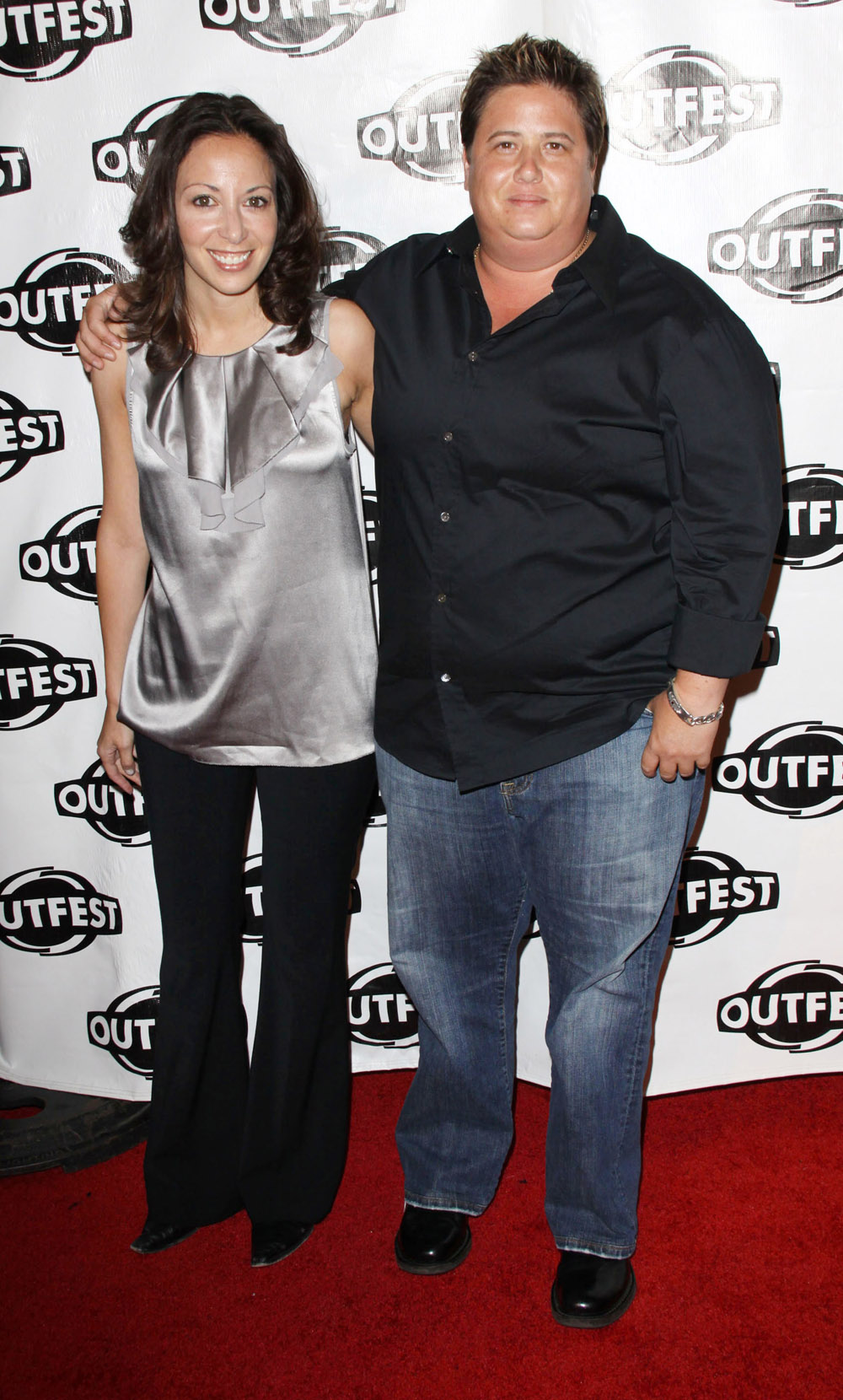 When he first announced that he was going to transition to a man, Chaz Bono said he would not be making any more public statements during the process. And while he's generally kept mum, Chaz is still making public appearances here and there. This is great for the LGBT community because it shows Chaz out and about and living his life happily. However I'd think it could feel uncomfortable at times just knowing how closely people are scrutinizing his body. You know that certain kind of discomfort you feel when you know someone is looking at you extra closely? I imagine it could feel that way to Chaz too.
It seems like media outlets are getting better (though not perfect) at being respectful in their coverage of Chaz, and are also more aware of using the proper terminology. Last night he and his girlfriend Jennifer Elia walked the red carpet at Outfest, and seemed really happy together.
The famously private Chaz Bono – who recently shocked Hollywood by confirming she's [sic] undergoing a sex change operation to become a man– walked proud as a peacock with girlfriend Jennifer Elia on the red carpet in Los Angeles Thursday night at Outfest, the country's largest festival of gay/lesbian/transgender-themed films.

The son of Cher and the late Sonny Bono, who lives in West Hollywood with the beautiful brunette Elia, was dressed dapper in a black button-up shirt and blue jeans.

Chaz, a political and social activist, began undergoing a sex change shortly after her [sic] 40th birthday on March 4. It's not known how long the process will take for Chaz to officially become a man.

"I am excited for Chaz that he will now be able to live life the way he wants to and in a body that is more comfortable for him," Kristen Schaffer, Outfest's executive director, told RadarOnline.com last month. "Chaz's 'coming out' as transgender is wonderful for the LGBT community as it not only increases transgender visibility, but also shows that we should never compromise our own identity."

Outfest runs until July 19 in Los Angeles.
[From Radar]
I can't explain why but I always get such a good vibe from this pair. Chaz has always been private, especially for having such public parents. He's been active in gay causes since he publicly came out of the closet, but has still managed to live his life as a regular person. He strikes me as someone you could strike up a conversation with on the way home from work just like anyone else. He'll certainly be getting some extra attention over the next few years, but if anyone knows how to handle it gracefully, it's him.
Here are Chaz and Jennifer with Outfest Executive Director Kirsten Schaffer at the gala yesterday and earlier that same day. Images thanks to WENN.com and Fame Pictures .