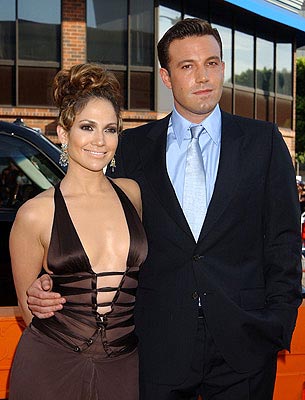 Remember the Ben Affleck of yore? Ben Affleck, post-Gwyneth, circa 2002. When he was one of People Magazine's Hottest Bachelors, when he was drinking (and probably drugging too) and gambling up a storm. And when he was romancing a string of interchangeable girl-women, preferably picked up at some random bar. And then he began work on a little film called Gigli. And that's when the magic happened. "The Magic" being "when Ben Affleck crawled into a crazed, tabloid hole filled with J.Lo Glow, tanning lotion, liquor, strippers and career suicide". Those were the days, eh?
After Bennifer 1.0 died (circa January 2004, if memory serves), Ben Affleck spent several years trying to get the magic back. He settled down with a more People Magazine-readership-friendly Jennifer, this one by the name of Garner (otherwise known as Bennifer 2.0). He got sober (I hope). He took some time off from trying to be Mr. Hollywood. He became a husband and father. He started focusing on doing some "quiet, important" film work. And after a few years, he began talking some smack about Jennifer Lopez. He's done it before – in the past few years he's admitted that J.Lo was "bad for his career". Now he's going even further and saying in a new interview that during the whole J.Lo incident he felt "suffocated, miserable and gross." What a charmer:
Ben Affleck has spoken out about his high-profile relationship with former girlfriend Jennifer Lopez – insisting it was bad for his movie career.

The actor began dating the singer in 2002 after starring in Gigli with her, and the pair later became engaged before splitting up shortly before their scheduled wedding in 2004.

Affleck is adamant he should never have got involved in the first place – because the publicity surrounding their romance tainted his career.

He says, "I was no longer in control of my life. I thought I wanted certain things, but I didn't. I got lost. I felt suffocated, miserable and gross. I should never have gone down that route or got sucked in to all the publicity."

"I was typecast as myself. Too many people weren't getting past what they read about me. That was damaging. I can tell from experience it's bad for you, and bad for your career. So I took a break, went away for a while and let things calm down."

And he admits he is much happier with his wife Jennifer Garner and their two daughters, three-year-old Violet and six-month-old Seraphina to look after.

He adds, "Work has taken a back seat. My job is not as important as it was. Saying that having a family changed my life is a cliche. But it's true – it re-arranged my life and made me see clearly."
[From Contact Music]
I realize Ben is trying to take responsibility for a rough patch in his life, but he comes across as really rude (in my opinion). Look, I'm not a member of Jennifer Lopez's fan club or anything, but I don't hate the woman. I give Jennifer a lot of credit for the way she conducted herself post-Bennifer. She just up and married Marc Anthony, and they seem really happy ("happy" meaning he does whatever she tells him, but I'm sure it works for them). As far as I know, Lopez has never bad-mouthed Ben, and she's never gone even half-way as far as this in talking about what happened between them.
I guess I just think Ben would have been better served if sometime in the months following the break-up, he had just said "Look, I loved her, and it didn't work out. It was complicated, and we were both at fault. I own my part of the responsibility, but I'm not going to make jokes or talk smack about her. The end." Part of the long-term career damage he did to himself post-breakup, simply because Ben seemed so ashamed that he was even with Lopez for a short time. I don't care how horrendous Gigli was, no woman likes to hear her ex-fiancé describe their time together as "gross".
Update by Celebitchy: There is no source for this quote, and Contact Music doesn't say they interviewed Affleck, nor do they conduct interviews. I cannot find a source at all other than Contact Music, and all they do is use other sources without attributing them. Affleck has not appeared on a talkshow for quite a while and has no major interviews coming out in magazines that I can tell. He's also not promoting anything as far as I can tell. So where are these quotes from? I really doubt that he said this recently, and think these are being rehashed and reworded from earlier quotes. Until I see a more solid source I don't think it's fair to bash him at all for saying this.