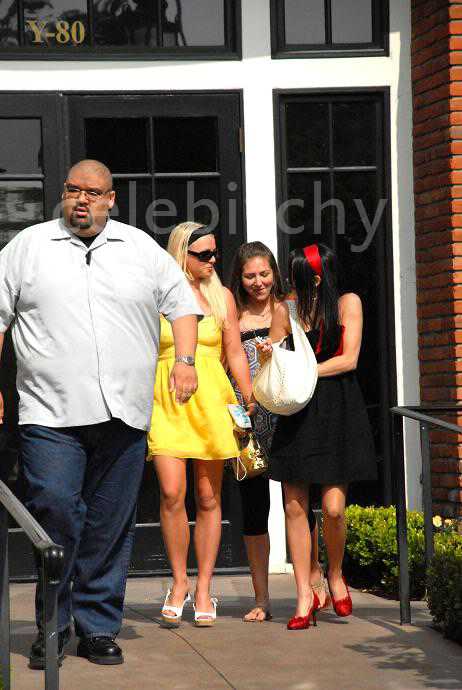 I'm not going to say that it actually sucks to be Britney Spears – I means she's got money, fame, a decent amount of talent if she'd actually use it properly… but it's got to suck a little bit, at least lately. There definitely aren't as many people that'd be willing to trade live with her as there used to be. Brit had a pretty crappy day yesterday: the surprise secret witness (who wasn't as exciting as we'd all hoped – who else was pulling for Perry the manny?), former bodyguard Tony Barretto, submitted a sealed declaration about Brit's drug use, nudity, and "safety issues" involving his sons – all post rehab. Brit's lawyers chose not to cross-examine him, which shocked Barretto's lawyer, Gloria Allred. Does anyone else think it's really weird that someone so non-famous chose Allred as his lawyer? I mean he's no Amber Frey, what's he hoping to get from this?
We don't yet know how specific the allegations are (ie did he see Brit high or did he see her with a needle in her arm?) but hopefully, they'll be unsealed or leaked at some point. I say hopefully because we'll have a field day with them. I think the drug use and nudity have all been pretty obvious – I mean the girl can't keep her undies on in public, why in the world would she bother in private? But I am curious about the specific allegations involving "safety issues" relating to the kids, and those seem the most urgent to me. Apparently "Spears hired Barretto when she left a rehabilitation facility in March but fired him May 17 because 'he didn't hear her when she asked him to pick up her hat,' Allred said," according to the Associated Press.
"A former bodyguard for Britney Spears went to court Monday to support a sealed declaration about questionable behavior by the pop star in a child-custody dispute between the singer and ex-husband Kevin Federline — but never got to testify.

"Tony Barretto, 28, arrived with a lawyer but Family Court Commissioner Scott M. Gordon held only a brief open session before clearing the courtroom of everyone but attorneys for Spears and Federline to privately discuss unsealing documents in the ongoing case. Outside court, Barretto's attorney Gloria Allred issued a statement calling him a "key and secret witness."

"We are shocked that Ms. Spears' attorneys chose not to cross-examine our client as to the substance of his declaration," Allred said. "Our client was prepared to testify on issues of nudity by Ms. Spears, drug use, and safety issues involving the children post-rehab."
[From the Associated Press]
So all around, not the best situation for Britney. L.A. County's Department of Children and Family Services, which had closed their investigation into Britney's parenting, appears to be involved in the case again, though to what extent remains unclear.
In matters professional (and I used that word loosely when describing Britney Spears) Brit's brand-new manager, Jeff Kwatinetz, fired Spears and got the hell out of dodge.
"Manager Jeff Kwatinetz of the Firm dumped Spears as a client after just one month of repping her. 'It saddens us to confirm media reports that we have terminated our professional relationship with Britney Spears,' the management company said. 'We believe Britney is enormously talented, and has made a terrific record. But current circumstances have prevented us from properly doing our job. We wish Britney the best.'

"Like Wasser, Kwatinetz reportedly had issues with Spears' decision making. The move comes just a week after Spears' Video Music Awards flameout. Regardless, Spears' label, Jive Records, says the behind-the-scenes maneuvers won't affect her ballyhooed comeback album. 'The label does not comment on artist/management relations. We're gearing up for a Nov. 13 album release date,' the label said."
[From E! News]
Let's break down what they were really saying:
"'It saddens [relieves] us to confirm media reports [fuel the fire] that we have terminated [gotten the hell away] our professional relationship ["working girl"] with Britney Spears [drunken train wreck]. We believe Britney is enormously [vaguely] talented [bullshit], and has made a terrific [shitastic] record. But current circumstances [she tried to eat our cat] have prevented us from properly doing our job [the cat yowled and we realized it sounded better than Britney's new album]. We wish Britney the best [as long as she stays the hell away from us. And our cat].'"
So I think that pretty much sums up Britney's current circumstances. She does drugs naked while her kids sit in the bathtub alone drinking bubbles while she eats cats. Really, at this point, would that be all that shocking? Maybe a little, but not at all surprising. Britney, I'm no longer going to tell you to get your act together, because that's clearly not going to happen. But I have the number of a nice, spa-like asylum that has some restraints with your name on them.
Legal Disclosure: By reading this article that you've already read, you agree to acknowledge that Britney Spears doesn't really eat cats. Most likely. If you lack a sense of humor and/or are one of Britney's lawyers, you must agree to hold harmless the writer. She will compensate your client with a lifetime supply of Cheetos.
Picture note by JayBird: Header image of Tony Baretto, back when he was working for Britney in May. Images thanks to WENN.