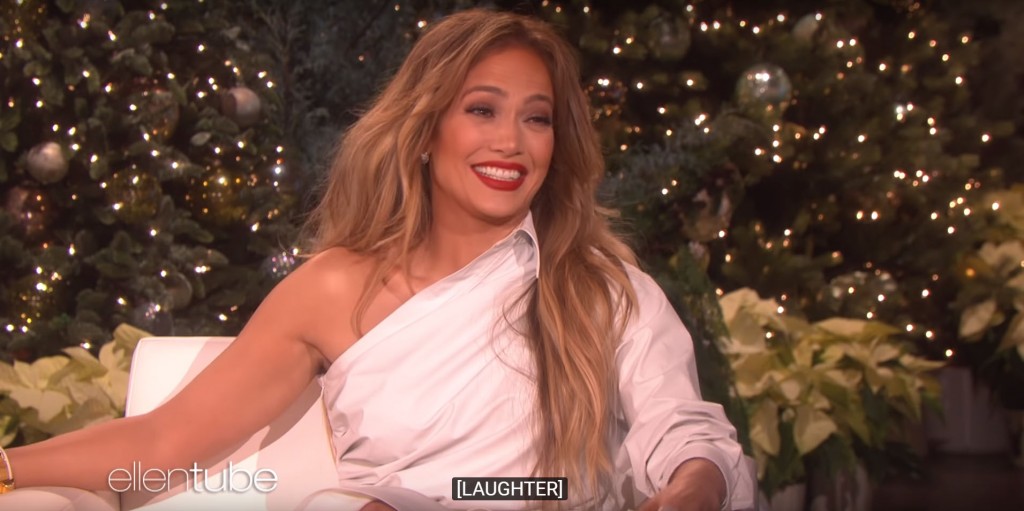 Jennifer Lopez was on Ellen's show last week. She had on a weird dress with one sleeve and a collar that went across her chest, like it was a dress shirt that was lazily converted to a dress. Ellen mentioned Jennifer's Vegas show ending after 3 years and they talked about Jennifer being 49 and looking awesome. Ellen wanted to know if Jennifer ever thinks about age and of course she doesn't. Then Ellen claimed that Alex Rodriguez had texted her that he was going to marry Jennifer. She got all giddy and it was cute.
You work out all the time
Even before I was a dancer, I was an athlete. I ran track. So I've taken all of that and I've kept it going.

Do you care about age? Do you think about it?
I try not to think about it. I go more with how I feel inside. I feel very youthful, you know? I'm energetic. I feel like I have a lot of energy still. Maybe one day that will change, but right now I feel pretty good.

Your boyfriend, he said that ya'll are going to be getting married
He did not say that.

He texted me today and he said…
Let me see the text

So you'll be getting married?
I don't know

You should, you seem very happy
We are, we've been together a couple of years, it's nice.
[From the Ellen Show, video below]
On other shows you assume that all the questions are preapproved, but Ellen likes to put celebrities on the spot so this could have been an ambush. I like that Jennifer is dating a guy who isn't young and stupid (I mean the stupid part is arguable but she was with that backup dancer after her divorce for years) and that she's not engaged after a couple of years. That said, I see them getting engaged soon. I doubt they'll last more than a couple more years, but I could be surprised. They seem really into each other and they're so cute together!
Here's the interview!

A-Rod is always making that face like he smelled something.