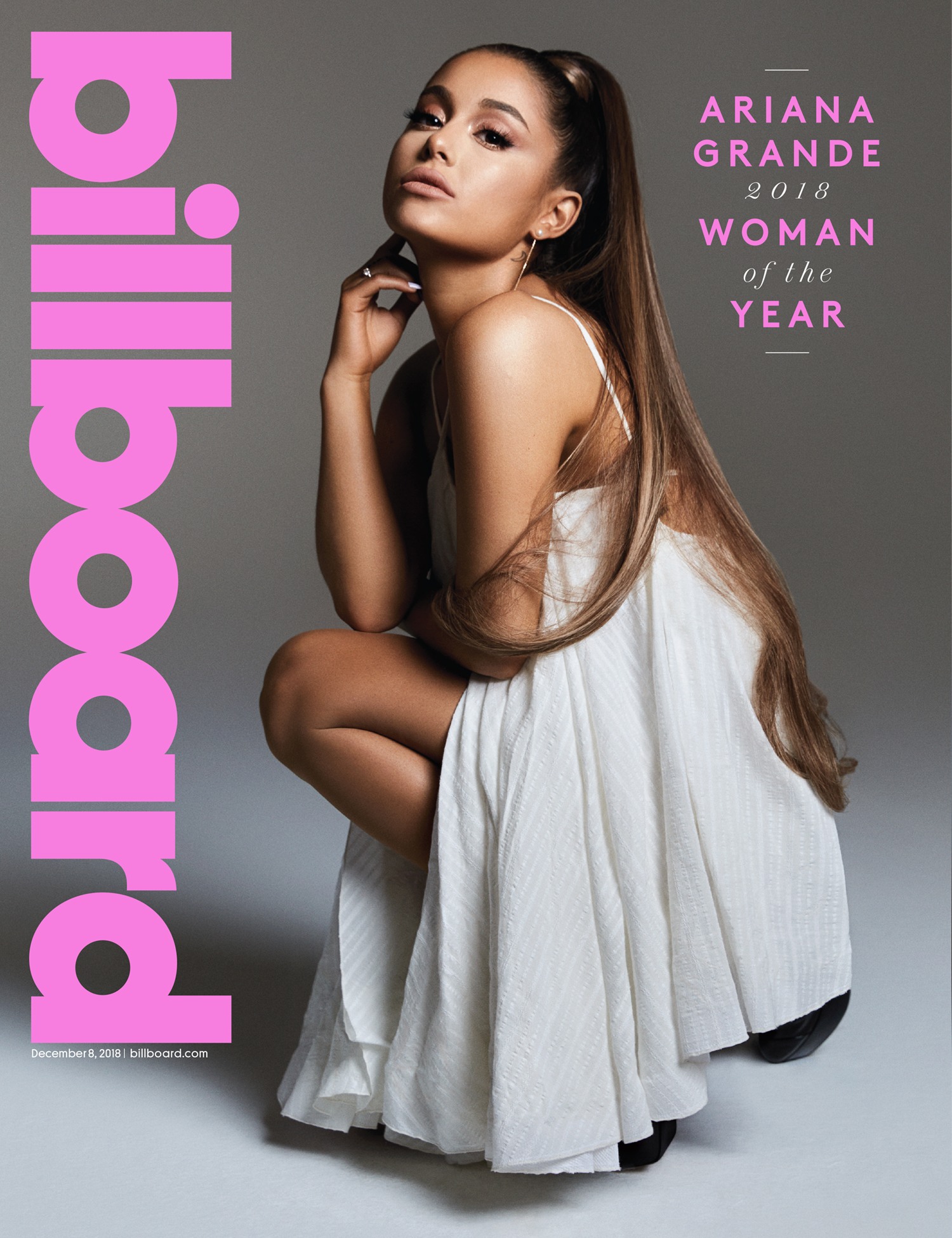 Billboard named Taylor Swift's Reputation the Album of the Year…even though it was released in fall 2017. Billboard also named Ariana Grande their Woman of the Year, even though most of the Ariana headlines this year were about her personal relationships. Personally, I remember covering Billboard's WOTY event with Selena Gomez last year and thinking "this should have gone to Ariana." Ariana's 2017 was just more notable from professional/career standpoint, but I'm open to the theory that Ari didn't want to give an interview to Billboard last year, so they gave her the title this year. Anyway, Ari talks at length about her music, the music industry, Mac Miller's passing, and only a little bit about Pete Davidson – you can read the full Billboard piece here. Some highlights:
On the success of 'Thank U, Next': "I got myself to a place where I would be able to do things like drop a surprise record and have it be the biggest single I've ever had."

She cries a lot these days: "I just hope you're OK with me crying, because that's not going to not happen. I can't even say 'Good morning' to anyone without crying. I guess there's not much I'm afraid of anymore. When life tries you with such serious sh-t so many times, your priorities change. I don't give a sh-t. I just want to be happy and healthy — one day — and make music."

Whether she has perfect pitch: "People tell me I do, but I'm not going to sit here and be like, 'Yes, I do.'"

She is in charge of her sessions: "I've politely walked out of sessions before. It has happened. I'm a small girl. People tend to underestimate that. And then I sit down and comp my own vocals and can produce my own session, and they're like" — here she adopts an excellent impersonation of a dopey man — "'Oh, I didn't know you could do that.' I'm like, 'Believe it or not, there are plenty of tiny women that can do this.'"

Feminism & how the media treats women differently. "I would just love to see a chart with as many women on top as men. It's just so male-dominated. It's so easy for them. There are so many unbelievable female artists out there that try so much harder. They're unable to accept the fact that women are a million things, and not just two. You can be adorable and brilliant. You can be friendly and silly, and yet strong and indestructible. You can be professional and present and also sexual and fun. My dream has always been to be — obviously not a rapper, but, like, to put out music in the way that a rapper does. I feel like there are certain standards that pop women are held to that men aren't. We have to do the teaser before the single, then do the single, and wait to do the preorder, and radio has to impact before the video, and we have to do the discount on this day, and all this s–t. It's just like, 'Bruh, I just want to f–king talk to my fans and sing and write music and drop it the way these boys do. Why do they get to make records like that and I don't?' So I do and I did and I am, and I will continue to."

On Pete & Mac: Talking explicitly about the men in Grande's life is a non-starter. She still loves all her songs, even "Pete Davidson." (She also sent the Davidson in question "Thank U, Next" before releasing it: "I wasn't going to blindside anybody," she says.) The wound left by Miller's death is, unsurprisingly, still raw. She expects Thanksgiving will be particularly hard, since she had spent the past few holidays in Pittsburgh with the Miller family. At this point, these are the kinds of details that Grande already knows will be A1 on every gossip site. Her rise to fame has been punctuated by a series of public romances, which she writes off as a side effect of her workaholism. "This is how I meet people — I can't just, like, meet someone at a bar," she says. "I live fast and full-out, and I make mistakes, and I learn from them and I'm grateful no matter what happens."
I think…she sounds fine? Sometimes, after a celebrity has had a particular bad year, they can come across as sort of manic, like they're just trying to hold on to anything. Ariana seems to know that the Pete breakup was for the best long-term, and that she just needs to grieve for Mac, and she also knows that she feels better when she works. The most interesting part, to me, was where she talked about wanting to do what rappers do, which is record music and release it within a matter of days/weeks. She's right that the music industry doesn't seem to allow women to operate like that.
Cover and Instagram courtesy of Billboard.