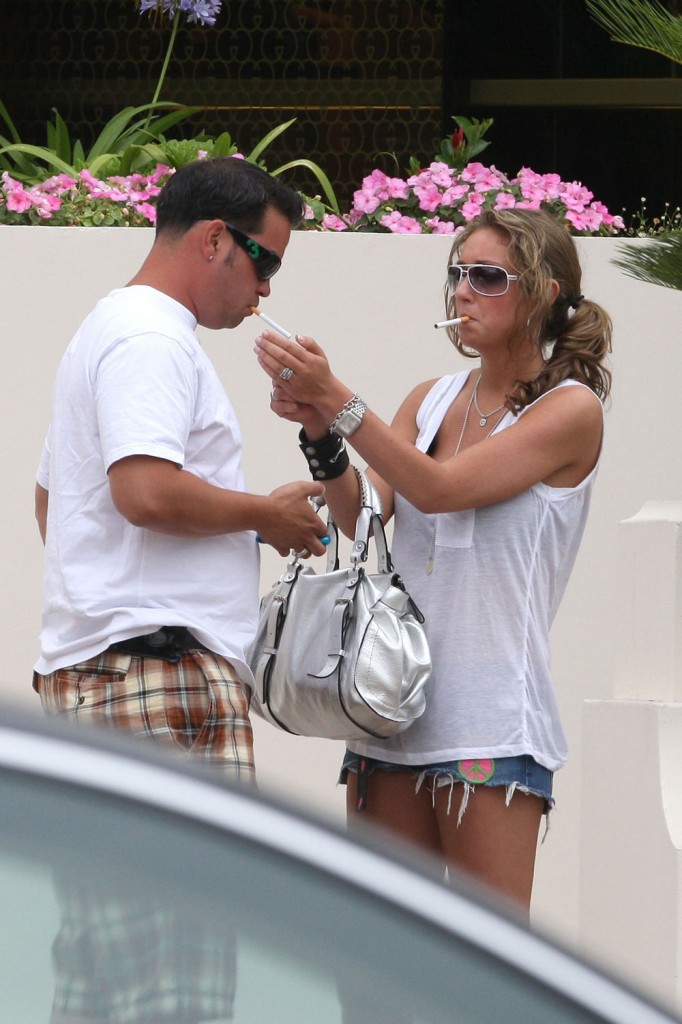 Jon Gosselin's 22-year-old girlfriend is bitching and moaning about her negative coverage in the press. Hailey Glassman has a Facebook account with over 1000 friends, so it's not exactly private. She's posted all sorts of unflattering pictures of herself, including getting her boobs grabbed and a bunch of other semi-unsavory things. Certainly nothing out of the ordinary or even shocking though. But because she's dating someone lightly famous, the photos have made her infamous. For some reason Hailey apparently thought she could date Jon without any repercussions – and as a result of the negative press she's so upset she can't leave her hotel room. I'm sure that's why.
Jon Gosselin's new 22-year-old girlfriend Hailey Glassman stayed in Monday night while visiting St. Tropez, France, with the 32-year-old father of eight because she was so upset with the bad press she's been receiving.

"U.S. press is all over stories about her being some slutty party girl with a history of arrests," a source tells Usmagazine.com of Glassman, who was arrested in 2005 for marijuana possession (see her mug shot). "She was upset tonight."

She didn't seem too upset earlier in the day, as she and Jon shopped at a Gucci boutique and grabbed lunch together. They were also spotted lighting each other's cigarettes while sightseeing.

The two are expected to return home today.
[From Us Weekly]
To be fair, Hailey strikes me as a normal 22-year-old fresh out of college. But because she's linked to someone who's famous for being a dad to a ton of kids, one would hope she'd be a little more wholesome. There are reports on Radar of her engaging in some sort of girl-on-girl sex act and drunkenly hitting on tons of guys. I knew plenty of people who acted that way in college, so I don't find it all that shocking and wouldn't bat an eye if she weren't dating Jon Gosselin. But she is so here you go:
A former co-worker of Glassman's exclusively tells RadarOnline.com that it wasn't too long ago the 22-year-old girlfriend of reality TV dad Jon Gosselin — who he has been squiring around glamorous France — was drunkenly trying to seducing bouncers, or having raunchy sex with other women in the restroom of the bar where she worked while she was in college.

Our source — who worked with Glassman (then a ticket taker) at the Bluebird Night Club in Bloomington, Indiana in the fall of 2006 — said the Indiana University student's behavior was an ongoing parade of horny, drunken hedonism.

Our source recalled a story she heard from another co-worker in which the woman "walked in on Hailey and another girl in the bathroom doing really sexual things with each other."

"They were doing more than making out, they were seriously performing sexual acts on each other," our source said. "Hailey hung out with the lesbian and bi-sexual crowd. She and all her friend also went to a gay bar called Uncle E's, which is where the hipsters hung out. Her crowd was really sexual and slutty."

Our source said Glassman's performance as an employee of the bar was awful, characterized by drunken indifference. Her performance between the sheets — something Jon Gosselin can likely attest to these days — should be a lot better; our source said she's had plenty of practice, dating back to her bar days.

"One time she was hammered, and went up to the door guys — the bouncers — and said to one, 'We haven't hooked up yet, have we?' and he said 'No,' and she said 'We should [bleep],' and he told her, 'No,' again," according to our source. "Then she turned to the next bouncer and asked him the same thing. He said 'No,' to her too."

Rolls in the hay might not the only thing Glassman gets off on either, our source told us.

"Hailey was all over the place… she was hammered 90% of the time," our source said, adding that while she never saw Jon Gosselin's new gal pal engage in recreational drug use, she knows "friends of hers, and I heard they were always doing ecstasy and coke."
[From Radar]
Obviously she's not fit to be a stepmother to eight kids, but that's clearly not what Jon's looking for right now. Something tells me Jon is going to date around A LOT in the next few years and do some major oat sowing. I doubt his next five girlfriends will be anymore straight-laced than Hailey. I'm guessing she's as likely as the next person to grow out of this phase – perhaps she already has. I don't want to come down overly hard on her: she didn't date Jon while he was with Kate and so far she's not involved with the kids at all. I think everyone knew people who acted this way at that age – just as many men as women. But I hope for her sake the relationship is just a passing fling. She strikes me as someone who still needs to get some partying out of her system; along with her 15 minutes.
Jon Gosselin and Hailey Glassman are shown out in Cannes on 7/13/09. They shopped at Gucci and ate lunch. Credit: bauergriffinonline.com