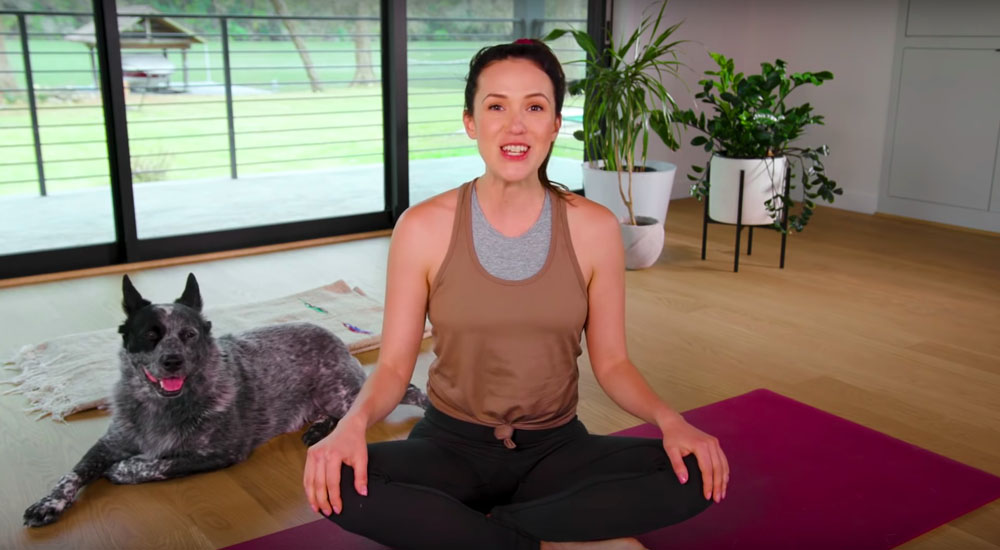 I'm a firm believer in making incremental changes and doing what you love. I love dancing so I do Zumba and it doesn't feel like a workout. I tried running and even did a couple of 5ks (the Zombies Run app really helped) but it's not my thing. So if your goal this year is to run a 5k, you can reach that, but will you enjoy it? If you find running punishing maybe you'd prefer kickboxing or dance fitness. You don't have to go to the gym for every workout and can get the same results at home. If you're looking to make fitness updates in the new year, here's an Amazon affiliate post with some options that work for me. (The photo above is a screenshot from the YouTube channel Yoga With Adriene! One of my goals this year is to do more yoga. I had to go to physical therapy for my neck and the recommended exercises were yoga.)
Lose weight without giving up your favorite foods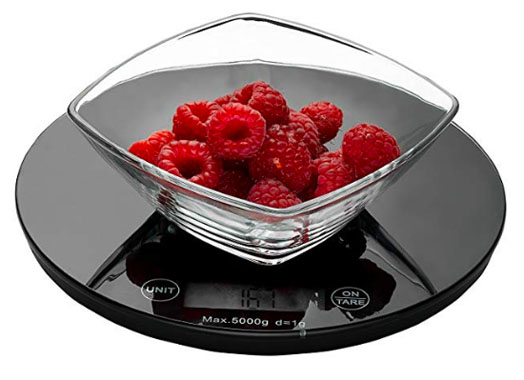 I lost 60 pounds from 2014-2015 using the MyFitnessPal app and website (it's free!) and a food scale. I've kept most of it off, but I have about five pounds to go after the holidays. The scale I own is from Tchibo in Germany. I bought my parents this exact food scale and it works great even a few years later. It has a little button that toggles the different measurements and you can tare it to zero easily so you can weigh separate ingredients without using a different bowl. If you're calorie counting or using portion control, a kitchen scale is a game changer. I lost weight without giving up ice cream, candy or chips.
Get fit at home using free on demand workouts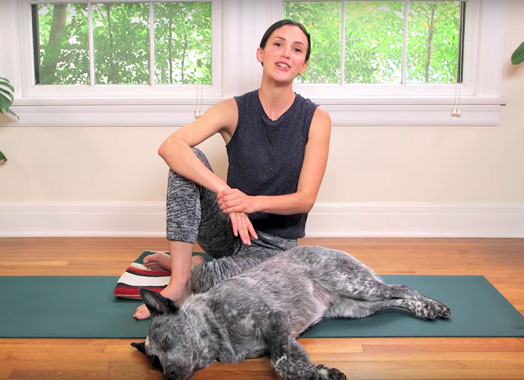 I enjoy group fitness classes at the gym, but it takes time to drive there, they can be crowded, and I wear earplugs for the noise. Doing workouts at home is a great alternative and there are so many free options on YouTube! All you need is some space around your TV. For lighter workouts I do Jessica Smith or Denise Austin. For harder workouts there are countless options from PopSugar fitness. The Fitness Marshall is awesome too. Remember that workouts are cumulative, so if you can only do 20 minutes in the morning and a half hour a night, that's still 50 minutes! If you don't have a smart TV with YouTube, you can get a Chromecast to plug in to it and then just cast from your laptop or phone to the TV. (Amazon fire TV no longer has YouTube available, but Roku devices do and people love them.)
Stay hydrated with reusable water bottles that collapse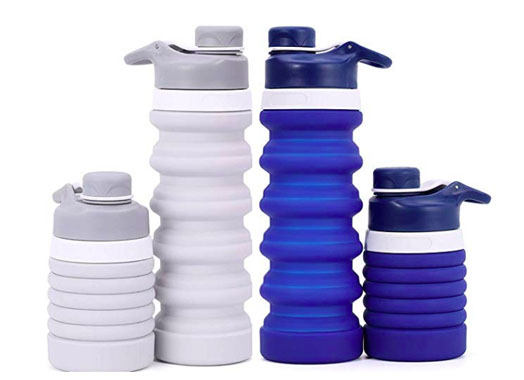 One of my tricks for air travel is to bring an empty water bottle with me. I also keep water in the trunk of my car in case I get thirsty when I'm out or decide to go to the movies. (Paying more than $2 for a bottle of water or soda seems outrageous to me.) With a collapsible water bottle in my purse I could stop wasting so much plastic and wouldn't have to remember to grab water. This would also be a great go-to solution for the gym.
Exercise while watching TV with equipment in your living room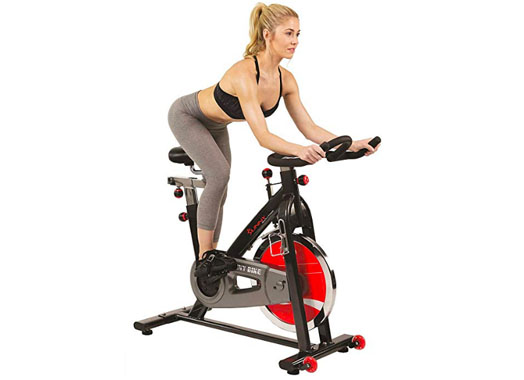 If you keep exercise equipment in your living room you can use it while you're watching TV. I really enjoy spinning. Some of you swear by the Peloton bikes, however that's out of my price range. I got a used Schwinn spin bike for $200 from Play It Again sports and have used it for years. It still works great, especially with the clip in shoes. I work out at home using free classes from Global Cycling Network and Studio Sweat on Demand (I don't subscribe, but I've heard their service is very good). This well reviewed Sunny bike is available on Amazon prime for less than $300! Some users say they use it with the Peloton app, which is just $12 a month. There is an issue where the bike may have a banging noise, but it's fixable according to the top review. When it's time to replace my bike, I'm going to buy one of these. You'll also want a heavy duty equipment mat to place under it.
You can also consider a treadmill, an elliptical machine or stationary bike. Just get something you like and will stick to. (Look at your local Play it Again sports and on Craigslist for used equipment!)
Get some cute leggings that you won't mind running errands in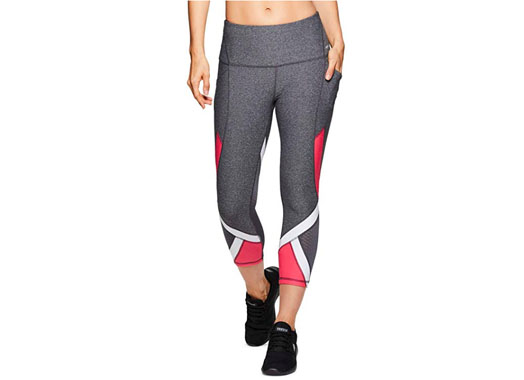 I own some RBX leggings and while I am small or even extra small in some cases, mine are medium. So you may want to order up a size for comfort. These are awesome leggings for the price. They have cute side panels that will fit a phone and some cards (I have a Samsung S8 plus that fits in these) and there are mesh panels built in around the calf area. Reviewers warn that these run small and that some colors are see through. I also own a pair of these Champion 3/4 length leggings which are very comfortable too. I also have these in medium. For some reason a lot of athletic wear runs small. (Except Zumba wear, that's usually larger.)
Use an exercise ball to sit on while you work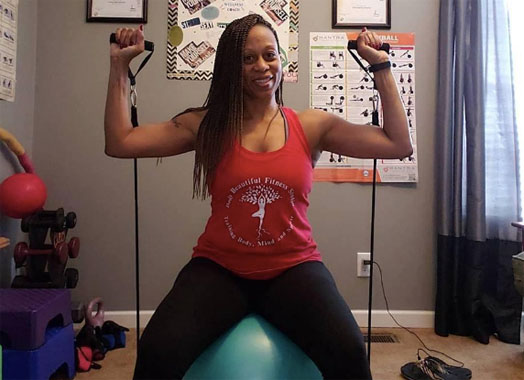 I was having back and neck pain from sitting at my desk too long so I started using an exercise ball as a chair and it fixed it! I swear it makes my core stronger and helps me sit up straighter. Plus my back and neck pain went away. This ball looks like a great option for using as a desk chair. It has a base plus resistance bands so you can tone too. I'm just using a plain exercise ball without a base or bands and now I want an upgrade.
Change your position frequently while you're working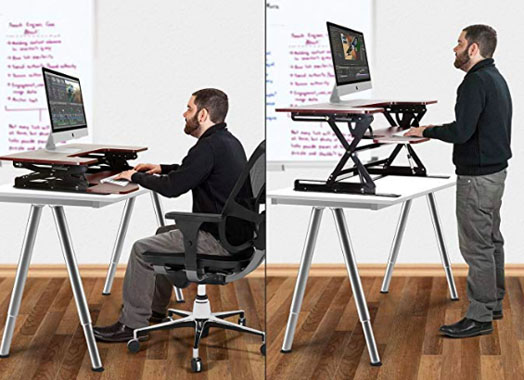 Standing desks, which raise and lower so you can sit or stand while you're working, can run upwards of $1,000! As an alternative you can get a standing desk convertor for your monitor for less than $200. This one comes fully assembled and has over 800 positive reviews! People say it fits up to three monitors and works so well their coworkers are jealous.
Thanks for reading our affiliate post!
Photos are screenshots from Yoga by Adriene, Amazon and Amazon reviews.