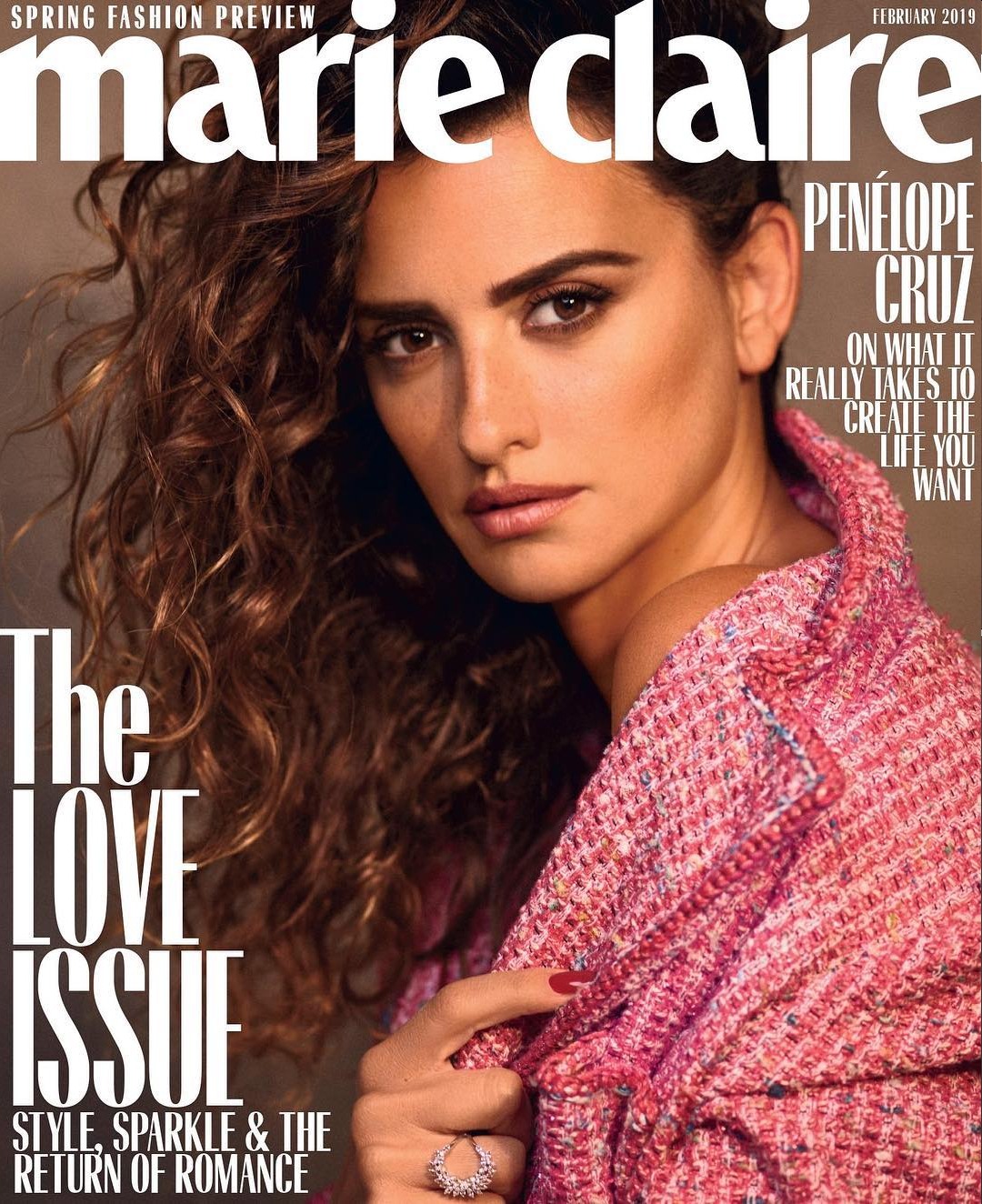 Penelope Cruz covers the February issue of Marie Claire to promote her latest film, Asghar Farhadi's Everybody Knows, a Spanish-language drama which also stars her husband Javier Bardem. Honestly, I like Penelope but I usually find her to be a boring interview. That being said, I enjoyed this piece – maybe it was because Penelope was speaking to a Spanish-speaker, someone who could translate in real time. The editorial though… it's charmingly dated. The cover looks so vintage, and the rest of the photos are like that too, complete with acid-washed jeans. You can read the full Marie Claire cover story here. Some highlights:
Her family life with Javier Bardem: "You know it's the beginning of something, but you don't know what it's the beginning of….My life is…a very different life. But it's the life that I always wanted since I was a little girl. When I was four or five, I was already performing, and the characters in my games were always mothers. I really wanted to be a mother, for as long as I can remember. But I did it when I felt the time was right—the right time, the right person."

On motherhood: "The thing is, I never speak about the children in interviews. I don't care if people think I'm strange; that's sacred for me. So let me think how I can address that without talking about them…It's the thing that has made me happiest. But there are a lot of things that have surprised me about it. It's like a revolution inside you—a very animal-like one. The whole world looks different. You'll never think of yourself first again, and I think that's a very good thing. It happens in a second."

The taboos related to women: "There are so many taboos related to women. You realize when you go through the whole process that society tricks women a lot—and men too. This image society gives you—that you have to be a super-woman, that you need to be out of hospital in 24 hours, wearing high heels. No, you already are a superwoman! We're all superwomen—those of us who have children and those of us who don't."

The working class actress: "My job is normal for me. I've had to work very hard, and that's what I see in my family. I don't feel that my life is different from that."

Hollywood isn't the only industry where women get abused: "A teacher or a doctor, they're not going to get a microphone and somebody asking them: 'What's your situation? Are you suffering these things?' So it's important to me to make clear that I'm not just talking about our industry. It affects women in all industries and every single country, and I speak for them, the ones that are never going to be asked that question… It's good to remember that men can be victims of this too. This can't be about more division. If we don't do this together, it's useless."
I like that Penelope finds that balance of talking about her experience and desires and journey without making it sound like every woman should do the same: "We're all superwomen—those of us who have children and those of us who don't." She wanted to be a mother, she wanted a quiet family life in Spain, she waited for the right guy, etc. Those were her choices, her journey, but she's not judging other women's choices. It's not that hard, but so many celebrity women do fall into that trap. Also: even though Woody Allen was canceled a long time ago, I still watched Vicky Cristina Barcelona a few times when it was on TV recently and… while the film does not hold up, Penelope's Oscar-winning performance really does. I'm actually sort of fine with her winning the Oscar for that.
VINTAGE FEEL

Penelope Cruz captured in #BALMAINSS19 by Nico Bustos for @marieclaire styled by @j_errico #BALMAINARMY pic.twitter.com/O6CEPfTvKO

— Balmain (@Balmain) January 6, 2019
Cover and photo courtesy of Marie Claire.