We're going to have to hear about the Fiji Water Girl for a while, aren't we? For those who don't know what I'm talking about, one of the companies that put their product on the Red Carpet at Last Sunday's Golden Globes was Fiji Water. Makes sense, lots of interviews and exaggerated enthusiasm can leave one parched. Of course, Fiji wants their brand on camera as much as possible while there. And OMG did they get their money's worth with Kelleth Cuthbert. She was hired by Fiji to pass out bottles that night and expertly inserted herself into virtually every celebrity photo. She didn't just get the product in the background, but legit photobombed, looking directly at the camera, full face, with her tray's products displayed prominently. People started noticing during the pre-show and found it pretty funny. But she kept up and made a name for herself – the Fiji Water Girl (FWG). I didn't pay much attention to her. I saw the discussion on Sunday but scrolled past anyone talking about it. I wasn't upset by it, but I didn't want to waste any time on it either. Some celebs, like Lili Reinhardt, thought it was funny. Others were not as amused. Jamie Lee Curtis posted her thoughts about it on Instagram:
First of all, Jamie Lee Curtis is not in danger of being upstaged by anyone.People Live said yesterday that they didn't get why Jamie was getting so bent about this, it was just a fun little stint. However, I totally see Jamie's point. This is advertising and no amount of "quirky ploys" changes that. If you don't want your name linked to that product, or just plain don't want to advertise a product for free, you shouldn't have to. It isn't like Jamie went after FWG on the carpet, she simply told her and Moet she didn't want to be posed with them. And if you take into account that Jamie asked FWG to stay out of her shot, that makes FWG kind of a d*ck. Have fun, fine, but respect someone's wishes, for crissakes. Especially when they are doing their job.
FWG is riding this wave, of course – take your 15 when they come, right? E! gave her an award for her photobomb work. E! couldn't be bothered to ask for a designer ID on a dress but had time to make up fake awards, apparently. FWG's 'acceptance speech' was aired on Today. I like Carson Daly's take, he asked if she'll be an internet star for good or "more of a Katy Perry Left Shark thing…". I can already hear the pitches for a Left Shark/FWG reality series. FWG was everywhere giving cute little soundbites about how to photobomb properly and how she was just having fun. I get she was doing a job, but so was everyone else on the red carpet. Except for E!, of course, who was too busy giving fly-by-night posers awards instead of doing theirs.
You know who's the most pissed about FWG's attention, these three ladies: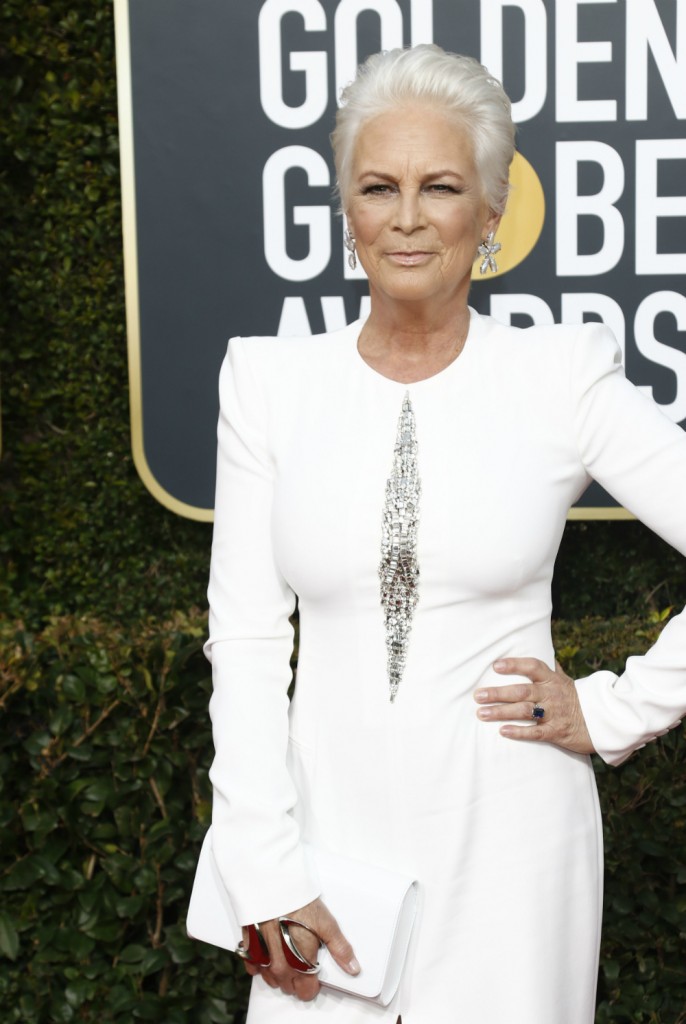 Photo credit: WENN Photos, Getty Images and Instagram