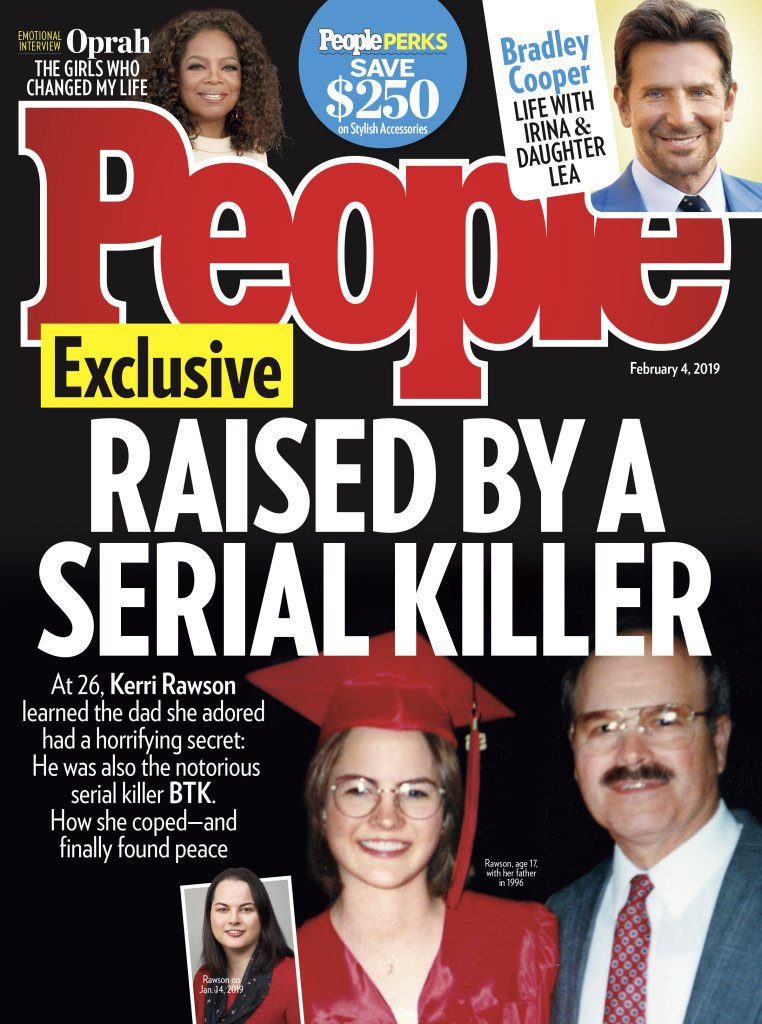 Last year I tweeted this about People Magazine covering more true crime stories. It sums up how I feel about this, although I'm coming around.
I like true crime. I like celebrity gossip. I like to chose when I consume each based on my mood and do not like to see true crime on @People at the top. It's hard to see those two things together. Stick it in another section.

— celebitchy (@celebitchy) August 17, 2018
In theory I get why People is doing this, because true crime stories sell and they're interesting, but when I'm reading about celebrities I don't want to see stories about babies dying or how the latest white man who killed his whole family is doing. It's like when you go to the ice cream shop and they're suddenly serving Mexican food. (Although I have been to a place like this and it was awesome so I should just stop talking. Maybe People knows what we want before we do.) I guess if People puts it on their cover readers know what they're getting. This latest cover is about the BTK killer, a notorious serial killer who killed 10 people (that we know about) in Wichita, Kansas from 1974 to 1991. Dennis Lynn Rader earned the nickname the BTK killer for his practice of binding, torturing and killing people. It's awful, he is now rotting in jail for the rest of his life because although capital punishment is legal in Kansas apparently they don't practice it. (I'm not for capital punishment at all given false convictions. However from a victim and victim's family perspective I understand why people would be for it.)
Anyway Rader's daughter, Kerri Rawson, learned about her dad's crimes in 2005 when she was 26. She's since written a book about discovering the truth about her dad. It's called A Serial Killer's Daughter: My Story of Faith, Love, and Overcoming. People got an exclusive interview with her. Please note that in this interview she's saying she assumed her mother was murdered when cops broke the news to her that her father was the suspect. Her mother is still alive. I was confused by that part.
"It took more than 10 years before I could even sit across from someone and even talk about this," Rawson tells PEOPLE in this week's cover story. "Nobody wants to believe their father could be capable of such monstrous things."

Memories of the morning her life was turned upside down still haunt Rawson, whose husband Darian was at work when the FBI agent appeared at the front door of their Detroit-area apartment.

Reluctantly, she let the agent inside and moments later he began to tell her why he'd come. "Have you heard of BTK?" he asked Rawson, who was unaware that her father had just been arrested by dozens of police officers after detectives had linked him to the killings through a floppy disk BTK had recently sent them, taunting them that he was about to kill again.

Rawson was confused by the question. "It seemed like such a weird thing to bring up," she recalls. "Suddenly I was thinking, 'My mom's been murdered.' My mind started making these illogical leaps because I was so scared and frightened."

As her mind raced and she tried to make sense of his words, she heard the agent say something about her father being a murderer. In her panic and confusion, Rawson began thinking, "My God, my father murdered my mom. … I felt like I was going to pass out. I was falling apart, holding onto the wall above the stove and I told him, 'I need to sit down.'"

Over the next few hours the terrible truth began to sink in — and years would pass before any semblance of normalcy would return to her life. Her father would ultimately plead guilty to the 10 murders and is now serving a 175-year sentence.

"I was just trying to stay alive and breathe," Rawson recalls of the day she learned the horrible truth. "Trying to recover from the shock, telling myself over and over that I'd do anything not to be the daughter of a serial killer."
I found other interviews Rawson did, with her hometown paper The Wichita Eagle. In 2014 she was upset after Stephen King admitted using her dad's story to inspire a short story and later a movie, A Good Marriage, about a wife who didn't realize her husband was a serial killer. Rawson said at the time that King was "just going to give my father a big head" and that King was exploiting the victims along with her family. "We consider ourselves the 11th victim family. Stephen King has the right to tell a story, but why bring us into it? Why couldn't he just find inspiration for another good story, but leave out where it all came from?"
Rawson has two college degrees and her brother is in the Navy and was an Eagle scout. Their dad was a cub scout leader and president of the church council. She claims he didn't abuse them at all and they couldn't have known about his horrific crimes. It was a complete shock to Rawson and her brother, who loved and respected their dad. Their mother also initially refused to believe it and defended their dad.
I can't imagine what this woman has gone through and the trauma and hardship she's had to face. From what I can find, Rawson has understandably never visited her father in jail. She is on Instagram, where she posts photos of her adorable kids and cats.