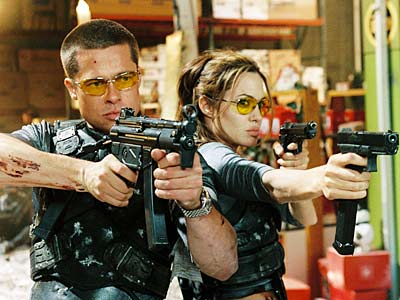 While Brad Pitt gears up for what will most likely be an epic promotional tour for Inglourious Basterds, there are rumors swirling about what Brad's next project will be. Perhaps one of the – no joke – seventeen films he has in various stages of development, according to IMDB? No! Add an eighteenth film into the mix, by God! The National Enquirer is reporting that Brad and Angelina are considering starring in the sequel to Mr. and Mrs. Smith. This time, John and Jane will have a pack of kids. But will one of the kids be Empress Zahara? That hasn't been established yet. According to the Enquirer, this whole sequel idea is just a way for them to "reignite the passion".
Brad and Angie hope to reignite the passion – by going backwards in order to save their troubled relationship! Back to where it ALL started…

STORY: Brad Pitt and Angelina Jolie fell love on the set of Mr. & Mrs. Smith – and now they hope to save their troubled relationship by making sequel!

"They're hoping lightning will strike twice and they can re-spark the magnetism that captivated them five years ago," close family friend told The ENQUIRER.

"It's no secret that relationship-wise, Brad and Angie are on the ropes. The stress of raising six kids and juggling two red-hot careers is wearing them down."

"The romantic action film was penned by screenwriter Simon Kinberg. He's become close friend of the couple, and Brad's asked him to write the Mr. & Mrs. Smith sequel, said the source.

"This time around the Smiths will have children, and the kids' antics will be part of the story line," said the source.

"He's hoping they'll fall love all over again… to get their relationship back on track and refocus on loving each other."
[From National Enquirer]
I'm not quite sure who the "he" is in that last quote, "He's hoping they'll fall love all over again…" Are they talking about Simon Kinberg or Brad? Oh, well. I guess it doesn't matter. Honestly, even though I don't think Brad and Angie want to work together as actor-actress again, I wouldn't mind a MAMS sequel. I hope this isn't a SPOILER, but they totally left it open at the end of the first film. It wouldn't be the worst sequel concept ever thought up by Hollywood.