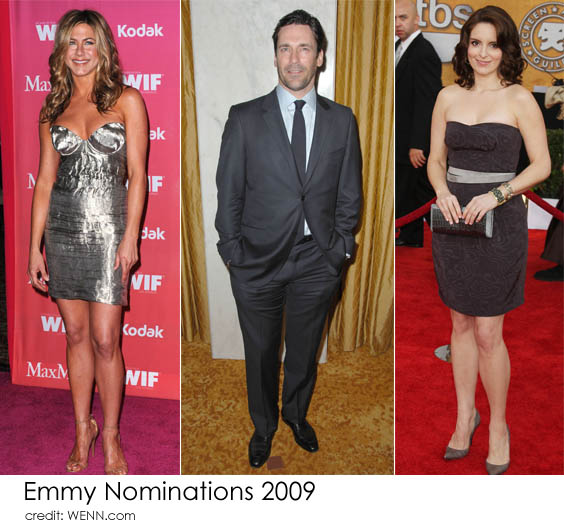 The 2009 Emmy nominations are out, and let's see what we've got! My guy Jon Hamm from Mad Men got two nominations – for lead actor, and for his guest starring role on 30 Rock! Tina Fey also got dual performance noms for 30 Rock and SNL. The lead category for actresses in a dramas is so intense – I love every single one of those shows, from The Closer to Saving Grace to Damages. But I'm thrilled beyond belief that Elizabeth Moss got nominated! She's one of the best parts of Mad Men, and it's awesome she was recognized. What else? Hugh Laurie is nominated yet again – and he'll probably win. 30 Rock is probably the biggest darling of the Emmys – just looking at the "guest actor/actress" categories, and 30 Rock dominates:
Outstanding Animated Program: American Dad, Robot Chicken, South Park, The Simpsons

Outstanding Comedy: 30 Rock, Entourage, Family Guy, Flight of the Conchords, How I Met Your Mother, The Office, Weeds

Oustanding Drama Series: Big Love, Breaking Bad, Damages, Dexter, House, Lost, Mad Men

Outstanding Lead Actor – Comedy: Alec Bladwin, Jermaine Clement, Tony Shaloub, Jim Parsons, Steve Carell, Charlie Sheen

Outstanding Lead Actor – Drama: Bryan Cranston, Michael C. Hall, Hugh Laurie, Gabriel Byrne, Jon Hamm, Simon Baker

Outstanding Lead Actress in a Comedy: Tina Fey, Christina Applegate, Julia Louis-Dreyfus, Sarah Silverman, Toni Collette, Mary-Louise Parker

Outstanding Lead Actress in a Drama: Sally Field, Glenn Close, Mariska Hargitay, Elisabeth Moss, Holly Hunter, Kyra Sedgwick

Oustanding Made for TV Movie: Coco Chanel, Grey Gardens, Into the Storm, Prayers for Bobby, Taking Chance

Outstanding Reality Program: Antiques Roadshow, Dirty Jobs, Dog Whisperer, Intervention, Kathy Griffin: My Life on the D-List, Mythbusters

Outstanding Guest Actor in a Comedy: Steve Martin (30 Rock), Jon Hamm (30 Rock), Alan Alda (30 Rock), Beau Bridges (Desperate Housewives), Justin Timberlake (Saturday Night Live)

Outstanding Guest Actor in a Drama: Ed Asner (CSI: NY), Ted Danson (Damages), Jimmy Smits (Dexter), Ernest Borgnine (ER), Michael J. Fox (Rescue Me)

Outstanding Guest Actress in a Comedy: Jennifer Aniston (30 Rock), Elaine Stritch (30 Rock), Gena Rowlands (Monk), Betty White (My Name Is Earl), Tina Fey (SNL), Christine Baranski (The Big Bang Theory)

Outstanding Guest Actress in a Drama: Sharon Lawrence (Grey's), Ellen Burstyn (L&O: SVU), Breda Blethyn (L&O: SVU), Carol Burnett (L&O: SVU), CCH Pounder (The No. 1 Ladies' Detective Agency)
[From Emmys site]
Oh, my girl Mariska Hargitay was recognized! She's won before. But no one else from the main cast of Law & Order: SVU is ever nominated, which is a shame. Though Mariska is the "star", Christopher Meloni does amazing work on that show, as does Ice-T and Richard Belzer in supporting roles. I just transcribed the nominations I found most interesting, but if you'd like to see the full nomination list, go here.