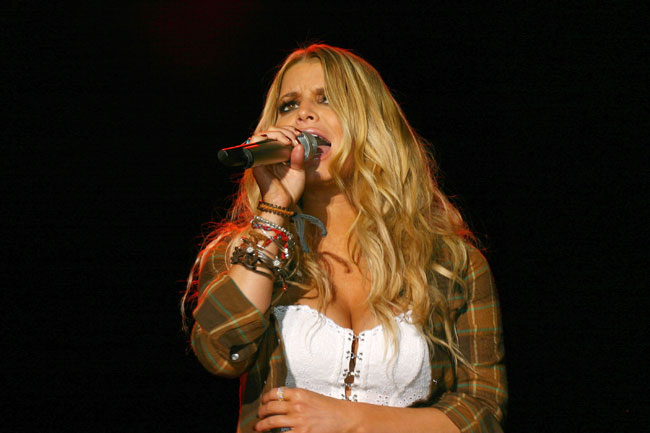 People Magazine has a story up about how Jessica Simpson is "sad, mad and confused" following her split with Tony Romo. It's not an interview with Jessica, the quotes are only from a "Simpson family friend" and a "source". Considering it's People, I'd say this is the sanctioned version of how Jessica is feeling. The "family friend" is probably Joe Simpson, for all I know.
Anyway, it turns out that Jessica was really "blindsided" by Tony, and she is now just laying low with her family. They also make a big deal about this whole idea that Jessica was just trying to be what she thought Tony wanted her to be – "the perfect mold of the perfect football girlfriend". Yuck. This whole idea of girlfriend-perfection supposedly played on Jessica's insecurities, which I tend to believe. People makes her sound just utterly devastated, so I do feel for my poor little dumb kitten. However, the "source" does get in a juicy body slam against Nick Lachey, saying that there is too much "bad blood" between Nick and Joe for Jessica and Nick to ever try to reconcile, which totally shoots US Weekly's cover out of the water. And now I'm thinking People's source really is Joe Simpson.
While Tony Romo is reveling in his renewed membership to the Singles-R-Us Club, Jessica Simpson is having a hard time coming to grips with being dumped a day before her 29th birthday.

"Jessica was really blindsided," says a Simpson family friend. "She's sad, mad, and confused. Her emotions are all over the place."

Another source close to Simpson tells PEOPLE that "it's been difficult lately" for the pair, who first started dating in November, 2007.

"Dating her comes along with her celebrity and press – that's not easy for anyone," says Simpson's family friend. "But she and Tony seemingly had it figured out. They rolled with the punches and focused on each other. They just lost sight of that at the end."

Since the sudden split, Simpson has been laying low. "She is holding up okay," says the Simpson source. "She is with her family. They are – as always – very supportive of her."

The one thing the family will not support: The thought of Simpson reconciling with her ex-husband Nick Lachey, who recently split from his girlfriend Vanessa Minnillo. "It won't happen," says a source. "They have no respect for him. Jessica has no respect for him. There is way too much bad blood between Nick and Joe for Jessica to even think about it."

The Simpson clan, however, was upset to see Romo go. "Everyone really liked him," says the Simpson family friend. Adds another source close to the Simpsons: "He wanted this perfect mold of the perfect football girlfriend. People don't realize that Jessica has been worn down by Hollywood. She has insecurities and inner demons that she struggles with. She's not some upbeat blond cheerleader that people want her to be."

But Simpson is, if nothing else, strong. "She's gone through heartache before," says a source. "She wants someone who is on the same page that she is. If she has to move on for that, she will."
[From People]
Don't they make Jessica just sound miserable? If it was someone else, someone a bit smarter, I would think that this version was being put out to garner some sympathy, play the victim. But I totally by that Jessica is probably more devastated than this sanctioned version. Maybe Jessica, for her next dating escapade, should go for someone totally outside of the trappings of celebrity. No singers, no actors, no athletes. Just a nice church-going businessman or someone like that. You know who might be nice for her? Some young, upstart Texas politician. I could totally see Jessica as a political wife.
Jessica Simpson is shown performing on 3/8/09. Credit: WENN.com