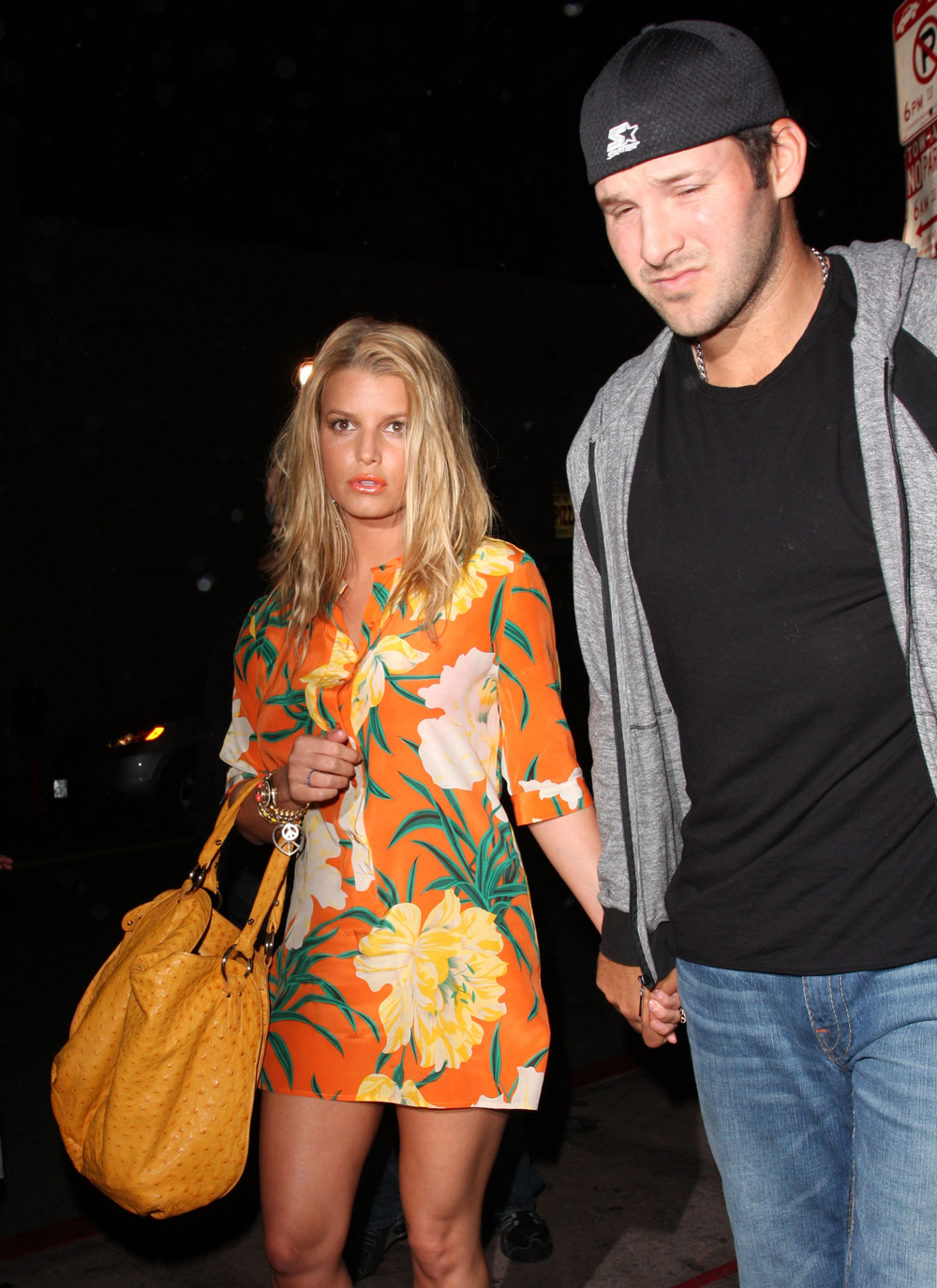 Oh, no. My girl's in trouble, y'all! People Magazine is reporting that Tony Romo totally dumped Jessica Simpson – the night before her 29th birthday. What a tool. He couldn't have waited until the day after birthday? No, he had to ruin my girl's birthday. Poor Jessica. People also has Tony not mourning the death of a perfectly good relationship – Romo was spotted having a "fun time" with lots of girls on the night of Jessica's birthday. I guess I was wrong – I thought Tony really loved Jessica. Turns out he's just a douche who dumps girls before their birthdays. Jerk!
Tony Romo broke up with Jessica Simpson on Thursday, the night before her 29th birthday, a source close to the pop star tells PEOPLE exclusively.

"She is heartbroken," says the source. "She loves Tony. But it's been difficult lately. He's busy with his career and she's getting ready to shoot her show (The Price of Beauty). They decided to part ways."

The Dallas Cowboys quarterback fueled breakup rumors when he showed up with about 14 friends at the Hollywood hotspot MyHouse on Friday night without the birthday girl, a source tells PEOPLE.

"He had quite a few girls stop by his dance floor table," says an onlooker. "Romo was sipping Grey Goose and having a fun time with the boys."

Simpson's rep had no comment. Romo's rep could not be reached for comment.

Simpson had planned to throw a Barbie and Ken-themed party for her birthday, but it fell through, according to a message she wrote on her Twitter page Saturday. "Barbie party didn't happen, but I turned 29 and feel like I am on top of the world yelling I LOVE GETTING OLDER!" she wrote.

Although her heart might be broken, Simpson seems to remain hopeful about love. On Sunday, she Tweeted, "Everyone needs to know that hope floats … grab the strings and pull it back to you." Three hours later, she wrote, "Falling asleep with my mom and the dogs. Please lord give all of my beautiful fans, friends, enemies, and family rest. Bring all of us peace."
[From People]
They decided to split because their dual careers were so demanding? Seriously? He's a football player who doesn't work half the year, and she was last seen working at a chili cook-off. Let's not make stuff up as we go along.
Why does this news upset me so much? Probably because I have sympathy for Jessica. She's so harmless. Hurting her is like punching a kitten. Poor Jess.
Tony and Jessica are shown out in April. Credit: Fame Pictures