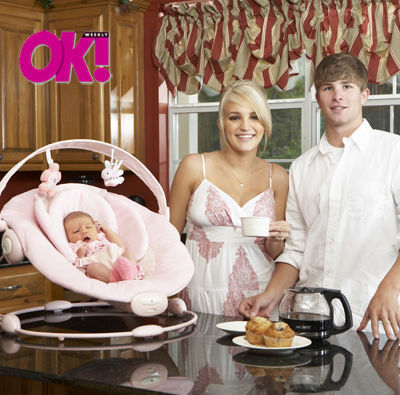 In Touch is claiming that Jamie Lynn Spears has broken off her engagement. They're not always the most accurate source, but this is one story that I'm really crossing my fingers on. They claim that Jamie Lynn realized she isn't ready to get married. She hasn't broken up with Casey Aldridge, but she has given back the engagement ring he gave her on her 17th birthday.
Britney Spears' younger sister Jamie Lynn has called off her engagement to boyfriend Casey Aldridge after deciding she is too young to marry.

The 18-year-old actress accepted Aldridge's proposal early last year when she was pregnant with their daughter, Maddie Briann.

However, according to In Touch Weekly magazine, the Zoey 101 star has changed her mind about marrying her teenage sweetheart and is happy just being boyfriend and girlfriend. The younger Spears has even returned her diamond engagement ring to Aldridge.

A close pal tells the publication, "Casey proposed when Jamie turned 17. He gave her a gold band with numerous diamonds and one larger stone, but now she has given it back to him."

"Jamie wasn't ready to get married. It's been more than enough for her to adjust to new motherhood for now."
[From In Touch via Starpulse]
Obviously one response to Jamie Lynn not being ready to get married was that she probably wasn't ready to have a baby either. But she handled that situation gracefully and has been living a very private life for the last year. By about 75% of the reports, Casey Aldridge was no prize. I can't imagine how any marriage at Jamie Lynn's age could last in the long run. I know sometimes they do, but I wouldn't be betting on this one in particular.
Jamie Lynn and Casey are definitely still together though. TMZ has photographs of them taking Maddie out for pizza yesterday – with Casey smoking a cigarette right next to the baby. Hopefully a breakup announcement will be coming in 3…2…1…