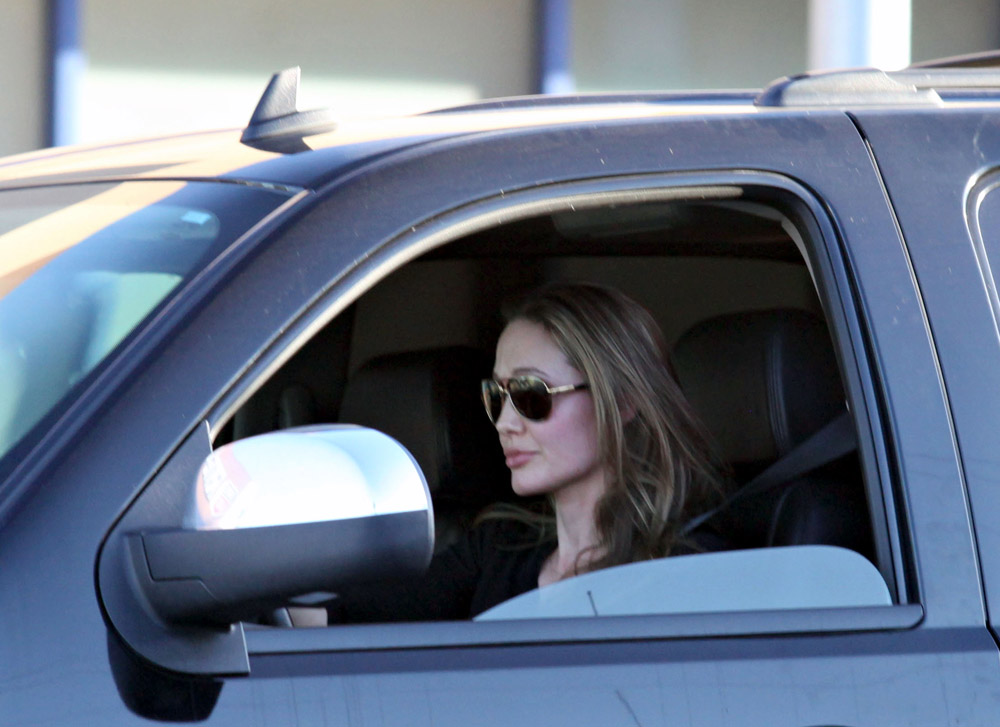 People Magazine has a nice little story up about the birthday party of Brad and Angelina's twins, Knox and Vivienne, who turned 1 year old this past Sunday. According to their sources, the family stayed at home for a quiet family celebration. Brad's parents (Bill and Jane Pitt) flew in from Missouri, and the older kids (Maddox, Pax, Zahara and Shiloh) helped bake two cakes, one cake per birthday baby. Gee, I wonder who masterminded the cake-baking? Could it be the Empress Zahara? "No, Shiloh, I wanted lemon zest!"
In another interesting piece of news, Angelina Jolie just "won" an important poll. No, not one of those beauty or sexiness polls, or even some celebrity power index. Angelina won the "Ultimate Lesbian Heroine" poll in the UK. She beat Madonna! Lesbians took issue with the Bingo-Winged One!
The poll results spanned 2,600 lesbians and showed the Hollywood star as the favourite.

"Angelina was the clear winner; and she also has a dark side which many lesbians like to. All of the ladies in the poll appeal to women of all ages," said a spokesman for One Poll who carried out he survey.

Jolie is 34 and has six children who she is raising with her long time partner Brad Pitt. She was ranked over Madonna, Pink and former tennis player Martina Navratilova due to her figure, physique and fashion sense.

Though there were some older favourites that made the ranking such as Liza Minnelli and Dolly Parton, most of the top 10 were newer to the list.

"Lady Gaga is a new entry. The singer recently preformed at Glastonbury, with a see-through bubble coat and fire-spitting bra" said the spokesman.

Though Jolie is most known for her acting in films such as Tomb Raider and has won three golden globes, she is also a goodwill ambassador for the UK Refugee Agency and very involved in various humanitarian causes.
[From Telegraph]
The complete top 20 ranking of lesbian heroines is, in descending order: Angelina Jolie, Madonna, Pink, Martina Navratilova, Ellen DeGeneres, Kylie Minogue, Lady Gaga, Annie Lennox, Beyoncé, Germaine Greer, Liza Minnelli, Gwen Stefani, Cher, Janet Jackson, Tori Amos, Britney Spears, Cyndi Lauper, Scarlet Johansson, Sarah Jessica Parker, and Dolly Parton.
Dude, Liza Minnelli got robbed! Beyonce and Lady Gaga did better than Liza With A Z! And A-freakin'-men to Dolly Parton. She's not just an icon to lesbians – every woman has something to learn at the feet of Dolly Parton. Haha, Britney Spears did better than Sarah Jessica Parker. Or was Brit-Brit a pity vote? My guess is no, lesbians just adore Britney. And Pink, which is obvious. But seriously, Lady Gaga? No, lesbians. Just no.
Here's Angelina Jolie spotted driving about Beverly Hills CA, on the first birthday of her twins on Sunday. Images thanks to Fame Pictures .