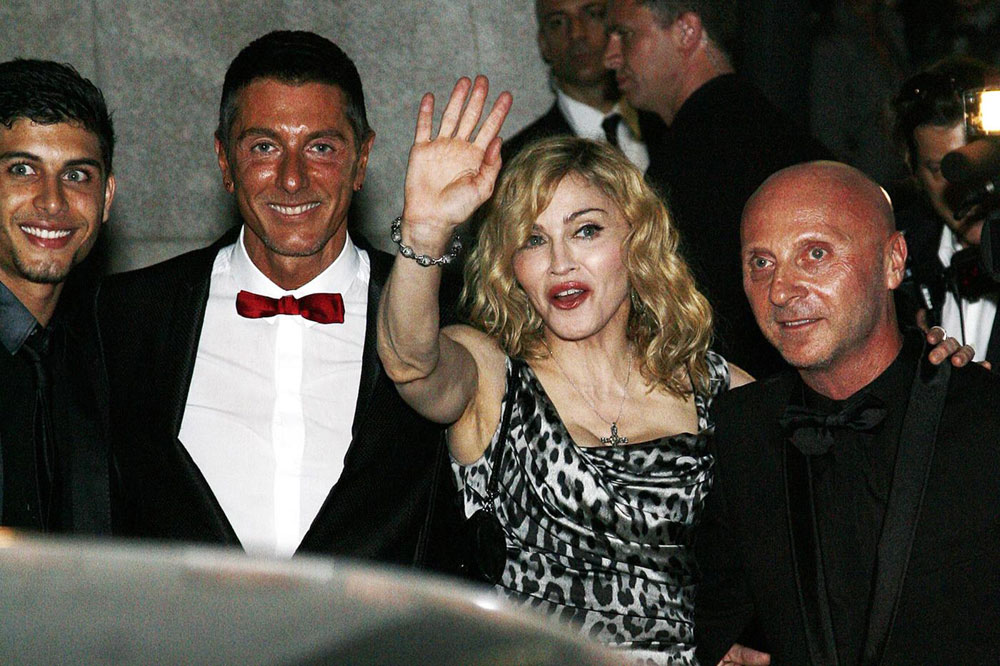 Lord knows I'm a huge fan of Madonna's Gristle. Her Gristle is soothing to me – it stands the test of time. What I mean is that Madge has put so much effort into her Gristle, her legs, her veiny man-arms and neck, I thought it would last forever. As it turns out, not so much. Madonna was photographed exiting a restaurant in Milan, waving to the crowd. She was wearing a sleeveless Dolce and Gabbana dress, and when she lifted her arm to wave, photographers got a several pictures of what the Daily Mail is referring to as "bingo wings" or "dinner-lady arms". Otherwise known as "a little arm flab". Meh. File this under Elle Macpherson's "cellulite". Although I'm sure the criticism will bother Madge, and she'll start working out seven hours a day instead of five.
In other Madonna news, it seems that Jesus Luz is truly pissed that Madge and Guy Ritchie continue to repair their friendship. According to Gatecrasher, Jesus is just now realizing that he is little more than Madge's "manny-with-benefits". This is very similar to a story the Daily Mail had over the weekend - only Gatecrasher's source gave this little gem, about how Madge feels about Jesus: "He's pretty and she can boss him around. He's good in bed. And he takes really good care of her kids. But as a life partner? No. He's child's play." Ha!
According to a source, the 22-year-old Brazilian boy toy has become aware that his cougar-ific girlfriend doesn't take him seriously now that her ex, Guy Ritchie, is back in the picture.

"Guy is around pretty frequently, and Jesus is becoming resentful," the pal confides. "He feels inadequate. He's intimidated by Guy's accomplishments; they clearly aren't equals."

In addition, the male model is downright childlike when it comes to needing Madonna's constant attention. "Jesus has gotten used to being her focus, and when Guy is around, that doesn't happen," says the friend.

While Luz adores Madonna's kids – Lourdes, 12, Rocco, 8, David Banda, 3, and the newly adopted Mercy James, 4 – the source says all he'll ever be to them is a manny figure, a big brother at best.

Ritchie has definitely been throwing his presence around: He visited Madonna and Mercy in London in late June, and even had a kabbalah day with the entire family. More recently, the two attended a U.K. party together. He's also been palling around with Madge's besties: He welcomed Justin Timberlake to his British pub, the Punchbowl, and hung out with Stella McCartney at a Prada benefit earlier this month.

Despite Ritchie's reconnection with Madge, the "Sherlock Holmes" director and his former missus are truly done. "Still, Guy is still a part of her life and he always will be," says the friend. "They were married for eight years, and they have three children together. Jesus doesn't like it, but tough luck."

Reps for Ritchie, Madonna and Luz didn't respond to calls for comment.

So what does Madonna see in Jesus? "He's pretty and she can boss him around," says the source. "He's good in bed. And he takes really good care of her kids. But as a life partner? No. He's child's play."
[From Gatecrasher]
I think it's nice that Guy and Madonna are getting close again, and I find it hilarious that Jesus is now the third wheel. I tend to think Jesus is going to stick around – he's making a name for himself as a model, and the exposure he gets even being mentioned with Madge is priceless. Team Guy, though. Forever and always.
Madonna is shown with Jesus Luz and designers Domenico Dolce and Stefano Gabbana in Milan on 7/14/09. Credit: INFphoto.com and Kika Press, PacificCoastNews.com