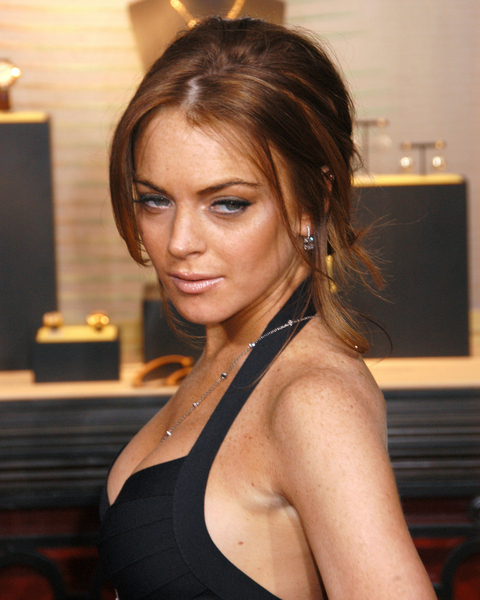 Lindsay Lohan has been accused of sleeping with a crappy married rock singer in rehab. The 39 year-old guy has eight month-old twins at home with a British wife whose family is worth well over a billion dollars. All he had to do to be set for the rest of his life was stay sober and remain faithful to his wife, but it sounds like he managed to fail on both counts.
His wife kicked him out of their Savannah, GA mansion after learning of his infidelity with Lohan. While the guy publicly denies that it happened, saying "we're just friends, please check out my new album," he was supposedly overheard bragging about his conquest at a local bar after he got out:
A british heiress claims that Lindsay Lohan is a marriage wrecker who bedded her husband in rehab.

Stephanie Allen, 29, whose family is worth £720million, is devastated by allegations that musician Tony had sex with actress Lindsay, 21, in a toilet at the drugs clinic.

And she has reportedly booted out Dead Stays Alive frontman Tony, 39, with whom she has eight-month-old twins Blake and Lakeland.

A friend said: "She's has had it, period. They tried forever to have kids. She went through IVF three times and suffered two miscarriages, and when they finally got two beautiful babies, he hooks up in rehab with a girl half his age."

Tony denies the claims and says he just hit it off with Lindsay when they were being treated at the Circus Lodge clinic in Utah.

He said: "We're great friends. We share a common affliction, and we just talk about life sometimes."

But reports say that when mates in a bar quizzed him about it, he boasted: "C'mon, it's Lindsay Lohan. Hell, yes! Wouldn't you?"

The couple's £850,000 house in Savannah, Georgia, is now up for sale.

Stephanie's friend said: "He is trying to live out this rock star fantasy at 40. All Stephanie wanted was for him to be a good husband and father."
[From The Mirror]
I really hope that woman had a prenup and that she'll leave the asshole without much scratch to get by. Like Britney's supposed rocker rehab hookup, this guy is probably banking on the notoriety from Lohan to give a boost to his band. They're awful, though. If you listen to the crap on their myspace they sound like a glam band that couldn't have even made it in '89.
Idolator points out that the band put out a press release noting that their lead singer was friends with Lohan in rehab. And Idolator doesn't mince words when it comes to assessing their talent:
Second, the band is–and this may not surprise you much!–absolutely wretched. Imagine a world in which the evolution of music stopped after Orgy dropped its cover of "Blue Monday," but somehow allowed Hinder to exist in some weird space-time warp, and you might get a vague idea of the craptasticness that is Dead Stays Alive. (They should not be confused with these guys in any way.) Listening to their blend of middle-of-the-road rock, lazy electro beats, and yarling made me reflect on the skilled musicianship and catchy songs that are sprinkled throughout Nickelback's catalog.
[From Idolator]
Lindsay has been in Cirque Lodge in Utah since August 5 and is rumored to be getting out on October 15. I hope she stays in there though. I've really been enjoying the break from news about her. She's stayed relatively scandal free too. So far she's only broken up one marriage and left two babies to be raised without a father.
Picture below of the object of Lohan's temporary affections, Tony Allen, is from the myspace for his band. (site has really bad automatic music). Header picture of a wasted looking Lohan is from 6/8/06 at a Cartier party, thanks to PRPhotos.